Here's the photo page for the Lacrosse River State Trail, Sparta, Wisconsin to just west of Rockland. These pictures are from September 2006.
LaCrosse River Trail, Wisconsin

(From Sparta, Wisconsin to just past Rockland, Wisconsin
)
(click on any picture to enlarge)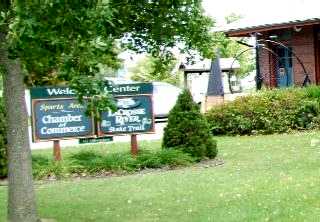 Sparta Chamber of Commerce, trail head to the La Crosse River State Trail in Sparta, Wisconsin. It is located on Water St, south of downtown at the railroad tracks.
Bacchetta Giro 26 in front of the trail head.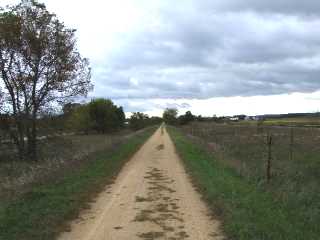 Just west of Sparta, you see completely flat terrain, the straight trail, I 90, and farmland, as far as the eye can see.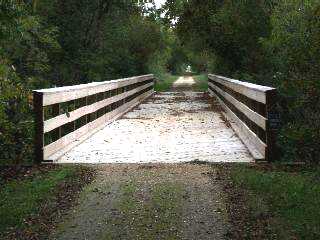 New bridge over the Little La Crosse River. At this particular point, a couple miles west of Sparta, the trail becomes tree covered.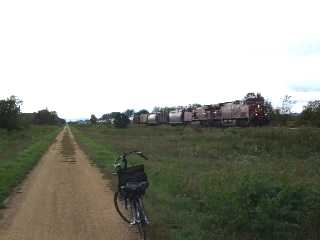 A Canadian Pacific train roars by.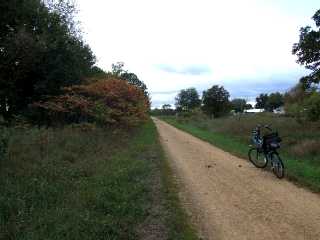 The leaves were just starting to turn color as I headed into Rockland.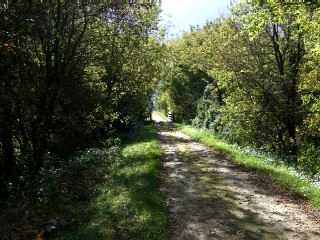 Small bridge over small creek, just west of Rockland.

On this particular day during the last week of Summer, it was cold and rainy most of the day. I was only able to get out for a little while late in the day, so unfortunately I was unable to complete the full trail. That will have be completed at a later time.