About Bicycles Online > Bicycle Accessories > Bicycle Hydration
Bicycle water bottles or bicycle hydration packs required.
Water... Such a basic and simple need and it's everywhere... Except out on a long trail or road on a really hot day when you really need it! A good water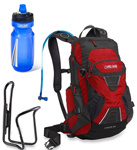 supply... (as American Express used to say... "Don't leave home without it"!)
About-Bicycles has researched and selected the best online resources for bicycle water bottles (and hydration packs) to help you find the right water bottles or bike hydration supplies online fast, easy.
Personally I like water bottle holders (bicycle water bottle cages) that are simple and allow you to use different size bottles. This is really nice if you lose the original bottle, if it breaks, or if you just want to bring a disposable bottle with you.
Most bikes these days come with standard water bottle braze-ons on the frame that allow you to attach a water bottle cage or cages. My bike has places for 2 water bottle cages, one on the down tube and the other on the seat tube. I have attached cages to both and use both on longer rides.
If you really need a good supply of water you will want to get the larger back-pack style hydration packs. Most of the hydration packs from around 25 ounces to 100 ounces which should help you make it through some pretty long rides on very hot days.
Recommended Online Resources
Bicycle Water Bottles, Bicycle Hydration Packs Online Suppliers
See Bike Hydration at PerformanceBike
for a very good selection of hydration systems, bicycle water bottles, cages and accessories such as:
Hydration Accessories, Bottles, Cages and Pack Systems
See Water Bottles and Cages at REI for a nice selection of Water Bottles, Hip mounted and Back Mounted hydration packs, BPA-Free Water Bottles and much more. REI also carries the Cage Rocket which is really a dry container to carry small supplies that fits in a standard water bottle holder.
---
Not suprisingly the one of the most popular back-pack style hydration pack brands is the CamelBak Hydration Packs with one of their packs called the M.U.L.E. CamelBack is a high quality brand and I only mention these 2 names since it seemed to me like this might be how you might feel wearing a hydration pack. :-)
From personal experience I see way more cyclists with water bottle cages and water bottles than I do with hydration packs but I do run accross riders with hydration packs occasionally too. This might have to do with where and when I ride and my own personal riding style.
Personally, I don't like wearing backpacks when I ride (especially when it is hot outside) which is why I have a rack and pack with fold out panniers (as I've described on our Bike Bags page) and attach water bottles via the water bottle cages.
I find that one water bottle is usually fine for me on a moderate ride of maybe 20 miles or less on a cool day (say around the mid 70s or less). For rides over 20 miles and expecially on really hot days I need 2 water bottles and depending on the situation may need refills too!
Depending on where you ride you can usually find a watering hole somewhere within a 20 or 30 mile distance but I'm sure there are times whan that is not possible or when you are out on a mountain trail for a longer period of time (like you crazy MTB riders out there).
The heavy duty touring style riders are already aware of packing your bike down with plenty of gear and every place possible (like multiple handlebar bags, front and rear panniers and so on. If you do have some extra space you can always keep more water in your bike bags and packs or in some cases I've seen riders with cages and waterbottles on both sides of the front fork.
The possibilities are really endless but, for the most part, most of us just attach cages for our water bottles or in some cases wear hydration packs.
The Ride is the Destination