The descriptions and photos presented here are primarily of bike trails that are accessible from the Chicagoland area, since this is where my friends (who have written many of the articles) and myself live.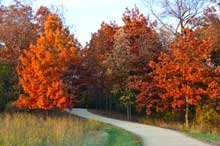 Most (but not all) of the trail descriptions are Illinois and Wisconsin bike trails. This is not intended to be a comprehensive listing of all major trails in these states, but has plenty of first hand descriptions and lots of great bike trail photos from those of us who have ridden these trails.
Here are the detailed descriptions and photos of our Illinois Trails (now in alphabetical order by trail name).
Algonquin Road Trail (14.5 miles) - The descriptions and photo tour of the Algonquin Road Trail (connecting to and aka: Paul Douglas / Crabtree Trail ) from Peregrine Park (Palatine), around Harper College, northwest along Algonquin Road and Paul Douglas Forest Preserve and finally to Penny Road (South Barrington).

Busse Woods Trail The Busse Woods Trail in Busse Woods Forest Preserve, Cook County Illinois, from October, 2005. I started this ride at the Elk Herd (just off of Arlington Heights Road, north of the Higgins road intersection) and took the main (red) loop, the northern (black) leg, the leg that goes along Beisner road (purple) and the Elk Grove community bridge leg that crosses Route 290.

Chain O'Lakes Trails - Ride Reports and photos of the Chain O'Lakes Bike Path through Grant Woods just east of Fox Lake and the trail through the Chain O'Lakes State Park in northern Illinois.

Chicago Lakefront Trail The Chicago Lakefront Bike Path (18 miles) from Kathy Osterman Beach, at Hollywood Avenue (just north of Lincoln Park), on the north end, through downtown Chicago (at the lakefront), to 71st Street (just past Jackson Park) on the southern end of the trail.

Deer Grove Bike Path (Illinois). (7.5m) - This is a nice bike path that also connects to the Palatine Trail (4.8m) at Dundee and Quentin roads via the Dear Grove Forest Preserve.

Des Plaines River Trail (Illinois). (39m) A nice crushed stone trail with some wooded and shaded areas mixed with sunny prairie sections. Traffic on the trail is a little lighter than some of the others in this area (probably due to the crushed stone surface). Most of the highway intersections are bridge underpasses so you can do quite a distance, non stop without having to deal with highway crossings.

Evanston Laketront Bike Paths - The Evanston Lakefront Bikeways run along the Lake Michigan shoreline on bike paths, bike lanes, sidewalks and university roads through Evanston, Illinois.

Fox River Trail North The trail descriptions and photos included here are the northern part of the Fox River Trail only from East Dundee Illinois north to Algonquin Illinois.

Fox River Trail South The trail descriptions and photos included here are the southern part of the Fox River Trail from Geneva Illinois north to Dundee Illinois. a video of Oswego to South Elgin is also available from here.

Great River Trail, Illinois (60m) A nice article on the Illinois Great River Trail from Carlos from Chicago. A nice ride report, detailed descriptions, info and photos.

Great Western Trail (Illinois 18m) - A nice article on the Great Western Trail from Dale Kiffel. First hand descriptions and some nice photos on a warm summers ride from St. Charles to Sycamore Illinois.

Green Bay Bike Trail - The Green Bay, Robert McClory and North Shore Trails, descriptions and photos from Great Lakes, Il. to Glencoe Illinois. Photos of the Green Bay Trail and Robert McClory Bike path.

Hennepin Canal Trail - This is a long and rugged trail that runs along side the Hennepin Canal in western Illinois. 104 miles total.

I&M Canal Bike Trail (Illinois) is about 58 miles one way from Chanahon to LaSalle/Peru Illinois and is built from the original canal tow path. The path is not crowed and passes through a number of small towns along the way.

Illinois Prairie Path - (Illinois - 61m) the first U.S. rails to trails project, the longest in northeast Illinois (when you include all of the branches) and possibly the most confusing because of it's name (Prairie) and various branches or sections. This tour starts at the Fox River Trail, Elgin Branch intersection.

Illinois State Beach Bike Path The Illinois State Beach Bike Paths run along the Lake Michigan beaches and are an absolutely beautiful and scenic place to ride. Take your bike and your swimming suit, for a great day at the beach and a nice bike ride by Lake Michigan...

Inverness Trail (Illinois). (11.2 m) - There are some great biking roads in Inverness if you know where to go and how to get there. This article includes a detailed map of this particular Inverness road trip, which is East of Ela Road, West of Roselle road, North of Algonquin and South of Dundee (68) and Northwest Highway (14). This is the eastern part of Inverness.

Jane Addams Trail - - (13m) - Crushed stone Trail located just west of Rockford, Illinois and connects to the Badger State Trail at the Wisconsin Border.

Kankakee River Trail - (11m) - Mostly paved trail that runs along the Kankakee River and is very scenic.

Long Prairie Trail (Northern Illinois 14.2m). An uncrowded paved trail that is fairly flat and goes through open prairie as well as shady tree tunnels. Descriptions and photos. (some info and pictures of the connecting Stone Bridge Trail)

Millennium Trail (12 miles) - The Millennium Trail is a hilly and scenic, mostly crushed stone trail in Lake County, Illinois. See our Ride Report, Trail Info, Map and Photos from Mundelein to Volo, Illinois.

Moraine Hills Trails (11 miles) - The Moraine Hills State park, south east of McHenry, has over 11 miles of scenic biking through quite a diverse area of wetlands, hills and fairly thick wooded areas.

North Branch Trail (15 miles) - The North Branch Trail winds through the forest preserves in northern suburbs of Chicago and northern edge of Chicago following the North Branch of the Chicago River and the Skokie River.

North Shore Bike Path (16.1 miles) is great east-west bike path that connects to some of the nicest North-South trails in the North and Northwest suburban area of Chicago. (connect the Des Plaines River Trail (above) with the Green Bay Trail (below)).

The Old Plank Road Trail - For a nice bike trail in the south western Chicago suburbs, check out the Old Plank Trail with it's connections to the Hickory Creek Preserve and Thorn Creek Trail.

The Palatine Bike Trail - I have done the Palatine Trial numerous times and have recently checked the distance on my bike odometer and it is 4.8 miles (one way). The eastern side of the trail is in more of a residential area where as the western side gets a little more wooded and eventually connects to the Deer Grove bike Path.

The Paul Douglas Trail (14.5 miles) - This is another name for the Algonquin Road Trail.

The Poplar Creek Trail - (10 miles) This is a nice paved trail in the northwest Chicago suburban area (Schaumburg, Hoffman Estates, Streamwood). There's very nice scenery around Bode Lake but there are quite a few busy roads to cross on this path.

Prairie Trail ]The Prairie Trail (Illinois - 25.9m) from Algonquin(south) to Genoa City Wisconsin (north) was once Chicago and Northwestern rail line that ran from Kane county into Wisconsin... This section has first hand detailed descriptions and photos.

The Prospect Heights Trail (5 miles) is a short pleasant trail of about 5 miles that begins across the street from the Prospect Heights Metra station at Wolf and Camp McDonald road and pretty much follows the Com Ed power line easement to Schoenbeck Road - Article and photos by Howard Lange

The Randall Road Trail This is a short 4 mile trail that connects the River Bend Trail (or Silver Glen trail) to the Great Western Trails.

The River Bend Trail The River Bend Trail connects the Fox River Trail (just before the long bridges in South Elgin) to the Randall Road and Great Western Trails.

Robert McClory Bike Path The Robert McClory Bike Path (25 miles) connects to the Green Bay Trail on it's southern end and the Kenosha Trail (Wisconsin) on it's northern end. The trail has some very nice areas and some not so nice areas... Check out the article for more...

The Silver Glen Trail This is another name for The River Bend Trail.

The Skokie Valley Bike Path - The Skokie Valley Bike Path from Lake Bluff in the north to Highland Park. Although not a scenic ride, this trail has benefits with connecting trails and paved, straight and flat surface for speed and workouts.

The Thorn Creek Trail - This is a very nice all paved and mostly wooded trail south of Chicago near Chicago Heights. The trail is about 17 miles long and also connects to the Old Plank Road Trail (above).

The Virgil Gilman Trail Ride Report and Photo Tour - Ride Report and Photo Tour of the entire Virgil Gilman Trail. This ride starts at the southern end of the Fox River Trail in Oswego where we rode north to connect to the Virgil Gilman Trail in Aurora.

The Wauponsee Glacial Trail - Ride report, photos and video of the WGT from Manhattan, Illinois to the Kankakee River.
Wisconsin Bike Trails

Here are the detailed descriptions and photos of our Wisconsin Trails (now in alphabetical order by trail name).

Ahnapee Trail - Detailed descriptions and photos of the Ahnapee Bike Trail from Sturgeon Bay to Casco. Article and photos by Dale Kiffel

Badger State Trail Ride Report and Photo Tour - First hand Information and a personal ride report of the Badger State Trail from the Illinois/Wisconsin border through Monroe, Monticello and into Belleville. The Tunnel just south of Beleville is the highlight of this trail.

BATS Crystal Lake Trail near Boulder Junction, Wisconsin. BATS is an acronym for "Boulder Junction Area Trail System." Right now its northern edge is the quaint town of Boulder Junction. Article by Bob Cummings

Elroy Sparta Trail (Wisconsin) - 32 miles of scenic bike trail from Sparta to Elroy Wisconsin built from the old Chicago and Northwestern railroad bed. First hand descriptions and plenty of photos of the Elroy-Sparta trail (and the 3 awesome tunnels) from Sparta Wisconsin south and east to Elroy Wisconsin. Part of the Bike 4 Trail System

Great-River-Trail - The Great River State Trail is a 24 mi bike trail that follows the abandoned Chicago and Northwestern railroad bed. The trail traverses a mixture of prairie and marshy bottomlands. It passes through the communities of Onalaska, Midway, Trempealeau, and two wildlife refuges. - Part of the Bike 4 Trail System. Article and photos by Dale Kiffel.

Kenosha County Trail - You can connect to the Kenosha County Trail from the Robert McClory trail at the Illinois/Wisconsin state line. This trail has a break in Kenosha but you can ride on bike friendly roads and along the beach to the Pike Bike Trail, connect back to the Kenosha trail and continue on to Racine, Wisconsin,

LaCrosse-River-Trail - The La Crosse River State Trail is a 22 mile rails to trail that also follows the abandoned Chicago and Northwestern railroad bed and connects to the Great River Trail on the west end and the Elroy-Sparta trail on the east. Article and photos by Dale Kiffel.

Oak Leaf Trail(s), Milwaukee - Ride Report and photos of our rides on the various parts of the Oak Leaf Trail in and around Milwaukee Wisconsin.

Peninsula State Park Trail - Peninsula state park bike trail at Fish Creek in Wisconsin's Door County peninsula on the shores of Lake Michigan. Article and photos by Dale Kiffel.

Red Cedar Trail - (Wisconsin) - Detailed description and photo tour of the Red Cedar State trail located near Menomonie, Wisconsin - Article and photos by Bob Cummings.

The Root River and Racine County Bike Trails - Ride report and photos of our 30 mile ride from Kenosha to Racine Wisconsin and back starting in the town of Kenosha. This article actually includes 4 connecting bike trails ~ The Root River Pathway, the Racine and Kenosha County trails and the Pike Trail.

Seven Waters Trail (Wisconsin) - Our 33 mile ride on the Seven Waters Trail in Southern Wisconsin. You can get to this trail and the White River Trail ~ below ~ from Burlington, Wis.

White River Trail (Wisconsin) - For first-hand ride info and plenty of photos of both sides of the White River Trail (east leg and west leg) in Southern Wisconsin.

Here is a nice reference for Bicycle Trails in Wisconsin. (Mike Bentleys site.)