About Bicycles Home
About Bicycles, Riding and Fitness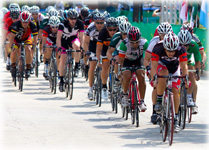 Regardless of your own particular style of biking or cycling fitness, you are going to need good cycling information and resources.
About-Bicycles.com has been helping bike riders, at all levels, with helpful resources and information on bikes and bike types, online bike sales, bicycle GPS and electronics, bike fitness products, bike trails, bike accessories and bike supplies since 2003.
Cycling Information, Topics and Specialties
With all of the different bike types, riding styles, bike accessories and cycling and fitness information available online, it is difficult for one site to cover it all. Although this site is fairly diverse, the following topics have become our specialties:
Exercise Bikes and Cycling Fitness
Exercise Bikes - Get in shape or get ready for bike riding season with Fitness Bikes (Recumbent, Upright, Indoor Cycles, Dual Action Recumbent and Fan Bikes). We have a good selection of stationary bike reviews, best buys and plenty of helpful information.

Bike Trainers - Bike Trainers (or Exercise Bike Stands) are economical and great for training, indoor workouts and staying in shape all year long. See the indoor cycling equipment cost comparisons and recommended online retailers included on this page.
Bike Computers and Bike GPS systems
Bike Computers - A good bike computer is one of the most useful accessories that you can have on your bike. Speedometer, Odometer, Trip Meter, Date and Time, Riding time vs Elapsed time, averages... Many wireless models are available too!

Bike GPS Computers - The ultimate wireless Bike Computers now come with integrated GPS for most of their functionality. Bike GPS Computers give you everything that you get with regular wheel magnet based computers and much more.

You get programmable screens and windows, maps, you can upload and download rides and ride data and much more. These units are a little more expensive than the non-GPS bike computers but they have come way down in cost in the last few years. I have a Garmin Edge 800 and do not intend to ever go back to a non-GPS based unit.
Bike Sales Online
Bicycles Online - Helpful information on bike types, what bike brands are for sale online and and online bike sale resources. Whether you're into mountain bikes, road, recumbent, BMX or hybrid bikes you need the right bike and you don't want to spend half the riding season looking for it.

Kids Bikes - For an excellent selection of kids bikes, kids bike accessories, trikes, bike trailers and more that can be ordered online and delivered to your home or to a store near you.

Online Bike Stores - If you already know what bike type you are looking for, what brands you prefer and the brands that are available online.
Bike Accessories and Supplies
There are quite a few bicycle accessories and bike supplies that you will need or want to have to make your ride nicer, including Bike Bags, Bike Clothing, Lights, Locks, Hydration accessories and Car Racks. See our Bicycle Accessories page for more information and resources on these useful and fun products.
Chicago Area Bike Trails
This site also has a very good selection of Illinois (mostly the Chicago area) and Wisconsin bike trail articles, descriptions, photos and videos in the "Bike Trails" section. Enjoy...
Bicycle Touring and Trails The About-Bicycles Bike Trail pages are filled with tons of great bike trail information and photos. Most (but not all) of the trails in this section are trails that are easily accessible from the Northwest Chicagoland area (Illinois and Wisconsin) since this is where I am from.

Do You Have a Dream? I have had a dream of bicycling across the US for quite a while now. I haven't achieved that yet, but I still hope to. If I do, I will have a lot more states to add to this site.
---
About-Bicycles - Latest Posts and Updates
This section is for those of you who have browsed this site before and are looking for the latest updates to this website. The links below are the most recent new pages and updates. The older information will drop off as newer posts and pages become available.
We rode the Wauponsee Glacial Trail from Manhatten, Illinois to the Kankakee River back in September. This was a nice ride on the 19 mile crushed stone trail that starts in Joliet. Our ride was 31 miles round trip.
I just got back from a trip south and had a chance to ride the Mammoth Cave Trail in Kentucky. This is a hilly, crushed stone trail, about 8 miles long, in the Mammoth Cave National Park.
We rode the Hennepin Canal Trail last month - September, 2017 - and I have just posted the ride report, photos and video. Our ride was on the Feeder Canal trail that runs south from Rock Island, Illinois.
Although the Prospect Heights Trail page and article has been on this site for years now (originally contributed by Howard Lange), we also rode this trail last year and I have just updated the page to include our recent ride report and many more photos including the power plant photos to contrast the more scenic trail photos.
The Thorn Creek Trail - We rode this trail in October of 2016 and I am almost caught up with posting the ride reports and photos for the trails that we rode last year. This is a very nice, all paved and mostly wooded trail south of Chicago near Chicago Heights. The trail is about 17 miles long and also connects to the Old Plank Road Trail.
See Latest_Updates_Archive for older articles.
---
More Helpful Cycling Information and Online Resources
About-Bicycles Bike Blog - See the About-Bicycles Bike Blog for the latest bike accessory and supplies updates, bike trail info and conditions, the latest cycling events, online bike sales, exercise bike and indoor cycling sales, ride info and general cycling topics.

The About-Bicycles Bike blog has nearly 200 registered subscribers and continues to grow in popularity.

Cycling Articles - More interesting cycling information on bike types, bike brands, bike trails and more.
Online Bike Stores - Where to purchase the most popular brand name bicycles online.
The Ride is the Destination!
For me, there is nothing like a long ride on a beautiful day. I have done a lot of bike miles and have been breaking new personal distance records for many years now. In the process of putting on so many bike miles, I have discovered a lot of information and good resources for bike electronics (GPS and computers), bike supplies (bags, clothes, etc.), bike fitness equipment (stationary bikes and bike trainers) and of course on Chicago area bike trails. I hope that the information and resources on this site will help you find what you are looking for quickly and easily.
---
When you're riding, you have already reached your destination so go ahead and enjoy it.
Although my personal style of riding is mostly trails and bike paths, a little mountain off-the-road riding, distance riding, pleasure riding and utility riding (just using my bike for quick trips to stores and friends houses, etc), the online resources that I have found are just as valuable for any cycling style or preference.
I have purchased a few bikes and quite a few bike accessories over the years, both online and at local bike shops. It can be difficult and time consuming to find good online resources quickly so I have included references and links to what I have found to be some of the best online resources for bikes and bike accessories.
The site topics below will help you find more helpful information and bike stuff that you may be looking for online fast and easy and will provide you with some useful bicycle reviews, information and tips to make your online trip enjoyable as well.
Remember it's not just good exercise... It's a lot of fun too!
Whether you like the exhilaration of going fast, the tranquility of a winding bike path through the woods or, in the case of indoor cycling, being able to read, listen to music or watch TV while you are getting an excellent aerobic workout, cycling or bike riding (which every you prefer) it is also a lot of fun too.
So, in addition to the information and resources on this site, I have tried to keep the style fairly casual (especially on some of the bike trail and bike blog pages). I hope that you enjoy browsing the site and also enjoy your ride!
---
Our Exercise Bike and Indoor Cycle Reviews have become very popular over the last few years however there are also other ways to stay fit in the off season.
I also walk and jog outdoors in the winter. When the weather is just not cooperating, I like to stick to a treadmill indoors. For some good information on treadmills See Treadmill eReviews.com.
---

The cover photo at the top of the page is from the 2012 Tour of Elk Grove and was provided by Dale Kiffel. All rights reserved.