If you ride bikes, you are going to be needing bicycle tires, bicycle wheels and bicycle parts and accessories pretty regularly.
Bicycle Parts and Accessories Online
New tires make a huge difference and adjusting spokes and fixing wheels takes time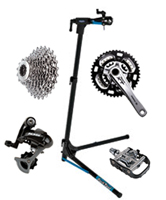 and skill. There are plenty of jobs that are easy enough that you or I can do ourselves but also many jobs that I would just prefer to bring my bike into the shop for and have a skilled bike mechanic, that has spent many hours working on bikes, work on.
Handle bar tape is not problem. Changing a tire or inner tube is easier on the front wheel than on the real, but is still not difficult. Brake and gear cables are not too bad, but the adjustments can get tricky. Taking the handlebars or front fork off can be a problem if you don't do it right.
At any rate, if you have the space and work on your bicycle much at all a bike work stand is great to have. You may also need some special tools (metric wenches, etc.) and if you do a fair amount of repairs a reference manual can also come in handy.
You can probably get most of what you need for repairs and maintenance at your local bike shop, but if you either can't find what you need there or would just rather order online and be off to your next ride, here are some good online bicycle parts references (all in one place!).
Bike Parts and Mountain Bike Parts Online Suppliers
See Performance Bike Parts and Components
for the best selection of Bicycle Parts Online including Wheels, Tubes, Tires, Chains, Cables, Brakes, Bike Tools and Work stands and much more.
---
Go to Bike Parts at JensonUSA for an excellent selection of Mountain Bike Parts Online including bicycle tires, tubes, bicycle wheels, cables, chains and chain cleaner kits, brake shoes, grips, repair stands, wheel truing tools, Tire levelers and more and excellent customer service.
---
If you are not able to find what you are looking for at the websites above, see our Online Bike Stores Page for a more complete listing of reputable websites that also sell bike parts and accessories.
Cycle Computers (bike speedometers, odometers) A good cyclecomputer is one of the most useful and interesting accessories that you can have on your bike. Speedometer, Odometer, Trip Meter, Date and Time, Riding time vs Elapsed time, averages... Many wireless models are available too!

Bicycle Clothing Mostly what you really need as far as bicycle clothing goes, of course, is what makes you comfortable (some people may require more style to be comfortable than others :-) ).

Bicycle Accessories Having the right bicycle accessories available when you need them makes the difference between just another ride and a ride that you don't really want to end. (bicycle lights, bags, mirrors, hydration packs and water bottles, locks, car racks...)