About Bicycles Online > Bicycle Accessories > Bicycle Clothing
The right Bicycle Clothing can make your whole ride better
Finding it online can be easier and gives you a larger selection
For casual rides you can easily get away with shorts and a t-shirt (or jeans and a comfortable jacket in cooler weather) but for longer or more serious cycling, the right cycling clothing and accessories are essential.
Cycling shorts (baggy or tight styles) are padded and can make a long ride or workout much more comfortable, cycling jerseys and jackets are comfortable and the bright colors help you to be seen, riding gloves, shoes and sun glasses are also very important items for your ride.
Getting your bike jerseys, cycling shorts, jackets, gloves, etc. online gives you a big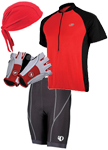 advantage due to the large selections of bicycle clothing that's available. You will also have a larger selection of quality brand names and bike clothing to meets your specific needs and riding conditions.
You will also want to have the option to select from multiple online sources so here are some good resources to help you find the right cycling clothes online fast, easy and at great prices.
Recommended Online Resources
Bicycle Clothing Online Suppliers
See Sun & Ski Sports Cycling Apparel
for a good selection of Cycling Appareal from Pearl Izumi, The North Face, Adrenaline, Canari, Descente, Primal Wear, Sugoi and more.
See Men's and Women's Cycling Clothing at REI for cycling clothing and accessories from: Pearl Izumi, Bellwether, Fox, Novara, Cannondale, Zoic, Adrenaline Promotions, Canari, Descente, Free Spirit, Gore, IllumiNITE, Dude Girl, Terry, Zoic, World Jerseys, Twin Six and More.
www.rei.com.
---
Mostly what you really need as far as bicycle clothing goes is what makes you comfortable (some people may require more style to be comfortable than others :-) ) but remember to dress for the weather. You will be much better off if you respect mother nature and consider what the conditions will be like on your entire ride...
If it's really hot, dress lightly (bring plenty of water), a hat or comfortable helmet is usually good. If it's cold, wear layers, jackets that give a little, don't wear baggy pants that will get caught in the pedals, chain or wheels, etc. and if it's raining (or might rain) water resistant cycling cloths or rain gear will make your ride much nicer.