About Bicycles Online > Bicycle Touring and Trails > Poplar Creek Trail
The Poplar Creek Bike Trail
The Poplar Creek Trail (10 miles) is a very nice paved trail that pretty much goes around the entire Poplar Creek Forest Preserve in Schaumburg and Hoffman Estates Illinois.
| | | |
| --- | --- | --- |
| The start of the photo tour just past Barrington Road Pond | A stretch of the trail just after Show Factory Road Woods | A nice part of the trail by Bode Lake |
I really enjoyed this bike trail. If you are looking for a nice paved trail in the northwest suburbs, with some nice scenery, and are interested in doing about 10 miles or less then the Poplar Creek bike trail is an excellent choice.
The only thing that I didn't like about this trail is that, due to it's convenient location, there are a number of busy roads that must be crossed (about 6 crossings). These are busy intersections but there are lights, crosswalks and pedestrian signals to help you cross safely. Just about any bike trail in this area usually requires crossing some busy roads though.
I particularly liked the western and southern parts of the trail the best. On the west you have the Shoe Factory Road Woods area and on the south you have the Bode Lake area. There's pretty nice scenery along the entire trail but these sections are especially nice.
I rode this trail on a sunny but windy day in June. The trail was not too crowded on the day that I rode it but it looks like parts of the trail could get a little crowded at peak times.
Here's a photo of the bike trail map that was posted at Shoe Factory Road Woods.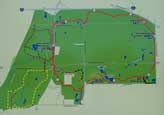 (click to enlarge)
Here's the photo tour of the Poplar Creek Bike trail from June, 2009.
The Poplar Creek Trail Photos 1 - Barrington Pond to Bartlett Road
The Poplar Creek Trail Photos 2 - Shoe Factory Road Woods
The Poplar Creek Trail Photos 3 - Orange Trail and Southwest Leg
The Poplar Creek Trail Photos 4 - Bode Lake Forest Preserve
The Poplar Creek Trail Photos 5 - Bode Lake
The Poplar Creek Trail Photos 6 - Along Barrington Road

Enjoy your ride...