About Bicycles Online > Kids Bikes
For a large selection of kids bikes, and accessories delivered to your home or to a store near you...
It has become easier than ever before to order your children's bikes, bike trailers, trailer bikes and accessories online, and get outside, on those beautiful days, and start making memories!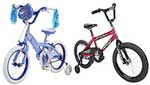 Regardless of your childs age (or ages) the online selections for kids bicycles, bike trailers, trailer bikes, child seats, kid carriages, ride-on toys, scooters, helmets, etc. available here has made it very easy to get what you need quickly and easily.
Best Kids Bicycle Brands for Sale Online
There are almost too many bicycle selections online making it a little difficult to determine which brands are the best. Our resources below sell many of the best brands in addition to some lower cost (cheaper) brands and models.
Below is a list of our recommended kids bike brands:
Highest Quality (mostly for older kids): GT, Scott, Raleigh, Novara (REI brand)
High Quality: Schwinn, Mongoose, Huffy, Diamondback
High Quality Kids Mountain Bikes: Mongoose, Diamondback
High Quality Younger Kids, Trykes and Ride-Ons: Fisher-Price, Radio Flyer
---
Online Resources for Kids Bicycles, and Accessories
See Bicycles for Kids at REI for Quality Kids Bikes ( GT, Scott, Raleigh, Novara), Trailer Bikes, Training Wheel Bikes, Kids push bikes and and more.

I have found REI to have good products and to be very friendly and helpful (online and off). You will also get FREE shipping with REI store pickup or REI membership.

---
See Amazon's Kids Bikes, Trikes and Ride-Ons
for a good selection from

Schwinn, Huffy, Mongoose, Fisher-Price, Radio Flyer and more in addition to tricycles, helmets, knee and elbow pads, child seats, bike computers (for kids) and quite a bit more.
Amazon has a huge selection of Kids Biking Accessories and FREE shipping on orders of $25 or more (with some restrictions).

---
Kids Cycling Transport
See Kids Bike Trailers, Bike Seats for Kids Bike Trailers, Trailer Bikes, Bike Seats and the latest cycling transport products for children of different sizes and ages.
---
Some notes on the popular brands and bicycle sales online
The online resources referenced on our site do have many kids bicycles for sale online. For example: Schwinn, Raleigh, Huffy, K2, Mongoose, Scott, and Kawasaki are some (but not all) of the name brands that you can actually buy online. Some brands can be ordered on line but must be shipped to a local shop and some higher end bike brands will only be sold at local bike shops.
Browse our recommended bike sites above if you are looking for these brands for sale online (or for plenty of kids bicycle accessories online).
If you need bicycle accessories for yourself or for your kids, please check out our site for a very good selection of adult and kids bikes and bike accessories. I have also found that kids really like bike speedometers (bike computers) too!
Cycle Computers (bike speedometers, odometers) A good cyclecomputer is one of the most useful and interesting accessories that you can have on your bike. Speedometer, Odometer, Trip Meter, Date and Time, Riding time vs Elapsed time, averages... Many wireless models are available too!

Bikes Available for Purchase Online
If you are interested in purchasing a adult or kids bicycles online, here are some additional resources:
For a list of bike brands available by online merchants see: Online Bike Stores
To find a bike for sale online by bike type (road, mountain, hybrid,etc.) see: Bicycles Online
For the latest sales and deals on quality brand names bikes for sale online See Best Buy Bikes Online

---

Our Family Biking Experiences

Our family has always done a lot of bike riding both together and separately. When the kids were very young we had a behind the seat bike carrier, as they got older they progressed through smaller ride-ons and bikes with training wheels to larger kids mountain bikes and both kids have even taken some pretty long bike trail rides with us. Those rides have become some of our favorite memories.