About Bicycles Online > Bicycle Touring and Trails > Peninsula State Park Trail
The Peninsula State Park Bike Trail
Article and photos by Dale Kiffel
Peninsula state park is located on highway 42, in Fish Creek in Wisconsin's Door County peninsula on the shores of Lake Michigan. Many activities are available here, but since this is about bicycles, that's what I will focus on.
A nice thing about this park is that the bike trail starts outside the park and you can bike in without having to pay. There are some trails that need trail passes and some mountain bike only trails.
If you would like to rent a bicycle, I would not suggest the store on the edge of the park, but rather the full service bicycle store 1 block down. They rent Trek 7300's for $5/hour or $20/day and those appeared to be more up to the task. Tandem, road, and recumbent bicycles are also available.
The trail itself was hardpacked crushed limestone for the most part and was ridable even after a moderate overnight rain. There's asphalt on the steeper grades and near the trail crossings for safety and to prevent erosion. The last 1/3 of the trail was on the road and was all asphalt. The trail is well marked with direction arrows, caution, and stop signs. These should be well heeded due to the amount of hikers and slow bikers. It also has location maps throughout.
There are various trails on the path, but each trail runs right into the next so its basically all part of the same path. It's only about 10 miles for the loop, but there are enough sites to keep it interesting and the park is so nice you might want to go around again.
There are a lot of gorgeous wooded trails, some riding above the main road with peeks of Lake Michigan through the trees. Others go along the beach where you can take a break or have lunch. There is a lighthouse, a nature center, and a small store along the way. Wild deer and turkeys cross your path as you ride. They are accustomed to people and do not balk when
approached.
I thoroughly enjoyed this park. The only downsides are that it is too short and it is probably over crowded in the peak travel periods.
Peninsula State Park Bike Trail Photos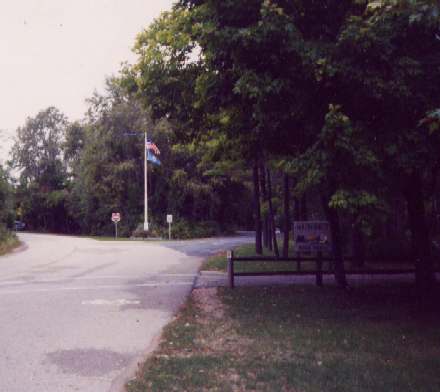 Sunset bike trail in front of the park.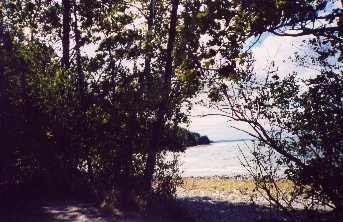 Choppy Lake Michigan waters on a blustery September day. As you round a corner and see Lake Michigan for the 1st time, the brisk winds blast you in the face.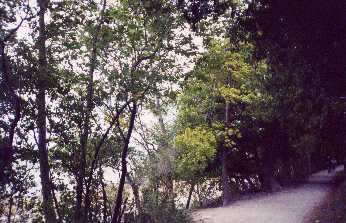 The trail winds around near the lake.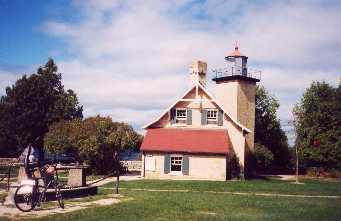 Lighthouse. To the left is a 1000 lb anchor from the the Oak Leaf schooner sunk in Sturgeon Bay in 1926.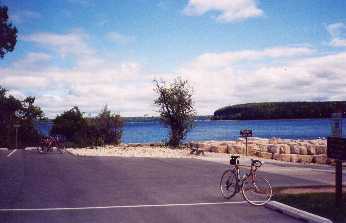 Nicolet Bay

---
Article submitted by Dale Kiffel Cycling Enthusiast
Photos are from September, 2003