About Bicycles Online > Bicycle Touring and Trails > Great River Trail, Illinois
The Great River Trail, Illinois
I received an email recently from one of our site visitors, Carlos of Chicago, Il, who let me know that he and his wife had just had a nice ride on The Illinois Great River Trail, which is an approximately 60 mile trail that runs along the Mississippi River from Rock Island, Illinois north to Savanna, Illinois.
I had looked into riding this trail myself at one time so I asked Carlos if he could send me some more of the details on their ride. Carlos replied with some excellent, detailed information and photos of their ride(s) on this trail.
The Illinois Great River Trail - Article and Photos by Carlos, Chicago, Il.
| | | |
| --- | --- | --- |
| Bridge over the train tracks going into Savanna | Great River Trail view of Plum river near Savanna | Sunset in Moline looking at the Mississippi |
Great River Trail Ride ~ Intro ~ About-Bicycles Original Email
"I have been looking at your website for awhile and it is a great place for information in the Chicago-Land area. I live in Chicago and have used your website advice a few times. Want to thank you for it. "
"Just want to give you a heads up on a very nice ride my wife and I took on Sunday. We rode the Great River Trail from Moline to Savanna... We started at the Comfort Inn and Suites in Moline and rode to the trail end in Savanna..."
Re: The ride from Moline to Savanna: "It was 57 miles one way".
Illinois Great River Trail Ride ~ Detailed Ride Description and Info
We stayed the night at the Stoney Creek Inn in Moline. (I think I wrongly said Comfort Inn earlier). The path goes right through the hotel which makes it a nice start. The whole ride is pretty flat.
The first 15 miles or so until Cordova are along the river. Excellent views. Mostly riding through riverside parks. The day we did our ride the day of the Quad Cities marathon so the route was empty, guessing all of the health work out folk were at the marathon.
Once you get to Cordova you start riding on more of a path along RT84. More prairie, less trees covering the path. You'll pass a nuke plant and a 3M factory that smells like scotch tape. Very very lonely.
At Albany you leave the riverside and head inland a bit to the only real hill on the ride. You get sent to Albany Mounds Trail. A nice wooded side trip. Then you are funneled into Albany streets. My wife and I went off the path to stop for a water and snack refill at the Shell station in town. We then read the Google map wrong and did not get on the trail right away. We thought the trail followed the river, but it was on the bluff. No matter they meet about 2 miles out of town.
Then it is mostly open trail to Fulton. We had ridden Fulton before and knew to cheat a bit and not to go to the wind mill by the river. It is a nice stop, but you get a couple of side streets and hills to head back to the path. We went straight on the 14th Ave to short cut to the path again.
Fulton to Thomson is some of the nicest riding. A mix of tree tunnels and sand prairie riding. The only other riders we saw were here. Thomson was our hardest part. We had been riding at a pretty nice 12.5 mph clip and the first 8 miles or so north of Thomson are on the street.
There was zero car traffic and the highlight is passing directly past the federal jail built north of Thomson that was never opened. There was ideas of sending Al-Qaida prisoners there. This was the toughest part of the ride. We were starting to get tired and got a 20 mph head-wind that was not making us happy. It's all pumpkin fields so we had no break from the wind, we were averaging about 8 mph.
After that you head back into a dedicated path and very nice riding in tree lined tunnel and wetland to Savanna. In all it was a very nice ride. We saw less then 10 other riders and 2 joggers the whole ride. Number might have been low because of the marathon. There are no busy streets to cross, car traffic is very low.
We started our ride at 7 am on Sunday. We did stop for a lunch break in Fulton for a quick sandwich. Savanna is a cool old river town that is motorcycle friendly with a couple of good places to eat. If you don't have someone to get you at this end, there are a couple of hotels in town to stay and head back the next day (my wife and I have thought about doing that).
You are ok leaving you car in Moline overnight. We have stayed at some excellent cabins in the north of town before the Palisades if you have a group. If I had to do one part in a day I would do Moline-Cordova round trip, about 35 miles or Fulton-Thomson 20 mile round trip. All of the ride was paved, I ride a Cannondale RW400 and my wife has a NorthFace (Iron Horse) hybrid that is a very comfortable ride.
Additional Information on the Great River Trail, Illinois
... I would add that when the path goes through towns it routes you away from main streets so if you want to stop at a store for water or snacks you need to deviate from the trail (or side streets) to the main street to find stores.
Another point is that there are not many stores anyway so if it is a hot day you really need to make sure you pack plenty of water.
Best map link I have found of the trail - Illinois Great River Trail Map
Cabins in Savanna ~ The wife of the caretaker used to work for Schwinn in Chicago. Very friendly bicycle people. If you mention that you are going to ride the trail they will give you a discount. See www.BluffCabins.com
Here are the photos of the Illinois Great River Trail:
The Illinois Great River Trail
- Photos
(click on any photo to enlarge)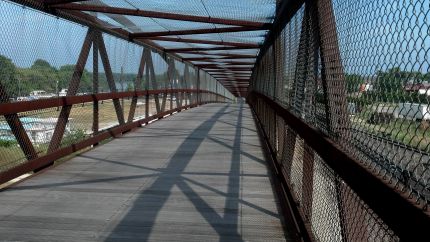 Bridge over the train tracks going into Savanna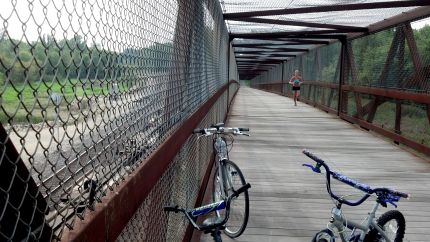 Same bridge headed south into the start of the trail.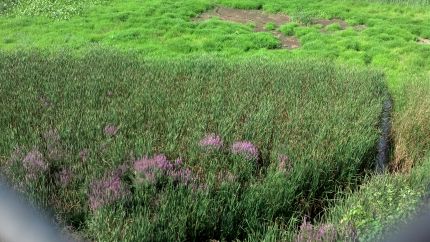 View of some wetland around Savanna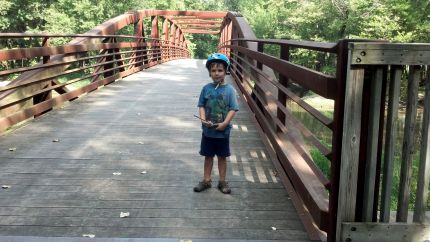 My son at the bridge over the Plum river near Savanna

Another view of the Plum river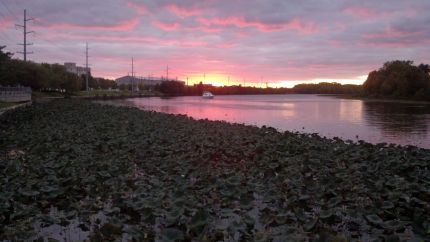 Sunset in Moline looking at the Mississippi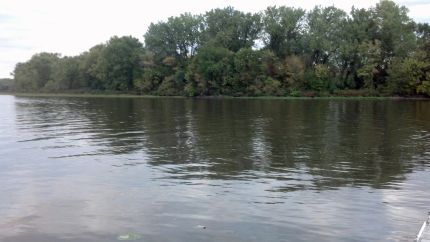 Looking at Rock Island from Moline.

Thank you Carlos for this excellent bike trail info!