Bicycles Online > Elliptigo 8C Elliptical Bike Review
Elliptigo 8C - Elliptical Bike Review
The Elliptigo 8C is an outdoor Elliptical Bike designed and manufactured by Elliptigo Inc.. The Elliptigo 8C is the 8 speed (or 8 resistance level) Elliptical Bike made by Elliptigo.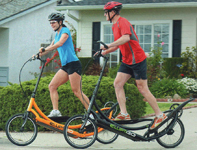 The elliptical bike is very easy to learn, easy to start/stop and easy to mount/dismount. I felt very comfortable riding this bike in a matter of minutes.
These bikes are a lot of fun (as well as practical for a good workout) and I believe that we are going to be seeing a lot more of these on the streets (bike paths, etc.) in the very near future.
I had a great opportunity recently to ride the Elliptigo Elliptical Bike for quite some time and to review the design and mechanics of the bike in detail. These machines do have an appeal to cyclists, to some degree, but they are especially well suited for runners and triathletes.
The Elliptigo Outdoor Elliptical Bikes are designed very well and are an excellent choice for cross training and even for a good outdoor workout and basic transportation around town.
---
Note: As of 9/26/2012 the Elliptigo 8C is selling for $2499 online at Elliptigo.com. See Elliptigo 8C at ElliptiGO.com for the latest price, to purchase the Elliptigo 8C online and for plenty of customer reviews.
---
Elliptigo Elliptical Bike Model Comparisons:
Currently, there are only 2 Elliptical Bike models available from Elliptigo and they are pretty much the same with one major exception. The Elliptigo 3C is a 3 speed elliptical bike and the Elliptigo 8C is a 8 speed elliptical bike.
I have been a cyclist for so many years that I have a tendenancy to call the gear selections "speeds" although they are also referred to a "resistance levels" which would be more in line with the Elliptical Trainer lingo.
There are also a few other differences (the handle grips and overall weight) but they are not as significant as the difference in the number of speeds/resistance levels.
---
About-Bicycles Review:
For me, the front end (the handlebar section) did not feel as stable as a traditional bike and reminded me of how I felt on a recumbent bike. I believe that this is merely a matter of spending some more time riding this kind of bike and just getting used to it. I like the upright riding position and that you have a good view from the bike and also good visibility to others (i.e. cars/traffic).
I had an opportunity to climb a very steep hill on my ride and I found that it was pretty difficult on the Elliptigo but I was able to make it up the hill. This particular hill would have been difficult on a traditional bike too. You will get a very good workout if you ride this machine in a hilly area.
As for the mechanics and design, I love that they kept the design fairly simple and many of the parts are traditional bike parts or slightly modified versions of standard parts.
For the drivetrain/gears Elliptigo uses an internally geared rear hub as you see on some traditional bike models today and there is only one gear assembly (as opposed to the front and rear derailleurs on most traditional bikes). This is a good design for this kind of bike but I would still like the option to select more gears.
One of my concerns is with the design of the roller assembly attached to the foot pedals. My concern is that since the track for the rollers is open it may have problems on non-paved surfaces such as dirt or crushed stone trails or paths. Of course, this would only be an issue if you planned on using the bike on these kinds of surfaces.
Overall, I would not hesitate to recommend the Elliptigo Elliptical Bikes to anyone looking for something new and exciting and a great way to get an excellent outdoor workout.
I also believe that the Elliptigo 8C model is the best choice due to the additional gears/resistance levels.
---
Elliptigo 8C Features:

Gears/Speeds: 8 Speed internally geared rear hub

Colors: Green, Black and Orange

Transport/Storage: Removable Steering Extender, Removable Front Wheel

Grips: Ergon GC3 multi-position ergonomic grips with integral bar ends
Weight: 44 lbs (20 kg)

Climbing Ability: Steep hills
Workout Resistance Selections: 8 different levels of resistance 306%, total resistance range, 17% difference between levels
---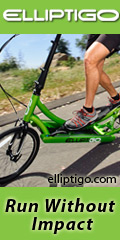 See the Elliptigo 8C at ElliptiGO.com
---
Additional Elliptical Bicycle Reviews:
Elliptigo 3C Elliptical Bike Review
Elliptigo 8C Elliptical Bike Review
---
More helpful online bike sales resources:
See Best Buy Bikes Online - for the latest sales and deals on quality brand names bikes for sale online.
Most popular bike brands in US - WIth so many bicycle manufacturers, bicycle types and popular brand names sold in the US, that it can be difficult to find a comprehensive summary of the top 20 bike most popular bike brands.
See Online Bike Stores - for a complete listing of where to purchase the most popular brands for all bike types online.