Bicycles Online > Road Bikes > Cannondale Synapse Road Bike Review
Cannondale Synapse Review
Affordable, Quality Performance Road Bike
Synapse: A region where nerve impulses are transmitted and received... and a quality road bike ~ that also transmits and receives nerve impulses! Excellent name and excellent bike.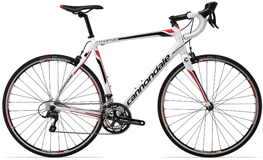 Although the carbon frame Cannondale Synapse has been around since 2005, today there are more models available including both carbon and aluminum frames with plenty of component levels (and price levels) to choose from.
The Cannondale Synapse 6 is an example of a very affordable Cannondale Road Bike. The Synapse 6 has an Aluminum frame, Carbon fork and features Cannondale's S.A.V.E. (Synapse Active Vibration Elimination) design to smooth out the jarring impact of rough roads for a smooth and comfortable ride.
Cannondale makes high-end bicycles which can be quite pricey. This is fine when you are looking for a high-end high performance road bike and price is not an issue. When you are looking for a high quality road bike but want to keep the cost down, Cannondale gives you plenty of options and models.
The Aluminum Frame Synapse 6 is one of the most affordable, high quality road bike that cannondale offers.
---
Note: The 2014 Cannondale Synapse 7 is currently selling for $949 (new) at REI with Free Shipping options. See Cannondale Synapse 7 at REI
for the latest price, customer reviews or to get this bike online. *
Here's an easy link to all Cannondale Synapse models at REI for comparison and for the latest deals on all models: Cannondale Synapse models at REI.
Cannondale bikes must be delivered to an REI store.
---
Many high end bicycle manufacturers, like Cannondale, will not sell their bikes in mass distribution stores or on the internet limiting your selections to the local bike shops available in your area. Fortunately, REI is an authorized Cannondale dealer and they have stores throughout the US giving you the option to shop online, select your bike, model, components and pick up the bike at a local store.
The Cannondale Synapse is a comfortable and responsive performance road bike that is good for commuting, long distance rides, training and can even handle competitive rides and racing.
---
Cannondale Synapse Model Comparisons:
The 2012 Cannondale Synapse Bikes have 6 price/component levels of the Carbon Frame models and 3 price/component levels of the Aluminum Frame models. The prices go down as the level numbers goes up so the Cannondale Synapse1 is the high end and most expensive and the Cannondale Synapse7 is the least expensive.
All Synapse Cannondale models have women specific designs but the standard version claims to be gender neutral. All price levels have aluminum frames and feature the S.A.V.E. (Synapse Active Vibration Elimination) design to smooth out the jarring impact of rough roads and/or trails.
See the REI links (above) for their automated comparison feature to see all of the specific details.
About-Bicycles Review:
Cannondale bikes are excellent quality and have won cycling awards and races in just about every category. Cannondale Road Bikes are more expensive than many other brands (especially bike brands that can be purchased online) but you will get what you pay for.
I love the overall quality of Cannondale road bikes, including the Synapse, the frame geometry is excellent and although the components range in quality depending on the model, even the lowest priced model has better quality components that other brand's high end models.
I would highly recommend the Cannondale Synapse as a light weight, high quality, comfortable and responsive road bike.
Customer Reviews:
Customers definitely rate the Cannondale Synapse very highly. At the time of this review there were only 2 reviews of the current 2012 Cannondale Synapse at REI and both were

(5 of 5 stars).
I was actually unable to find any Cannondale Synapse customer reviews on the major customer review sites that were not 5 of 5 stars!
See the Cannondale Synapse link above for more detailed information, additional customer reviews on some of the other Cannondale Synapse models.
---