Bicycles Online > Comfort and Hybrid Bikes > Schwinn Midmoor Comfort Bike Review
Schwinn Midmoor Comfort Bike Review
Schwinn (i.e. Pacific Cycle) makes bikes at many levels and in many price ranges. Two of the more obvious categories of Schwinn bikes are their mid to upper end bikes, available at local bike shops (LBS) (and online) and their low end, entry level bikes available online and at big box department stores.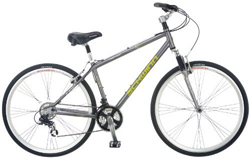 The Schwinn Midmoor falls into the big box store category. Online, you will find the Midmoor at places like Amazon, KMart and Sears. Most of these sites have the bike at comparable prices but the bike is currently only available at Sears.
The Midmoor is a very inexpensive, entry level bike which is best for light to moderate use (like for less than 500 miles per year). Although this is an inexpensive bike, you will still get better quality from Schwinn than many of the other brands sold at the big box stores.
---
Note: The Schwinn Midmoor is available online at Amazon for $286.99 (new) with Free Shipping options. See Schwinn Midmoor Hybrid/Comfort Bike
for the latest price and customer reviews.
---
Although this bike is often categorized as a Hybrid Bike, the definition of hybrid bikes is a little vague and can vary from one manufacturer or dealer to another. Personally, I would say that this bike leans a little more towards being a Comfort Bike than a Hybrid Bike.
The reason that I think that this bike leans more towards a comfort bike is primarily due to the front and seat suspension (shock absorbers), the extra padded seat and mostly upright seating position.
The 700cm tires, 21 speeds and level shifters (vs grip shifters) would indicate more of a hybrid style but these features can also be found on comfort bikes as well as on hybrid bikes.
Comfort and hybrid bikes, including the Schwinn Midmoor are an excellent choice for casual and comfortable bike rides, commuting and occasional longer distance (bike path or touring) rides.
The Schwinn Midmoor at a glance:
This bike has nicely padded seat, front suspension, seat post shock absorber, lever shifters (not grip shifters), 700cm tires, mid-range quality components, a comfortable frame design and is available in Men's and Women's models.
About-Bicycles Review:
This bike has most of the features that you would want in a comfort/hybrid bike, such as the 700cm tires, 21 speeds, front and seat suspension, padded seat and Schwinn (i.e. Pacific Cycle) quality and features but when it comes right down to it, it's the price that makes this one a good buy for a light to moderate use comfort/hybrid bike
Although there are very few quality comfort bikes available for under $300, I would recommend checking out the Schwinn Voyager (comfort) and Fuji Absolute (hybrid) which are better quality and very close in price.
Customer Reviews:
There were almost too many customer reviews online for the Schwinn Midmoor which can make it hard to find the most relevant and legitimate comments. I believe that customer satisfaction level is sometimes related to the price paid in some situations.
For example, the
4 of 5 stars average at Amazon probably reflects the satisfaction with the bike for the price paid rather than the overall quality of the bike compared to other quality comfort or hybrid bikes.
See Schwinn Midmoor Hybrid/Comfort Bike Reviews
for the latest price and customer reviews...
---