Bicycles Online > Comfort and Hybrid Bikes > Schwinn Avenue Hybrid Comfort Bike Review
Schwinn 7th Avenue Hybrid / Comfort Bike Review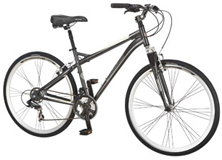 Is the Schwinn 7th Avenue Hybrid really a Schwinn or even a Hybrid? OK, technically, this is a Schwinn (i.e. Pacific Cycle) bike, of course, but you won't find this bike on the Schwinn Bike site or at any other store other than Wal-Mart since it is specifically made for Wal-Mart.
Yes, you can call this a Hybrid Bike, but the definition of hybrid bikes is a little vague and can vary from one manufacturer or dealer to another. Personally, I would say that this bike leans a little more towards being a Comfort Bike than a Hybrid Bike.
The reason that I think that this bike leans more towards a comfort bike is primarily due to the front and seat suspension (shock absorbers), the extra padded seat and mostly upright seating position.
The 700cm tires, 21 speeds and level shifters (vs grip shifters) would indicate more of a hybrid style but these features can also be found on comfort bikes as well as on hybrid bikes.
Comfort and hybrid bikes, including the Schwinn 7th Avenue Hybrid are an excellent choice for casual and comfortable bike rides, commuting and occasional longer distance (bike path or touring) rides.
---
Note: The Schwinn Seventh Avenue Hybrid is currently selling for $239.97 (new) at Wal-Mart with free store pickup (was $344 on 10/9/13). See Schwinn Seventh Avenue Hybrid/Comfort
for the latest price, customer reviews or to order this bike online.
---
The Schwinn Avenue Hybrid at a glance:
This bike has nicely padded seat, front suspension, seat post shock absorber, lever shifters (not grip shifters), 700x38c tires, high quality components and a comfortable frame design.
Note that the Schwinn Seventh Avenue is the decendant of the original Schwinn Avenue bike.
This bike is available in Men's and Women's models. The primary difference in most "Women's" models is the top tube (or top crossbar). Most (but not all) Women's model bikes have the complete step through design. Even the Men's version of the Schwinn Avenue has a downward angled top tube which does make this bike easy to mount and dismount.
About-Bicycles Review:
Although there are higher quality hybrid and comfort bikes available (the Schwinn Voyager GS (comfort) and Fuji Absolute (hybrid) for example), there are very few quality comfort/hybrid bikes available for under $300.
The price, overall Schwinn (i.e. Pacific Cycle) quality and features (700cm tires, 21 speeds, suspension and padded seat) make this a great buy but I would only recommend this bike for light to moderate use.
Customer Reviews:

There were no shortage of customer reviews on this bike at the time of this review and owners rate this bike very high. The Schwinn Avenue was rated 4.5 of 5 stars (from 101 reviews at Wal-Mart) and 4.5 out of 5 stars (from 4 reviews at epinions.com).

---
More helpful online bike sales resources:
See Best Buy Bikes Online - for the latest sales and deals on quality brand names bikes for sale online.
Most popular bike brands in US - WIth so many bicycle manufacturers, bicycle types and popular brand names sold in the US, that it can be difficult to find a comprehensive summary of the top 20 bike most popular bike brands.
See Online Bike Stores - for a complete listing of where to purchase the most popular brands for all bike types online.
---