Bicycles Online > Comfort and Hybrid Bikes > Electra Townie Comfort Bike Review
Electra Townie Comfort Bike Review
OK here's what you need to know about Electra and Townie bikes before we get into the specific Electra Townie bike models and reviews.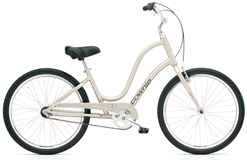 First of all, when you talk about Electra you are talking comfort bikes. One of the Electra Bicycle Companies' stated goals is to design "insanely comfortable bikes" engineered for performance.
Next you need to know that the key features of all Townie bikes are: the ergonomic Flat Foot Technology (where the crank and pedals are more forward than on other bikes so your sitting position is angled back 23%), the lightweight aluminum frames and high quality components.
After that you get into all of the personalized features of each specific Townie model. See the Electra Townie Models, Numbers and Codes below for additional information on the models and codes.
I had the opportunity to review a few of the Electra Townie bikes at my local REI store and I have found these bikes to be very well made, with quality components, and they are extremely comfortable! (of course).
The Electra Townie has nicely padded seat, grip shifters and an incredibly comfortable upright seating position. The Flat Foot Technology (seating position) reminds me a little bit of riding a recumbent bike except not nearly as laid back.
Fortunately, you can get most of the comfort of a recumbent with the Townie bike at a fraction of the cost (recumbents are much more expensive than most traditional upright bikes).
---
Note: The 2015 Electra Townie 21d is currently selling for $549 (new) at REI. See the 2015 Electra Townie 21D at REI for the latest availability, price and customer reviews.
There are also still some prior year models available online at very good prices. The Electra Townie has not changed much (if at all) in the last few years, other than the colors, so you can also see All Electra Townie Models (at REI) for some good deals and comparisons.
Electra bikes must be delivered to an REI store.
---
Electra Townie Models, Numbers and Codes
The Electra Townie bikes consist of men's and women's versions of the Original and the Balloon and some designer and previous years models.
The various Electra Townie bikes also come with a variety speeds and types of shifters. This is where you see the number and letter combinations like 8d, 21d, 3i, 7d, etc. The number represents the number of gears or speeds. The letter represents the type of shifting where "D" = Derailleur and "I" = Internal Hub (a lower maintenance Shimano Nexus hub).
For example: an Electra Townie Euro 21D would be the Euro model with 21 speeds and a traditional derailleur. When no model is specified it is usually referring to the "Original".
Many (but not all) of the Internal Hub models come with a coaster brake (where you pedal backwards for the rear brake) in addition to a hand brake for the front. If this is not in the specifications online, you can tell that it is not a coaster brake if there are 3 cables (not 2) coming off of the handlebars or if you can see the brake pads on the back wheel.
There are Men's, Women's and Kid's versions of most Townie models and the Electra has a "1 size fits most" feature that makes fitting the bike an easy process. The women's and kid's models are slightly smaller than the men's. After that you adjust the height of the seat and make any other required adjustments to customize the fit specifically to your body.
Comfort and hybrid bikes, including the Electra Townie are an excellent choice for casual and comfortable bike rides, usually for under 10 miles, as well as an for commuting and/or running errands around town.
About-Bicycles Review:
First off you have the comfort factor of this bike and the Electra Townie excels in this area. This is an incredibly comfortable bike. Defiantly 5 stars in that category!
Next, is the quality of the components. The only weakness that I found in my Townie review was that I thought that the front hand brake seemed a little flimsy. Other than that, most components are quality Shimano products and the Shimano Nexus internal hubs (on the "i" models) are excellent.
Next you have the innovative designs, personalized models. Electra does a real good job with their bike designs and personalizes the models for individuals and their own specific needs so all you need to do is select the Townie model with the options that you like.
I would recommend The Electra Townie for anyone looking for a fairly light weight, high quality and very comfortable bike for casual riding.
Customer Reviews:
The customer reviews that I've researched online were overwhelming positive for the various Electra Townie models.
For example at the time of this review, Buzzillions.com rated the Electra Townie 21 at 4.7 out of 5 stars from 43 reviews although the majority of these reviews were prior to 2012.
The reviews at REI were more current and had a combined rating (all models) of 4.81 of 5 stars from 16 reviews.
Typical Customer Review Comments at REI included...
"a fantastic bike. You'll want to take it everywhere. You'll even make excuses to ride it. very comfortable riding position, and can go faster than it looks..."
"The bike is so easy and smooth to ride, by the second week I was up to 13 miles in one trip! It handles so well and is very easy to shift. I can ride up and down hills with ease..."
---
See the Electra Townie links above for the latest customer reviews, additional specifications on this bike or to get this bike online at the lowest price.
---