Bicycles Online > Comfort and Hybrid Bikes > Cannondale Quick Hybrid Bike Review
Cannondale Quick Review
So what is Cannondale known for besides quality bikes, winning races and cycling awards in just about every category? Bike frames!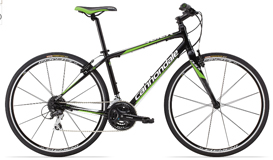 Cannondale is known for their innovations in bike frames and the Cannondale Quick (all models) feature the S.A.V.E. (Synapse Active Vibration Elimination) design to smooth out the jarring impact of rough roads and/or trails.
The Cannondale Quick bicycles are an excellent, light weight, high performance Road/Mountain Hybrid. Although this bike could fall under the road bike category, the upright handlebars, rider position, S.A.V.E. design and slightly wider tires definitely qualify this bicycle as a hybrid.
The biggest disadvantage with some Cannondale bicycles are the price but the Cannondale hybrid bikes, and the Quick in particular, are very reasonably priced and there are 6 price/component levels to choose from so you should be able to fit this bicycle into your budget.
---
Note: The 2014 Cannondale Quick 4 is currently selling for $689 (new) at REI with FREE instore shipping. See Cannondale Quick 4 for the latest availability, price and customer reviews or to purchase this bike online. *
Cannondale bicycles must be delivered to an REI store.
---
Even with the lower priced models (the Quick 5 and 6) you will still be getting more for your money than with other lower quality brands and often you can usually find great deals on Cannondale bicycles online (although these bikes must be delivered to a store).
The Cannondale Quick is a relatively new edition to Cannondale's lineup and this bicycle is already becoming a very popular hybrid.
For more serious riders, this bike can handle commuting, touring and long distance rides, comfortably but with much less effort than a heavier comfort bike, and can handle paved, crushed stone, grass, or fairly rugged dirt bike trails.
---
Cannondale Quick Model Comparisons:
Cannondale Quick Bicycles have many price/frame/component levels. The prices go down as the level numbers goes up so the Cannondale Quick1 is the high end and most expensive and the Cannondale Quick5 is the least expensive.
All Quick Cannondale models have women specific designs but the standard version claims to be gender neutral.
All price levels have aluminum frames and feature the S.A.V.E. (Synapse Active Vibration Elimination) design to smooth out the jarring impact of rough roads and/or trails.
The Derailleurs are different on all models and are a combination of different Shimano and SRAM. The tires are 700 X 28c on the Quick1, 700 X 32c on the Quick 2,3, and 4 and 700 X 38c on the Quick 5 and 6.
See the REI links (above) for their automated comparison feature to see all of the specific details.
About-Bicycles Review:
Cannondale bicycles are excellent quality but they can be a little more expensive than other comparable brands. Fortunately, the Cannondale hybrids are more reasonably priced than some of their other lines.
I love the Cannondale frame, components and design of all of the Cannondale Quick models but probably prefer the Quick3 and Quick4 the best for the price and component quality. If you need to keep your costs down, the Quick5 and Quick6 will still be a better buy than other brands in this price range.
I would highly recommend the Cannondale Quick as a light weight, high quality and comfortable hybrid.
Customer Reviews:
Customers definitely rate the Cannondale Quick very highly. At the time of this review there were no customer reviews of the 2012 Cannondale Quick models but plenty of prior year reviews. I have not seen a Cannondale Quick customer lower than 4 of 5 stars (most are 5 stars) since 2009. This consistency indicates an excellent product.
See Cannondale Quick Reviews for more information and additional customer reviews...
---