Bicycles Online > Comfort and Hybrid Bikes > Schwinn Sierra Comfort Bike Review
Schwinn Sierra Review
The Comfortable Bike Path Bike
When you are looking for a bike that is comfortable, reasonably priced and can handle paved or crushed stone bike paths as easily as riding on a side street then the Schwinn Sierra is one bike that you will want to check out.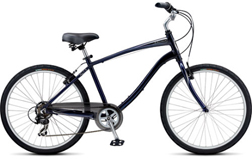 The Schwinn Sierra is a Comfort Bike that leans little more towards a mountain bike style. Although this bike is designed for comfort, the wider 26 inch tires, 26 inch frame and higher wheel clearance gives you more traction and stability and the option to take on some bike paths or trails that would be difficult on a more hybrid like (700c tires) comfort bike.
Schwinn calls this bike a "Bike Path" bike, which is pretty vague and often includes more traditional hybrid bikes as well as comfort bikes so that can be confusing. Make no mistake, the Schwinn Sierra is designed for comfort and easy riding.
---
Note: The Schwinn Sierra 7 is on sale and selling for $249 (new) at Performance with free shipping options. See Schwinn Sierra7 Comfort Bike
for the latest price, more customer reviews or to get this bike online.
See Schwinn Sierras at Performance Bike
to compare all 2013 and 2014 Schwinn Sierra models at Performance Bike.
---
What You Get ~ and Don't Get ~ with the Schwinn Sierra
What You Get with the Schwinn Sierra is comfortable and practical bike with a nicely padded spring suspension seat, 7 speeds (gears in the back not in the front) with a twist grip shifter, a chain guard and 26 inch wheels and tires.
What You Don't Get with the Schwinn Sierra is a front suspension (shock absorber), seat post suspension and the extra speeds that you get by having the front derailleur and gears.
About-Bicycles Review:
The Schwinn Sierra 7 is a good bike for casual, easy riding. This is a better quality bike than the Schwinn bikes that you find in the big box stores (Wal-Mart, KMart, Amazon) although the price is comparable to the cheaper bikes at these stores.
The Schwinn Sierra is a good choice if you want a very basic bike and do not care for the front suspension (which does keep the bike lighter) and want to keep your cost to a minimum.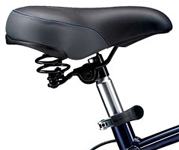 Customer Reviews:
There were no customer reviews of the 2012 Schwinn Sierra 7 at the time of this review but there were plenty of customer reviews of prior year (2011) model. The 2011 Schwinn Sierra was rated at 4.7 of 5 stars (at Performance Bike) from 6 Sierra owners.
I only found one slightly negative comment and that was that the bike was "Somewhat heavy". All other reviews were very positive.
---
More helpful online bike sales resources:
See Best Buy Bikes Online - for the latest sales and deals on quality brand names bikes for sale online.
---