About-Bicycles > Fitness Bikes > Brand Reviews > Nautilus Brand Review
Nautilus Brand Exercise Bike Review

Nautilus is both a brand name of fitness equipment and the name of the corporation that produces Nautilus branded products as well as Schwinn Fitness products, Bowflex products and Stairmaster products.
Although this brand review focuses on Nautilus Exercise Bikes, it is important to know that the other brands listed above are made by the same company and in many cases their stationary bikes are very similar to the Nautilus branded products.
Nautilus does not currently have a lot of fitness products in the product lines that they offer (they make treadmills and elliptical trainers in addition to stationary bikes) but the products that they do offer are reasonably priced and very popular.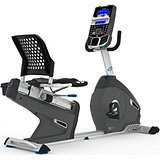 Their current line of fitness bikes includes one Upright model, the Nautilus U614 and one Recumbent Bike, the Nautilus R614.
Both of these fitness bikes are inexpensive mid-range models that sell directly from Nautilus, through the Nautilus website, and at Amazon.
Although Nautilus makes these bikes and owns the Bowflex website, the bikes are no longer available in the Bowflex website and were generally less expensive through Amazon.
---
Note: To compare All Nautilus Upright and Recumbent Bikes and for the lowest prices see Nautilus Fitness Bikes at Amazon
.
---
Reasons to Consider Nautilus Brand Bikes
When you want to keep your costs down and still get most of the features offered on more expensive fitness bikes ~ in a mid-range model ~ then Nautilus will be one of your better options.
Nautilus Stationary Bikes are very similar in design and quality to their Schwinn counterparts although the consoles are different. See the Nautilus U514 Review and Nautilus R514 Review for the comparable Schwinn models and a description of the differences.
Although it can be difficult to find Nautilus Fitness Bikes offline (in B&M stores) to test ride, you can usually find their Schwinn counterparts in stores. If you like the feel of the Schwinn bikes then you can be confident that you will be getting virtually the same thing with the Nautilus brand.
Regarding the music players and heart-rate chest straps, I usually like to point out that you can always listen to an iPod/MP3 player with headphones or hookup a compatible stereo system in your exercise room and you can also buy a wireless heart-rate chest strap separately so although having these features included with the bike is very nice you still do have other options to keep your workouts efficient and entertaining.
---
About-Bicycles Brand Review - Nautilus
Nautilus makes inexpensive mid-range stationary bikes with plenty of features for in-home use. The seat on the U614 Upright is heavily padded and comfortable and the seat on the R614 Recumbent provides plenty of support, is even more comfortable and comes with lumbar support.
The features that really stand out on the U614 and R614 are the large, easy to read console, the 300lb weight capacity.
The wireless chest-strap heart-rate monitor is more accurate than the handle grip monitors and free up your hands and arms for other things while keeping track of your heart-rate through out your entire ride.
The HRC programs allow you to set your target heart-rate ranges then adjust the bikes resistance automatically to keep you within your selected ranges . **
Nautilus Fitness Bikes come with very good warranties (backed up by a reputable company) and produce good, low cost stationary bikes for moderate in-home use.
---
Nautilus stationary Bike Reviews
Recumbent Exercise Bikes
Nautilus R514 Recumbent Review
See the Amazon link above for more information on the newer models
Upright Exercise Bikes
** Please check with your doctor before you start a workout program based on heart rate.