About Bicycles Online > Fitness Bikes > NordicTrack Commercial VR Review
NordicTrack Commercial VR Review
Heavy Duty Recumbent with Sleeker Design
The New NordicTrack Commercial VR Recumbent starts off with the same heavy duty, commercial gym quality as the original NT Commercial VR then the engineers at NordicTrack go on to add a much sleeker look, a heavier flywheel, a ventilated seat back, a higher weight capacity and more resistance levels.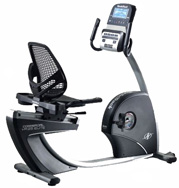 NordicTrack is the high end fitness equipment brand made by ICON Fitness (the largest fitness equipment mfg in the world) and the Commercial VR is one of NordicTrack's top of the line Recumbent Exercise Bikes for 2016 so you are really getting the best of the best with this recumbent.
Although this bike is built from quality materials, is very heavy duty, and the name implies that it is a commercial grade stationary bike, the Commercial VR is, in reality, a high end in-home fitness bike.
This is actually a good thing since you can get this fitness bike and an in-home fitness room price, the user weight capacity is near commercial fitness equipment levels (this is a good indicator of the bikes durability even if you weigh much less) and you still get a Lifetime Warranty on the Frame plus a 3 year parts and 1 year labor warranty ~ which are also good indicators of the bikes overall quality and durability.

---
Note: The newer, upgraded NordicTrack Commercial VR21 is selling for $644 (new) with free shipping options. Go to NordicTrack Commercial VR21 for the latest price customer reviews, or to get this bike online.
---
Recumbent Exercise Bikes, like the Commercial VR25, provide better back and upper body support, are generally more comfortable than upright models and other fitness equipment yet still give you an excellent aerobic workout for better cardiovascular fitness and weight loss.
Commercial VR Motivational Features
You don't want to under estimate the motivational features of any fitness bike that you are considering. Let's face it, indoor fitness routines are just not as much fun as riding an outdoor bike (for example) so having the more motivational features ~ built-in and optional ~ and entertainment options that you have, the more likely it will be that you will spend more time getting or staying fit.
The motivational and entertainment features start with what comes Built-In to the bike's console. With the Commercial VR25, you get 35 Workout Apps with integrated handle controls, the iPod/MP3 jack and built-in sound system, the heart-rate monitoring system including handle grip and wireless chest strap HR monitors and easy to read stats and 7 inch Touchscreen console.
Next you get the Optional Features which includes the iFit Live Technology. The Comm VR PRO is iFit Live compatible which means that you can track your workout stats online, download new routes and courses to the Commercial VR PRO or get additional workout routines from certified trainers when you purchase the iFit Live card (separately or when you get the VR25).
See our iFit Live Summary and Review page for more information in iFit Live.

And, of course, there are the External motivational and entertainment options which include setting up a TV or home computer near your bike or running various apps on your mobile devices as you workout. These options are not exclusive to the VR25, of course, but Recumbent Exercise bikes do give you more options in this area since you are in a reclined seated position and your hands are free to use if you choose.
---
The comparisons and specifications below are from some of the previous versions of the Commercial VR but most are still available on the newer Commercial VR models and I believe that these comparisons provide a good summary and comparison on VR features.
Commercial VR and Commercial VR PRO Comparisons
The main differences between the original NT Commercial VR and the Commercial VR PRO are listed below.
| NT Commercial VR | Commercial VR PRO (this review) |
| --- | --- |
| 24 Digital Resistance Levels | 26 Digital Resistance Levels |
| 350 lb. Weight Capacity | 375 lb. Weight Capacity |
| Padded Seat Back with Lumbar Support | Ventilated Seat Back |
| 20 lb. Effective Inertia-Enhanced Flywheel | 23 lb. Effective Inertia-Enhanced Flywheel |
| Footprint: 58.5" L X 27.25" W X 55.25" H | Footprint: 70" L x 21.75" W x 54.5" H |
About-Bicycles Review
The first thing that I noticed and still really like about the NordicTrack Commercial VR PRO is the new sleeker look and the more ergonomic design when compared to the original Commercial VR or actually most other recumbent exercise bikes.
You still get a heavy duty and durable recumbent with a comfortable ride and plenty of good back and upper body support. Plus I also like that the NT Commercial VR bikes also come with a more accurate wireless heart-rate chest strap in addition to the handle grip HR monitors.
The Wireless Heart-Rate Monitor
If you are not used to wearing a wireless chest strap heart-rate monitor that may not sound all that great but after I started wearing my chest strap HR monitor on my bike this year I discovered that I never even notice that it is on and I have found the accurate HR stats to be very helpful for pacing the level of my workout. I wear mine for every ride.
With an indoor recumbent bike, the wireless HR monitor also allows your hands to be free while you ride. This is a big advantage since you can hold a book, magazine, laptop, mobile device or anything else while riding and still monitor your heart-rate stats through out the entire ride.
The Ventilated Seat Back
One thing that I do want to make you aware of is that the Commercial VR PRO comes with a Ventilated Seat Back rather than a heavily cushioned seat bike (like the original Commercial VR).
There are some pros and cons with this kind of seat back and it really comes down to a personal preference as to which is best for you.
If you have ever worked out on a recumbent with a solid (cushioned) seat back you know that the longer you workout the more likely that your shirt is going to get wet and stick to the seat back. The ventilated seat back helps quite a bit with that situation,
On the other hand, this is a plastic seat back (not mesh) and, although it is ventilated for a cooler ride, it may not be as comfortable to some people as a solid cushioned seat back.
Actually, I wish that the fitness companies would make it an option and allow you to select the style that you prefer (but that's a whole different story).
Overall I would say that the NordicTrack Commercial VR PRO is an excellent Recumbent Fitness Bike with plenty of nice features and options, a great warranty and is very reasonably priced.
Customer Reviews
At the time of this review, this bike just came out and there were no Customer Reviews on the NordicTrack Comm VR available online.
See Commercial VR Reviews (at NordicTrack) for additional customer reviews or to purchase the NordicTrack Commercial VR PRO directly from NordicTrack.
---
NordicTrack Commercial VR PRO Features at a glance: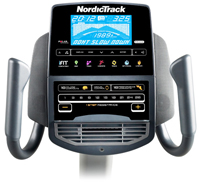 Commercial Grade Steel Frame

32 Built-in Workout Apps

26 Digital Resistance Levels

iFit® Compatible*

7" Backlit Display

RaceTrack™ Display

CardioGrip™ Heart Rate Monitor with Wireless Chest Pulse Included

Compatible Music Port for iPod®**

Quick-Touch In-Handle Controls

Easily Adjustable Ventilated Seat for a cooler ride
23 lb. Effective Inertia-Enhanced Flywheel
Transport Wheels

AutoBreeze™ Workout Fan

375 lb. Weight Capacity

Footprint: 70" L x 21.75" W x 54.5" H

Warranty:
Lifetime guarantee on the frame,
3-Year Parts Warranty and 1-Year Labor Warranty.

*Requires iFit® wireless module which is sold separately. Currently, you will get a Free one-year iFit® subscription when you Buy the iFit® wireless module.