About Bicycles Online > Fitness Bikes > Schwinn 250 Review
Schwinn 250 Recumbent Review

The Schwinn 250 Recumbent Exercise Bike is an upgrade to the popular Schwinn 240 which is one of Schwinn's most popular fitness bikes and has been available in retail stores for years now.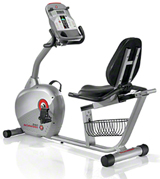 The newer Schwinn 250 Recumbent is the same basic design as the older model but has some notable upgrades including a built in iPod/MP3 player jack and speakers and more programs, including the 4 Heart Rate Control (HRC) programs (rarely found in stationary bikes in this price range).
I have ridden the Schwinn 250 and found it to be a very comfortable and sturdy upright fitness bike. This bike is popular now and I have found it on display near us at Sports Authority and Sears.
If you check out last year's model (the Schwinn 240) then keep in mind that this is basically the exact same bike but with the additional console features mentioned above.
---
Note: The Schwinn 250 Recumbent is no longer available from this site or no longer for sale online.
Please see our Exercise Bike Ratings page for a full listing of the exercise bikes that are available with prices and ratings.
(was selling for $479 from Boflex).
---
Schwinn Fitness has been creating the most affordable fitness bikes, for in-home use, for years now. Schwinn's higher end upright models (like the Schwinn 240 and now the Schwinn 250) are high quality, durable stationary bikes with plenty of features and a good warranty from a trusted company.
Features of the Schwinn 250 Recumbent
One of the biggest upgrades that the newer Schwinn 250 Recumbent has over last year's model are the 4 Heart Rate Control (HRC) programs. With an integrated Heart Rate Control (HRC) program, the intensity of your workout is based on your heart rate and the target heart rate zone that you have defined. The Schwinn 250 will increase and decrease the bike resistance to keep you within your target heart rate zone. **
This feature has been available on more expensive fitness equipment (i.e. treadmills, elliptical trainers, etc.) and more expensive stationary bikes for years but Schwinn is now including this feature in a very reasonable priced Recumbent model.
On top of the new 4 Heart Rate Control programs and iPod/MP3 music features, you get all of the features of last years model (the Schwinn 240) including the Oversized, ergonomic pedals, Fore-aft and angle-adjustable console, with integrated blower fan, bottle holder and utility tray, Ergonomic extra-wide seat, Perimeter weighted flywheel for a true road feel, and smooth, consistent workouts, Oversized stabilizers and levelers and a 300lb weight capacity.
You also get the Backlit, multi-color console with 11 preset programs, 8 profile courses, quick start, distance goal, fitness Schwinn Advantage™ workout tracking (Voice: an easy way to set fitness goals and measure your progress right on the console) and Polar® telemetry-enabled heart rate system and 16 resistance levels.

About-Bicycles Review
The Schwinn 250 Recumbent is a comfortable and sturdy recumbent fitness bike with lots of features not found on recumbents in this price range (including the Polar® telemetry-enabled heart rate system, Heart Rate Control (HRC) programs and dual position lumbar support).
Although there are lower priced upright bikes, you should be very careful selecting low budget exercise bikes. You will not get the quality, features, company reputation or warranty that you get with the Schwinn 250 Recumbent.
If the Schwinn 250 price is just getting a little too high for your budget and you can do without the HRC and iPod/MP3 features then the Schwinn 240 Upright is still a very good buy in this category.
One of the additional features that I particularly like with the 240 and the 250 (and that is often overlooked) is that these bikes are powered by an AC power adapter (included) and not just by batteries. If you are going to be using your bike enough to get some a real benefit from it, then the AC power supply is an important feature.
Customer Reviews:
This Upright Bike has been around for some time now and currently has a

rating from 83 customer reviews at Amazon See the Amazon link button above for the latest price, the most customer reviews or to purchase the Schwinn 250 at the lowest price.
---
Schwinn 250 Features at a Glance:
Resistance Levels: 16

Resistance System: Quiet magnetic ECB (Eddy Current Brake) resistance

Number of Programs: 26
Workout Programs: 9

Heart Rate Monitors: Telemetry and Contact Heart Rate
Ergonomic extra-wide seat with dual lumbar support settings
iPod/MP3 music input port, speakers
Upper and Lower Handlebars

Display Type: Backlit, multi-color LCD

Display Readout: Time, interval time, RPM, watts, distance, pulse, speed, calories, resistance level, course profile

Reading Rack

Water Bottle Holder

Fan

Rear Stabilizers/Frame Levelers

Transport Wheels
Switchable From Miles To KM

Fore/Aft Seat Adjustment

Oversized Deluxe Pedals

Oversized Seat/Saddle

Product Dimensions: 43.7" X 12.6" X 23"

Machine Weight: 88 lbs (40 kg)

Maximum User Weight: 300 lbs

AC Adapter (included)
Power Requirements: 9V 1.5 DC

Warranty:
5 years - Frame
1 year - Mechanical and electrical
90 days - Wear parts and Labor
** Please check with your doctor before you start a workout program based on heart rate.