About Bicycles Online > Fitness Bikes > Sole SB700 Indoor Cycle Review
Sole SB700 Indoor Cycle Review
The Sole SB700 Indoor Cycle has some very nice features that make this Indoor Cycle a very good choice for indoor training and serious workouts.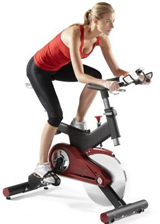 There is the 48lb chrome flywheel, the electronic console to monitor your progress, a 300lb weight capacity and an unbeatable warranty.
Sole is totally committed to building quality fitness products that are extremely durable which is why they offer the industry leading warranty (lifetime on the frame, 3 years on parts and electronics, 1 year on labor with in-home service!) on their indoor cycle.
The Sole SB700 Indoor Cycle gives you multiple handlebar positions, total adjustability with the vertical and horizontal Seat and Handlebar adjustments an Electronic Console and Kevlar braking system. Sole then goes one step further in offering the 48 lb flywheel.
---
Note: The Sole SB700 Indoor Cycle is selling for $799 at Soletreadmills.com ~ factory direct ~ with FREE shipping. See the Sole Fitness SB700 Fitness Bike for the latest customer reviews and deals or to get the Sole SB700 online.
---
Sole SB700 and the Competition
The engineers at Sole have really done their homework on this one. The only other Indoor Cycle models that have all of the features of the SB700 (except the 48lb flywheel) are the more expensive Livestrong models such as the Livestrong LS9.9IC Indoor Cycle.
There are few Indoor Cycles that even come close to the Sole SB700 in its price range. Most bikes in this price range have a chain drive (as opposed to the quieter and lower maintenance Kevlar belt) and do not have the heavier flywheel, 300lb weight capacity or as good of a warranty.
At the time of this review, the Sole SB700 is Sole's only Indoor Cycle and can be found on the SoleTreadmills.com (see the link above) along with their 2 upright and 2 recumbents. So if you have decided on an Indoor Cycle, and like Sole and its industry leading warranty, the SB700 is your only choice.
Indoor Cycle or Exercise Bike
Indoor Cycles such as the Sole SB700, are designed for more intense workouts and although these bikes are more comfortable than outdoor road bikes they will not usually be quite as comfortable as a traditional Upright Exercise Bikes or Recumbent Exercise Bikes (see the sidebars for examples of these kinds of exercise bikes).
Note: Many Indoor Cycles are often incorrectly referred to as Spin® Bikes but keep in mind that SPIN, SPINNER and SPINNING are registered trademarks identifying Mad Dogg Athletics and its indoor cycling goods and services.
Fitness Bikes with the same mechanical and friction based resistance design that are not produced by or approved by Mad Dogg Athletics must be referred to as Indoor Cycles.
---
About-Bicycles Review:
The Sole SB700 Indoor Cycle is designed for intense workouts and has all of the features of the more expensive Indoor Cycles in addition to the 48lb flywheel, and at a much lower cost.
The warranty on the SB700 can not be beat so even if you have not had a chance to review this Indoor Cycle in the b&m stores (they are sold at Sears and Dick's but are not always on display or in stock), you can still be assured of getting a quality product.
I would have to say that this is the best buy for an Indoor Cycle under $1000.
Customer Reviews:
There were not many customer reviews of the product at the time of this review. The Sole SB700 Review at Amazon was (

5 of 5 stars, from Leanne on 12/4/2011) but this bike costs a little more at Amazon when I checked this review.
See Sole SB700 Customer Review at Amazon
for the full customer review, new customer reviews or to purchase the Sole SB700 Indoor Cycle.
Sole SB700 Indoor Cycle Indoor Cycle Features at a glance:
Flywheel: 48 lb chrome plate wheel

Console: Integrated w/ RPM, time, KCal, speed, distance

Seat/Handlebar: Adjustable Up/Down and Fore/Aft

Pedals: Toe Clips and Straps

Display: 3" x 4" backlit blue LCD

Brake Pads: Yes

Resistance: Turn knob

Transport Wheel: Yes

Dimensions: 42" x 21" x 40"

Product Weight: 140 lbs

User Weight: 300 lbs

Water Bottle Holder Included
Warranty:
Frame: Lifetime
Parts / Electronics: 3 Years
Labor: 1 Year
All service is performed In-Home