About Bicycles Online > Fitness Bikes > Sole LCR Recumbent Review
Sole LCR Light Commercial Recumbent Review

The Sole LCR Recumbent Exercise Bike falls into the light commercial category which means that it is built to handle multiple users, constant adjustment changes, higher weight usage, and long hours of use each day.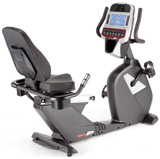 The Sole LCR Recumbent is specifically designed for workout rooms for physical therapy clinics, small businesses, apartment complexes, fire or police departments, park districts, apartment complexes, etc. but if you are just looking for a heavy duty recumbent bike that will last for many years, it can also be purchased online for in-home workout rooms.
So what do you get with the Sole LCR Recumbent? For starters, you get the features of the in-home model including the large comfortable 12 position foam seat, handle grip heart rate monitors with wireless chest strap compatibility, and easy and intuitive 9" LCD display console.
Next, add a 30lb flywheel, 40 levels of resistance, 350lb user weight capacity, self generating power, and an upgraded warranty for residential use.
---
Note: The Sole LCR Recumbent is currently selling directly from Sole Fitness for $1,499 with Free Shipping. See SoleLCR Light Commercial Bent for the latest price, customer reviews or to purchase this bike online.
---
This Recumbent Fitness Bike is at an excellent price point for the Light Commercial market. The price is much lower than fully commercial grade fitness bikes, which are designed for even heavier usage (i.e. larger fitness clubs).
One of the important factors for cyclists when researching outdoor bikes is frame geometry. This is also an important feature in stationary bikes since the geometry of the bike in a major factor in determining how comfortable the bike is and how well it supports your body.
Sole Fitness Fitness Bike Monitors
One feature of the Sole LCR Recumbent that should not be overlooked is the large, easy to read 9 inch display monitor.
It is really easy to compare the display monitor to other models, just browse the photos of the other recumbents for sale online. When you compare the Sole Fitness monitor to other Recumbent bikes it is obvious that the monitor is much larger and easier to read than most other models.
The Sole Fitness Bike Warranty and Customer Service
Sole is totally committed to building quality fitness products that are extremely durable which is why they offer the industry leading warranties.
The Light Commercial Warranty on this product is Lifetime on the frame, 3 years on parts and electronics, 1 year on labor with in-home service.
The Residential Warranty on this product is Lifetime on the frame, 5 years on parts and electronics, 2 years on labor with in-home service!
In addition to their excellent warranty, Sole has an excellent reputation for responsive customer service and a money back guarantee on this bike.
---
About-Bicycles Review:
The Sole LCR Recumbent Bike is a high quality and sturdy fitness bike that is priced very well for the light commercial market. It also comes with an excellent warranty and great customer service to back it up.
If you are considering the Sole LCR Recumbent for residential use, and are willing to pay the additional cost over the in-home model (the Sole R92 Recumbent), you will get the benefits of the additional warranty coverage as well as the 350lb user weight capacity, self generating power, 30lb flywheel and 40 levels of resistance,
The warranty on the Sole LCR can not be beat and Sole offers a money back guarantee so even if you have not had a chance to review this Bike in the b&m stores, you can still be assured of getting a quality product.
The Sole LCR Recumbent Exercise Bike is an excellent choice for the light commercial market for which it was designed also makes and a good choice for residential use if you are willing to pay the extra cost and do not need the additional electronics of the residential model.
Customer Reviews:
There are only a few Customer Reviews of theSole LCR Recumbent at the time of this review since it is still very new (as of August, 2011).
The Review of the Sole LCR at Dicks Sporting Goods, from Franny, Billings, MT on 11/22/2011 was

(5 of 5 stars). Here are a few excerpts that sum up this review pretty well:
"We have had the LCR in our little gym for 6 monthes and we wanted to see the reaction from our customers; it has been pretty good. They specifically have commented on the comfort of the seat and also that the seat adjusts to different positions..."
The prices at Dicks are the same as at Amazon (the link below) but you will usually need to pay for shipping at Dicks.
---
Sole LCR Recumbent Features at a glance:
Frame: Commercial Grade Structural Steel

Seat: Foam

Seat Adjustment: 12-position

Flywheel: 30 lbs
Resistance Levels: 40

Pedals: Oversized & Self-Leveling

Colors: Black/Red/Silver

Assembled Dimensions: 57" x 30" x 50"

Product Weight: 157 lbs

User Weight: 350 lbs

Console Display: 9" Backlit Blue LCD

Programs: 6 Preset, 2 User, 2 HR

Heart Rate: Pulse Grips & Chest Strap Compatible
Sound System: Yes (iPod/MP3 compatible)

Power: Self Generating, with 110v AC adapter backup

Water bottle holders: Yes
Residential Warranty:
Frame: Lifetime
Parts / Electronics: 5 Years
Labor: 2 Years
All service is performed In-Home
Light Commercial Warranty:
Frame: Lifetime
Parts / Electronics: 3 Years
Labor: 1 Year
All service is performed In-Home