About Bicycles > Fitness Bikes > HCI PhysioStep RXT Recumbent Elliptical Review
HCI PhysioStep RXT Recumbent Elliptical Review
Recumbent Elliptical Trainers or Seated Ellipticals, like the HCI PhysioStep RXT, have been around for years now so this type of fitness machine is not some new or unproven design.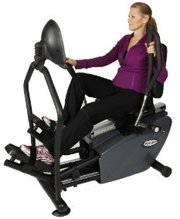 What you should be aware of, however, is that there are quite a few brands and models to choose from and what the most important benefits and features are for your own specific needs.
The HCI PhysioStep RXT-1000 is the mid-range (commercial) Recumbent Elliptical Trainer model from HCI (HealthCare International) that is primarily designed for a low impact upper and lower body aerobic exercise for weight loss, rehab and physical therapy.
The other important thing to be aware of is which brands are the most durable, comfortable, easy to use and give you the most for your money.
The quality and price is actually where the HCI PhysioStep Seated Ellipticals really stand out over other brands. Although any good quality Recumbent Elliptical will usually cost more than most Recumbent Exercise Bikes (for example) It can be hard to find a high quality recumbent elliptical for less than $3,000.
---
Note: The HCI PhysioStep RXT-1000 is selling for $2,754 directly from Amazon with Free shipping options. See HCI PhysioStep RXT-1000
for the latest price, availability, customer reviews or to get the RXT-1000 online now.
---
Although there are now more Seated Elliptical Trainers available online and at some brick and mortar fitness stores, not all are Dual Action ~ for the upper body workout ~ and some brands are very expensive.
The HCI PhysioStep RXT is a high quality, Dual Action, commercial grade Recumbent Elliptical with impressive customer reviews and that sells at an affordable in-home fitness product price (around the same price as a good quality standard elliptical trainer or a treadmill).
HCI Fitness PhysioStep Seated Elliptical Models and Key Features
You can find a complete list of all the features and specifications of the HCI PhysioStep trainers at the Amazon link above or at the HCI Fitness website. Below is a summary of the different PhysioStep models and some of the Key Features that you might want to be aware of.
There are currently 3 HCI Physiostep models. The LTD, the RXT and the MDX. All models give you a Full Range Elliptical Motion for your lower body, have an easy to use seat adjustment lever (not the more difficult adjustment knobs), have 16 resistance levels, and come with a Lifetime Warranty on the Frame.
The LTD is the least expensive and has a much different arm motion for your upper body workout. The arm levers are in front of you, rather than at your sides and you use an up and down motion more so than the typical forward and back motion that you use on the other 2 models (and on most standard elliptical trainers). The LTD also uses AC power where the other 2 models are self powered.
The RXT ~ the photo and link above ~ is the mid-range model, has the adjustable arm levers at your sides for a wider, forward and back arm motion and is Self Powered (no need to plug it in).
The MDX is the top of the line model which has all of the features of the RXT but also includes a Oversized Swivel Seat.
About-Bicycles Review
Although most of my personal experience with fitness products has been with exercise bikes, I have personally reviewed well over 100 fitness products including some of the more popular Recumbent Elliptical Trainers from HCI, Octane, Smooth and Inspire.

I have found the Seated Ellipticals (Recumbent Ellipticals if you prefer) to be very comfortable, to provide great support and to be capable of giving you as good of a lower body workout as a Recumbent Exercise Bike plus you have the added advantage of the arm motion for an upper body workout.
What has really impressed me with the HCI PhysioStep RXT Recumbent Elliptical is the Customer Reviews. I have probably read and researched more customer reviews than most people (since this is part of my job) and I have not seen as many consistent, positive customer reviews on any other fitness product as I have on the HCI PhysioStep Recumbent Ellipticals.
At the time of this review, the average customer rating for the HCI PhysioStep RXT-1000 at Amazon was

(5 of 5 stars) from 11 reviews. There were 2 reviews that were 4 of 5 stars but when you read the reviews they were still overwhelmingly positive. I have also found this to be consistent on the HealthCare International (HCI) website and other popular, independent review sites.
When I compared the HCI PhysioStep RXT Recumbent Elliptical to the Recumbent Elliptical Trainers from Octane, I found the HCI models to have comparable (or better) features but at a much lower cost.
One feature that I have seen on some of the other brands of Seated Ellipticals that I did not find on the HCI model is a place to rest your feet if you want to do the upper body (arm) exercises alone. You can, of course, hold the lower handlebars for a lower body workout only.
When it comes to dual action recumbent machines, I personally prefer the arm levers at your sides (as on the RXT-1000 and most traditional elliptical trainers) rather than the levers in front (as on the PhysioStep LTD model) or the pedal motion found on other machines (like the Smooth V2300).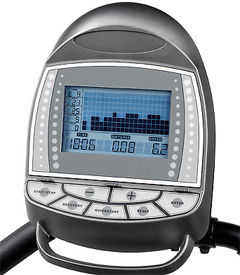 The Contact Grip Heart-Rate Monitors are nice but you need to release the arm levers and hold the lower handles (next to the seat) in order to use them. This is not much of an issue but if you would like to monitor your heart-rate more accurately and throughout your entire exercise routine then you will need to get the Wireless Chest Strap which is sold separately. Fortunately the console is compatible with Polar heart-rate chest straps.
I would definitely recommend the HCI PhysioStep RXT Seated Elliptical for individuals looking for a low impact, aerobic exercise for weight loss, rehab and physical therapy or just for a good upper and lower body aerobic workout.
Where to get the HCI PhysioStep RXT-1000
It is probably easier to find the HCI PhysioStep Recumbent Ellipticals online than it is in a brick and mortar store near you. When you search for this product online you will usually find it on a few different websites and at moderately different costs.
I usually prefer the well know and reliable websites that I am familiar with over sites that I have never used (although most sites are dependable and reputable). I have been burned in the past though (on a warranty issue) by going through a 3rd party website so I tend to stay away from them unless there are no other good options.
Anyway, my preference for the HCI PhysioStep RXT-1000 is Amazon. See HCI PhysioStep RXT-1000 Recumbent Elliptical
for the latest price, availability, customer reviews or to get the RXT-1000 with Free Shipping options.
---
The HCI PhysioStep RXT-1000 has been Recommended by Physical Therapists and provides a great aerobic exercise for Rehab, physical therapy, weight loss and overall fitness.
HCI PhysioStep RXT Features at a Glance:
Resistance System: Controlled ECB

Resistance Levels: 16

Arm System: Multi – Position Ergo Grip Handles, Synchronized
Motion with the legs

Heart Rate: Contact heart rate. Telemetric heart rate with chest strap *Chest Strap not included

Pedals: Oversized Pedal platforms, diamond plate texture & foot straps

Power: Self Powered

Commercial Grade Quality

Compact Dimensions: 48"L x 32"W x 44"H

Unit Weight: 209 lbs

Maximum User Weight: 350 lbs

Console Display: High Resolution Backlit Blue LCD Display with 8 Data Windows

Programs: 12 internal programs

Feedback: Speed, Time, Distance, Pulse, RPM, Watts, Calories,
Workout Levels

Quick Keys: Heart Rate, Profiles, Quick Start, Recovery

Residential Warranty:
Frame: Lifetime
Parts: 3 Years
Labor: 1 Year