About Bicycles Online > Fitness Bikes > Schwinn IC2 Indoor Cycle Review
Schwinn IC2 Indoor Cycle Review
The Affordable Fitness Bike from Schwinn
Schwinn has just come out with an affordable Indoor Cycle for your serious in-home workouts and/or indoor training. The Schwinn IC2 is based on the traditional Spin® Bike* design with the Aero Style Handlebars, highly adjustable seat and handlebars and friction based resistance system.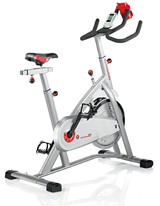 Schwinn and Star Trac® were the early leaders in supplying Indoor Cycles to the commercial Spinning® (group indoor cycling) industry but until now, the only Schwinn Indoor Cycles that were available were the much more expensive commercial grade bikes.
There are other makers of Indoor Cycles that can compete with Schwinn in this price range (i.e. Horizon, Nordic Track and Proform) but if you are a Schwinn Fan then this new Indoor Cycle will be excellent news for you.
What you get with the Schwinn IC2 is a 31 lb Flywheel, Friction Based Brake Resistance (via felt pad), a Chain Drive System, Electronic Console, a 250lb Weight Capacity, Vertically Adjustable Handlebars, Vertical and Fore and Aft Adjustable Seat, and an excellent warranty.
---
Note: The Schwinn IC2 is selling for $337.99 directly from Amazon with Free Shipping options. See Schwinn IC2 at Amazon
for their latest customer reviews or to get this bike online at the lowest price.
---
What you do not get with the Schwinn IC2 Indoor Cycle is virtual contact resistance technology (the magnetic resistance that is available on the Schwinn AC Indoor cycles), the quieter and lower maintenance belt drive system (as on the Livestrong models) or horizontally adjustable handlebars.
Keep in mind that Indoor Cycles are used for a more serious workout and for indoor training and although they are referred to as upright exercise bikes, this style is much different than the traditional magnetic resistance upright models.
Indoor Cycling Bikes do not have the larger, highly padded seats that traditional upright exercise bikes have so if you have problems with bike seats or are looking for a more moderate aerobic workout then you should look into the Upright models.
---
About-Bicycles Review:
Schwinn has a good reputation with its fitness products and their Indoor Cycles are generally better quality products than their low end stationary bikes but not all of Schwinn's products live up to their reputation.
The Schwinn IC2 is a well built Indoor Cycle with a good ergonomic design, all of the standard features that you would expect in a quality fitness bike and it comes with an good warranty and an electronic console to monitor your basic workout stats.
I don't really care for the water bottle holder on the handlebars although some riders may prefer the easy access location.
Although I believe the Schwinn IC2 to be a good choice in this price range, I believe that you get more for your money with the Horizon M4 Indoor Cycle (actually the Horizon M4 costs less when you consider the free shipping).
Schwinn IC2 Features at a glance: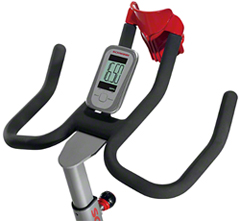 Brake: Friction based braking with upper mounted felt pad and 31lb flywheel.
Drive System: Chain Drive
Console: LCD with Time, distance, RPM, speed, and calories
Aero Style Handlebars - Adjustable vertically
Seat: Adjustable Horizontally and Vertically
Transport Wheels
Water Bottle Holder
(on handlebars)

Dimensions: 58"L x 25"W x 50"H (147 x 64 x 127 cm)

Product Weight: 83 pounds

Maximum user weight: 250 pounds
Warranty:
Frame: 5 years
Mechanical and Electrical: 1 year
Wear Items: 90 days
Note: We have made every effort to provide accurate warranty information for all stationary bikes referenced on this site. The warranty information provided above can be used for comparison purposes and/or as a guide for your purchase but this information does not imply any legal warranties by this website and does not override the manufacturer or seller warranties provided with your purchase.
* SPIN®, SPINNER® and SPINNING® are registered trademarks identifying Mad Dogg Athletics, and its indoor cycling goods and services.