About Bicycles Online > Fitness Bikes > Horizon M4 Indoor Cycle Review
Horizon M4 Indoor Cycle Review
Legacy Style Fitness Bike with Extra Features
Horizon's new and very affordable M4 Indoor Cycle is designed around the traditional Fitness Club Spin® Bike with infinitely adjustable friction based resistance (via the quick stop resistance knob), adjustable racing style (Aerobar shaped, or "W" shaped) handlebars for plenty of riding positions, and the horizontally and vertically adjustable seat for a comfortable and productive workout.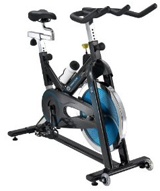 The people at Horizon then go a step further to give you additional features, such as the electronic console to track time, distance, speed and calories and a frame mounted water bottle holder. The Horizon M4 also includes a 42 pound flywheel for a smooth and stable workout, a 285 pound user weight capacity and a 10 year warranty on the frame to backup your purchase.
I had an opportunity to review this bike with the fitness bike product specialist at the Horizon Fitness headquarters (Johnson Health Tech in Cottage Grove, Wis.) recently but I was unable to release the details or write my review until the bike was released by Horizon.
Finally - The wait is over and the Horizon M4 is now available for purchase online and at a pretty incredible price. You will have a hard time matching the quality and features of the Horizon M4 with other Indoor Cycles in this price range.
---
Note: The Horizon M4 Indoor Cycle is No Longer Available online.
Update: This bike has been upgraded with the Elite IC7 (more on this upgrade soon) See Horizon Elite IC7 Indoor Cycle
for latest price, additional customer reviews or to get ths indoor cycle at the lowest price online.
---
Horizon and the Horizon M4 Indoor Cycle
Horizon Fitness Equipment is made and backed up by Johnson Health Tech, the third largest fitness equipment company in the world and maker of Livestrong, Matrix, AFG and Vision Fitness exercise bikes and fitness equipment.
As cyclists and/or fitness supporters we are aware of the Livestrong Foundation, of course, and of Livestrong Bikes and fitness products. The Horizon M4 Indoor Cycle is produced by the same company that makes the high quality Livestrong Indoor Cycles and with the same standards for high quality.
One of the main differences between the Horizon M4 Cycle and the Livestrong Indoor Cycles is that the M4 use a chain drive system where the Livestrong bikes use a belt drive system. There are pros and cons to each drive system (chain and belt) and in the end it comes down to your own personal preference.
---
About-Bicycles Review:
The Horizon M4 Indoor Cycle is a good choice for a very affordable fitness bike that is step up from the most basic, no frills models (like the Proform 290). This bike comes with an electronic console and an unbeatable warranty in its price range.
The warranties are only as good as the company and customer service support that back them up. For Horizon this is a big advantage. I have met with the manager of customer service at Horizon and I can tell you that their large staff qualified service reps are knowledgeable, efficient and most importantly are very customer oriented.
Getting back to the bike itself, the Horizon M4 is going to cause some serious competition for Proform and Nordic Track (the other major producers of quality Indoor Cycles that are under $500).
Keep in mind that this is and Indoor Cycle and not a traditional magnetic resistance Upright Exercise Bike. Indoor Cycles are designed for training and serious workouts. Indoor Cycles are highly adjustable so they can be relatively comfortable but they will not be as comfortable as a magnetic resistance Upright Exercise Bike with a heavily padded seat. See the NordicTrack GX2.0 if you are interested in a traditional Upright Fitness Bike.
I would recommend the Horizon M4 as solid and stable traditional Indoor Cycle, with an electronic console and the best warranty for Indoor Cycles under $500.
Customer Reviews:
The Horizon M4 has been a popular Fitness Bike and there are already quite a few customer reviews on the popular review sites. At this time, the M4 is rated at
(4 of 5 stars) from 11 customers on the Horizon Fitness website and

(3.5 of 5 stars) from 18 customers at Amazon.
Horizon M4 Indoor Cycle Features and Specifications at a glance: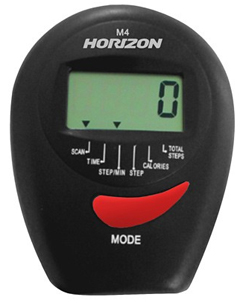 Competition Aerobar style foam padded handlebars (vertically adjustable)
Electronic Console (with Time, distance, speed, calories)
42 Pound Flywheel
Horizontally and vertically adjustable seat

Chain drive system

User Capacity 285 pounds

Integrated transport wheels

Frame mounted water bottle holder

Warranty:
Frame 10 years
Parts 1 year
Labor1 year

SPIN®, SPINNER® and SPINNING® are registered trademarks identifying Mad Dogg Athletics, and its indoor cycling goods and services.