Bicycles Online > Mountain Bikes > Rocky Mountain Soul MTB Review
Rocky Mountain Soul Bike Review
Affordable, Brand Name Hardtail 29er
When you're looking for a good quality, brand name MTB at a decent price the Rocky Mountain Soul is one bike that you will want to check out.
If you are familiar with Rocky Mountain Bikes, you know that they are high quality bikes and are usually expensive.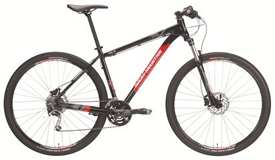 You can generally get a hardtail bike for less than full suspension although the brand new, name brand hardtail bikes can still be a little expensive.
The Rocky Mountain Soul is an affordable hardtail 29er, from a brand name company, that comes with an aluminum frame ~ with rack and fender mounts ~ mid-range Shimano components, a Suntour fork with 110mm of travel and Shimano Hydraulic Disc Brakes with lockouts.
Rocky Mountain bikes can be hard to find offline (at RM dealers), depending on where you live, although you can find a good selection online if you know where to go. JensonUSA is probably the best choice online and you can usually find the current years model and get quite a discount on previous year models.
---
Note The 2010 Rocky Mountain Soul is no longer available online (new) or difficult to find online or in retail stores. The Rocky Mountain Soul was previously selling for $599.99 (new) at JensonUSA.
Please see our Bike Ratings page for a full listing of the bikes that are available online with prices and ratings.
---
Rocky Mountain Soul Model Comparisons:
This section is going to be real easy for the Rocky Mountain Soul. There is only one model. No different price and component levels. This can be good in some ways although it does not give you an option to upgrade or to save money based on different model levels.
With this bike, what you see is what you get. If you want a lower price, you'll need to select another bike (or possibly a prior year model). If you want better components, you'll need to select another bike or upgrade individual components manually after you get the bike.
About-Bicycles Review:
The Rocky Mountain Soul is one of the most affordable bikes that Rocky Mountain offers. When you are looking for a good quality hardtail 29er from a brand name manufacturer, this bike gives you great handling and performance at an excellent price.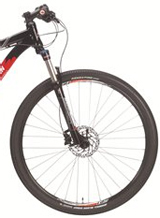 I would recommend the Rocky Mountain Soul for riders who are looking for an inexpensive or entry-level hardtail with fairly good components right out of the box.
Customer Reviews:
The RM Soul is a popular bike and has been around for a while now and there's no shortage of customer reviews online. At the time of this review, the Rocky Mountain Soul has a rating of 4.25 of 5 stars at mtbr.com and 5 of 5 stars at epinions.com.
I have found the RM Soul to be rated very highly by customers at most of the popular review sites as indicated above.