About Bicycles Online > Fitness Bikes > Schwinn A.C. Sport Indoor Cycle Review
Schwinn A.C. Sport Indoor Cycle Review

When it comes to this Indoor Cycle product line, Schwinn decided to skip the retail market and go directly into the commercial market. The Schwinn A.C. Indoor Cycles are actually commercial grade indoor cycles (that can be purchased online).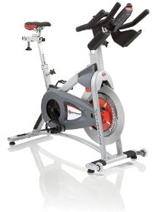 The Schwinn A.C. Sport is mid-range Schwinn A.C. Indoor Cycle and although it is priced higher than most retail fitness bikes, if you compare the price to other commercial fitness bikes, the cost is actually better than most in this category.
It is probably a good thing that Schwinn skipped the lower end retail market with their Indoor Cycling products since some (not all) of Schwinn's lower end retail fitness equipment is pretty poor quality. This is not the case with Schwinn's Indoor Cycles.
---
Note: The Schwinn A.C. Sport is selling for $1,399 at Amazon.com with FREE Shipping options. Go to Schwinn A.C. Sport Indoor Cycle
for the latest price, reviews and comparisons. *
---
Schwinn A.C. Sport Indoor Cycle Features:
The primary feature of Schwinn A.C. Fitness Bikes is that they all come with the lower maintenance, virtual contact resistance technology (magnetic vs. brake pad resistance).
In addition the the magnetic resistance, All Schwinn A.C. Bikes use a Chain Drive System, ISIS bottom bracket, have a 300lb weight capacity and are MPower Console compatible.
The Schwinn A.C. Sport (as well as the Performance model) then goes on to include the Smart Release feature, Performance Handlebars with a fort/aft adjustment, basket/SPD pedals and handlebar mounted water bottle holders.
The only significant difference between the Schwinn A.C. Sport and the Schwinn A.C. Performance (other than the color) is that the higher priced Performance model has an aluminum frame where the Sport model has a zinc plated steel frame.
The Optional MPower Console for the Schwinn A.C. Indoor Cycles:
If you want to track your progress on the new Schwinn A.C. Indoor Cycles, you'll need to purchase the MPower Console separately.
Note: There are 2 different versions of the MPower Console and it is not always clear, on different websites, which one they are selling.
Both models track RPM (Cadence), Stage Time, Total Time, Telemetry Heart Rate, and Calories. The higher end MPower Console also tracks Watts, Speed, and Distance.
The lower end model is often referred to as the MPower Sport Console but I have seen website selling this model that omit the "Sport". The higher end model is sometimes (but not always) referred to as the MPower Performance Console. If you want to track these additional stats, just be sure that the console that you are looking at has them.
The MPower Console also has the option to upload your stats to your PC (and/or the internet) via a USB card. The output from the USB card is a simple CSV file.

---
About-Bicycles Review:
The Schwinn A.C. Sport Indoor Cycle has a good ergonomic design, comes with the new virtual contact magnetic resistance technology and has a very good warranty.
Of the three Schwinn A.C. series Indoor Cycles, I believe that the Schwinn A.C. Sport is the best selection and best value for most individuals due to the Smart Release feature, the additional handlebar positions, the fore/aft handlebar adjustment and the basket&clip pedal features.
If you like to track your workout stats (as I do), then keep in mind that you'll need to purchase the MPower Console separately and you'll want to compare prices based on the price of the bike and the console. If you do not care about the console, then at least you are not paying for something that you don't need.
Customer Reviews:
This Indoor Cycle is still pretty new and there were no customer review at Amazon at the time of this review. See: Schwinn A.C. Sport Indoor Cycle
for the latest price and for new customer reviews.
Schwinn A.C. Sport Features at a glance:
Brake: Magnetic
Smart Release: Yes
Drive System: Chain drive using forged steel crank
ISIS bottom bracket
Frame: Zinc Plated Steel
Pedals: Basket&SPD Clip
Performance Handlebars - Adjustable vertically and horizontally
Water Bottle Holder: Handlebar Mounted
Seat: Adjustable Horizontally and Vertically
Frame Color: Deep Silver
Max. User Weight: 300 lbs
MPower™ Console Compatible: Yes
Product Dimensions: 48 H x 43L x 20W

Product Weight: 126 lbs (57 kg)
Warranty:
5 years on the frame
1 year mechanical/electronic parts
1 year for labor
6 months for wear parts
Note: We have made every effort to provide accurate warranty information for all bikes referenced on this site. The warranty information provided above can be used for comparison purposes and/or as a guide for your fitness bike purchase but this information does not imply any legal warranties by this website and does not override the manufacturer or seller warranties provided with your purchase.