About Bicycles Online > Fitness Bikes > ProForm TDF Indoor Cycle Review
ProForm Tour de France (TDF) Indoor Cycle Review
When you are looking for a good Tour de France style workout or just relief from the potential Indoor Cycling boredom, Proform has come out with a new and very exciting product for indoor cycling.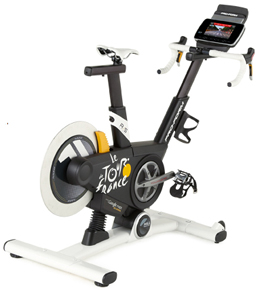 The ProForm Tour de France (TDF) Indoor Cycle is unlike any Indoor Cycle currently on the market and can really add some fun to your otherwise serious indoor workout and training routine.
The original Proform TDF Indoor Cycle came out in 2011 and Proform has been making big improvements to this very popular bike for the last 2 years.
The Proform TDF 1.0 has just come out and has some major upgrades. One of the biggest upgrades in this year's TDF cycle is the new screen and tablet computer hook-ups and technology.
If you are not aware of the iFit Live technology, you may want to check out how it works. This technology has been available on prior year Proform TDF models and on Proform's Elliptical Trainers and Treadmills for years now and it is really cool. Briefly, it uses Google Maps to simulate real live terrain and courses and adjusts resistance of the machine to the course selected (the resistance of the indoor cycle in this case).
---
Note: The Proform TDF models are selling directly from Proform (factory direct) for $1,499 - $2,167* (depending on the model) with Free Shipping.
See ProForm Tour de France Indoor Cycles at Proform for more information, additional customer reviews, to watch the video or to get the Proform TDF online at the lowest price.
*iFit Coach Plus Subscription Required
---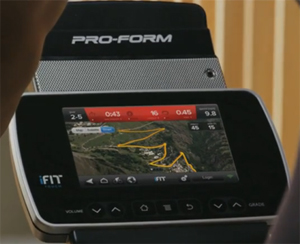 As for the Proform Tour de France technology, Icon Fitness has integrated the iFit Live technology with this bike's incline and decline feature. And to make it more interesting and further simulate a real ride, they have added the wind resistance feature which increases or decreases the Indoor Cycle resistance to compensate for the calculated wind resistance based on your height and weight.
Proform has been improving the quality and features of the Proform TDF Indoor Cycles each year.
---
Additional Proform TDF Features Not Always Advertised
If you have a Garmin GPS Bike Computer that is compatible with the GarminConnect site (and most are), you can also upload local routes that you have ridden outdoors, convert the route to Google Maps and download the Google Maps route to the Proform TDF to simulate your real world outdoor rides.
The features above are not always advertised with the Proform Tour de France Cycle since it requires additional equipment not included with the TDF.
---
About-Bicycles Review:
The iFit Live technology has been around for quite a while now and works well, so this should not be a concern. The seat and handlebar design allows for a wider range of adjustments than many other indoor cycles.
Although the 2016 Proform TDF has just come out, and there are currently no customer reviews available yet online, I believe that the quality improvements, additional features make this model the best choice.
I have ridden the Proform TDF and I found it much more comfortable than I originally expected. It was quiet and felt quite solid and sturdy. This year's model is based on the same frame and SMR technology, so I believe that the bike itself is quiet and can handle a good workout.
Keep in mind that this is a high-tech bike and you will need to take some time to setup and learn the technology features of this bike. Fortunately, high-tech devices and products usually improve and get easier to use each year. I believe that the new touch screen console will be a great improvement over the prior year models.
Even though the Proform TDF is fairly expensive, I believe that the relief from Indoor Cycling boredom that the technology of this bike provides is worth the extra cost for those who enjoy having the latest technology.
Customer Reviews:
With the popularity of this Indoor Cycle, there are really no shortage of customer reviews on the Proform TDF online. I have seen very positive customer reviews on the TDF from people that claim it performs as expected and totally love it as well as some negative reviews from customers that have had QC and shipping issues which I believe have been resolved with the newer models.
The Proform TDF very difficult to find in retail stores, but you can find the latest customer reviews, watch the video and easily get this bike online directly from Proform using the Proform link above.
The TDF models have changed quite a bit over the years but I am leaving these past "specifications at a glance" just for reference and comparison purposes.
2011 ProForm Tour de France Indoor Cycle (Gen 1) Features at a glance:
Seat: Adjustable, Padded Seat

Resistance Options: SMR™ Silent Magnetic Resistance

Oversized Pedals: Pedals with Toe Cages

Heart Rate Monitor: Polar® Wireless Chest Heart Rate Monitor Compatible

iFIT® Interactive: iFit Live™ Technology Built-In

Workout Programs: 24 Built-In Workouts

Capacity: 350 lb. Weight Capacity

Footprint: 58" L x 25" W x 59" H

2012 ProForm Tour de France Indoor Cycle (Gen 2) Features at a glance:
All of the Gen1 Features listed above Plus:

Handlebar Shifters
Upgraded Console with Power Meter
Fully Adjustable Seat
2013 ProForm Tour de France Centennial Features at a glance:
All of the Gen1 and Gen2 Features listed above Plus:

7 Inch Full Color Touch Screen Display
HD Videos of Actual TDF Stages
Drop Down Handlebars
New Road Bike Style Handlebar Shifters
iPod and MP3 player jack and speakers
Warranty:
Frame: 10 Years
Parts and Labor: 1 year **
** Warranty information is per the owner's manual TDFPFEX01311.2-320509.pdf and requires the product to be registered within 30 days of the purchase date. The warranty information listed here does not imply any legal warranties by this website and does not override the manufacturer or seller warranties provided with your purchase.