About Bicycles Online > Fitness Bikes > NordicTrack GX4.0 Recumbent Review
NordicTrack GX4.0 Recumbent Review
The NordicTrack GX4.0 Recumbent gives you plenty of features to add variety to your fitness routine and provide that extra motivation that you need as time goes on and as you spend more time working out.
In addition to the NordicTrack Comfort and Quality the GX4.0 Recumbent has a 300 pound weight limit, a port for an iPod or MP3 player with built in speakers, 24 Built-In Workout programs, a better range of resistance levels than with most recumbent bikes in its price range and is iFit Live compatible.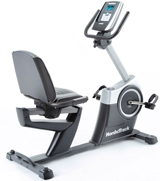 NordicTrack fitness bikes are manufactured by Icon Fitness, the largest fitness equipment manufacturer in the world, which gives them some advantages to offer more for less and to provide excellent warranties and customer service.
NordicTrack Recumbent Bikes are sold online directly from NordicTrack and at Sears which also gives them the advantage of brand name popularity.
---
Note: The NordicTrack GX4.0 is No Longer Available (was selling for $799 new, from NordicTrack.com (factory direct) with Free Shipping). See the Nordictrack GX5.0 Recumbent for current replacement for the NordicTrack Gx4.0.
---
NordicTrack GX4.0 Recumbent and iFit Technology
The NordicTrack GX4.0 Recumbent is an excellent choice even without the iFit Live technology.
The GX4.0 is Comfortable and Stable, has a built-in port and speakers for an iPod or MP3 player, Adjustable Handlebars, Easily Adjustable Seat (via the large lever under the seat), an intuitive and easy to use console and comes with an unbeatable warranty.
When you add the iFit Live technology, you get many additional motivational features and an unbeatable combination.
Although there are some additional costs for the iFit Live features, these options give you one more way take the boredom out of your fitness routine which can be very motivational as well as entertaining.
See our iFit Live Summary to see how iFit Live works with your exercise bike or use the NordicTrack GX4.0 links on this page to go directly to the NordicTrack website to watch the video for this exercise bike which also has a nice summary of iFit Live.
On the other hand, if you are not interested in the iFit features (which you will still have available to you) you can simply use the 24 Built-In Workout programs that come with this exercise bike for totally free at any time.
About-Bicycles Review
The NordicTrack GX4 is a high quality recumbent fitness bike, with more features than you would expect in its price range. You get the Lifetime NordicTrack warranty (on the frame) plus plenty of options for variety and motivation with the iFit Live technology, the music port and speakers and with the built-in workout programs..
The iFit Live technology, with its wireless data transfers, is currently the ultimate workout technology on the market but there are some costs involved to use this feature.
If you would like to track your workout data on the internet for free, you can use the MyPlate feature with the Livestrong LS6.0R, although you will not have a wireless connection but will instead need to transfer the data via the USB port that comes with the exercise bike.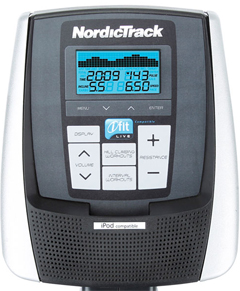 Note: Tracking your workout data on the internet can be very motivational especially if you share the data with your family and friends who may also be working on their own goals.