About Bicycles Online > Fitness Bikes > AFG 2.0AR Review
AFG 2.0AR Recumbent Exercise Bike Review
The first thing that I noticed when I rode the AFG 2.0AR Recumbent was how sturdy, comfortable and easy to use it was.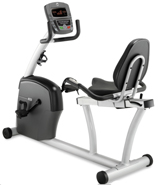 I already knew that AFG produced quality fitness products from meetings that I had with product specialists at Johnson Fitness in Wisconsin (the maker of AFG (Advanced Fitness Group) exercise bikes) but when you compare AFG bikes to other brands in a retail store, for example, it is quite obvious when you are riding a higher quality bike.
Prior to testing the AFG 2.0AR Recumbent, I had a great opportunity to review AFG products, in detail, with a knowledgeable product specialist at Johnson Fitness in Cottage Grove, Wisconsin.
AFG fitness bikes fall under the "specialty" group at Johnson as apposed to the retail sporting goods category. The materials and components are light commercial grade and the warranty blows away most other stationary bikes in this category (just compare the AFG warranty to the comparable Schwinn products).
---
Note: The AFG 2.0AR is currently selling for $499 directly from Amazon with Free Shipping options. See AFG 2.0AR Recumbent at Amazon
for the latest price, customer reviews and availability from Amazon.
---
At the time of this review AFG makes only two recumbent exercise bikes, the AFG 2.0AR and the AFG 4.0AR. The AFG 2.0AR is much more affordable than the 4.0R and uses the more traditional recumbent design (the 4.0AR has a side mounted console and upward turned handlebars).
The AFG 2.0AR Recumbent has a Higher Seat for easier mounting and dismounting (in addition to the option to adjust the seat farther back than on most other recumbent bikes), an easy step through design, 300lb weight capacity (a good indication of its durability) and a Lifetime Warranty on the Frame and Brake.
About-Bicycles Review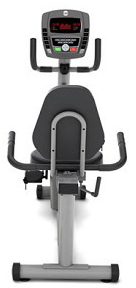 I found the AFG 2.0AR Recumbent to be very comfortable, sturdy and easy to operate. I particularly liked the easy to use seat adjustment lever rather than the cheap twist knob adjustments that you find on other brands. I usually prefer the lower handlebar position most of the time myself but I also like having the upper handlebars for more variety.
The frame stays solid and stable under a heavy pedaling pace. The seat is higher (for easier mounting and dismounting), adjusts farther back for taller riders and is fully adjustable for a perfect riding position. It's contoured shape make exercising easier, and speeds recovery time for those with injuries.
Since this is a higher-end "specialty" model bike (without the high-end price though) you also get Free Inside Delivery (which is nice since these products can be heavy when delivered) in addition to the Lifetime Warranties with this bike.
With the overall quality of this bike, the excellent warranties and many features I would easily recommend this recumbent to anyone looking for a quality recumbent fitnessbike at a very reasonable price.
---
AFG 2.0AR Features and Specifications at a glance:
Console Display: 2 LED windows, Progress window

Workouts: Manual, Intervals, Weight Loss, Rolling, Cadence, Random, Custom 1

Flywheel Weight: 17.6 lbs / 8.0 Kg

Pedal Type: Wide Ratcheting with Strap 9/16

Resistance Range: 1 to 10

Heart Rate: Contact Grips

User Capacity: 300 lbs / 136 kg

Assembled Dimensions: 102" x 41" x 86"

Assembled Weight; 121 lbs / 58 kg

Shipping Dimensions: 108" x 24" x 49"

Shipping Weight: 136 lbs / 62 kg

Electrical Requirements: 12V AC Adapter

Warranty:

Lifetime - Frame
Lifetime - Brake
3-years parts
1-year labor