Fox River Bike Trail South Photos
Elgin and Dam on the Fox River
(Click on any of the bike trail photos to enlarge)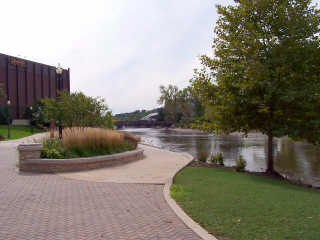 Continuing our photo tour of the Fox River Trail from Geneva to Dundee we pass through the town of Elgin. The photo above is where the path runs between the Hemmens building and the Fox River.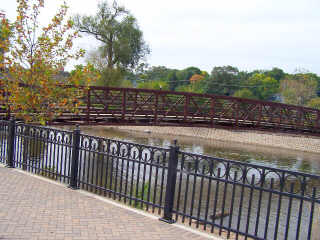 Most of the trail is more of a path through the woods and near the river and you sometimes forget that you are even in the suburbs or near towns like Elgin but you do pass through Elgin and this part of the trail is actually pretty nice. This is a nice little area by the Fox River in Elgin... Lots of bridges, brick walkways and wrought iron fences. The photo above includes one of the pedestrian walkways that crosses the Fox River.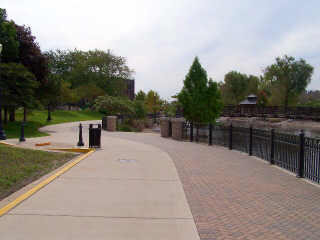 Another view of the winding brick walkways through Elgin and along the riverside...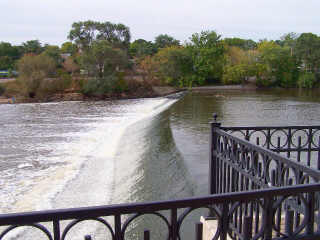 I thought that this was a great place to get some DAM GOOD PICTURES!!!
(or just to stop for a little bit and enjoy the scenery...) There are also some benches in this area and I have stopped here a few times either for a break or a snack. It can be a nice change of pace from being out in the woods all day (like you are on most of the rest of the trail).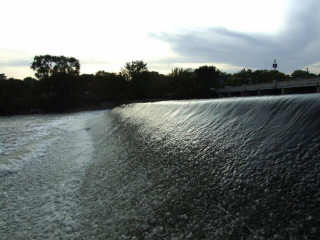 Here's another "Dam Good Picture" that was taken later in the day, on our way back.
(Photo compliments of Dale Kiffel)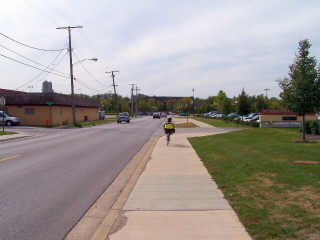 After you've passed through the city of Elgin (heading north) you take this little sidewalk to get back on the the regular Fox River Trail once again. This is not the most scenic part of the trail but I wanted to give you the feel of the entire ride including the parts that pass through the various towns that the FRT goes through. The scenery gets quite a bit nicer as you get on the regular trail and continue nort from here.