About Bicycles Online > Fitness Bikes > Schwinn IC Pro Indoor Cycle Review
Schwinn IC Pro Indoor Cycle Review
The Schwinn IC Pro Indoor Cycle has been around for years now and uses the standard friction brake resistance system as opposed to the newer, high end magnetic resistance bike from Schwinn (the Schwinn "AC" Indoor Cycles).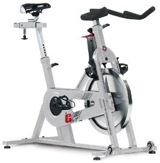 The Schwinn IC Pro Indoor Cycle is a pretty good fitness bike, has quite a few nice features and has an excellent warranty from Schwinn but it is priced high for what you get.
What you get with the Schwinn IC Pro is a 38 lb Flywheel, Friction Based Brake Resistance (via wool pads), a Chain Drive System, a 300lb Weight Capacity, Vertically Adjustable Handlebars, Vertical and Fore and Aft Adjustable Seat, and an excellent warranty.
---
Note: The Schwinn IC Pro is no longer available from this site or no longer for sale online.
Please see our Exercise Bike Ratings page for a full listing of the exercise bikes that are available with prices and ratings.
(was selling for $999 at Amazon.com).
---
What you do not get with the Schwinn IC Pro Indoor Cycle is virtual contact resistance technology (the magnetic resistance that is available on the Schwinn AC Indoor cycles), the quieter and lower maintenance belt drive system (as on the Livestrong models), horizontally adjustable handlebars or an electronic console.
---
About-Bicycles Review:
Schwinn has a good reputation with its fitness products and their Indoor Cycles are generally better quality products than their lower end exercise bikes but not all of Schwinn's products live up to their reputation.
The Schwinn IC Pro is a well built Indoor Cycle with a good ergonomic design, all of the standard features that you would expect in a quality indoor cycle and it comes with an excellent warranty. The problem with the Schwinn IC Pro is that it is priced too high for what you get.
For example, you can get the Sole SB700 Indoor Cycle with the same or better standard features as the Schwinn IC Pro but with an electronic console and a better warranty for at least $200 less (depending on the latest pricing).
You can also get the Nordic Track Indoor cycles (another quality name) for quite a bit less than the Schwinn IC Pro. The only spec that is a little lower on most of the Nordic Track models is the user weight capacity (250-275lbs vs 300lbs on the Schwinn IC Pro).
See the Indoor Cycles on the top of the right column of this page to compare the IC Pro to the most popular indoor cycles from other brands that are currently available or see our Best Buy Fitness Bikes for our Best Buy Indoor Cycle recommendations.
Customer Reviews:
This Indoor Cycle has been around for a while now and there are plenty of customer reviews available online with a wide range of ratings. The overall customer rating at Amazon at the time of this review is

Schwinn IC Pro Features at a glance:
Brake: Friction based braking with 38lb flywheel.
Drive System: Chain drive using forged steel crank
ISIS bottom bracket
Standard Handlebars - Adjustable vertically
Seat: Adjustable Horizontally and Vertically
Water Bottle Holder: Two frame mounted water bottle cages
Frame Color: Silver

Stabilizers: 22-inch wide stabilizers for better rider support and stability

Footprint: 50 by 22.5 inches (L x W)

Weight: 130 pounds

Maximum user weight: 300 pounds
Warranty:
Frame: 15 years
Parts: 2 years
Labor: 1 year
Wear Items: 6 months
Note: We have made every effort to provide accurate warranty information for all fitness bikes referenced on this site. The warranty information provided above can be used for comparison purposes and/or as a guide for your purchase but this information does not imply any legal warranties by this website and does not override the manufacturer or seller warranties provided with your purchase.