About Bicycles Online > Fitness Bikes > Proform 5.0ES Upright Review
Proform 5.0 ES Exercise Bike Review
Economy Upright with Some Nice Features
The Proform 5.0 ES Upright fits best into the economy class of exercise bikes although it does have some nice features that you do not find on other upright models in its class.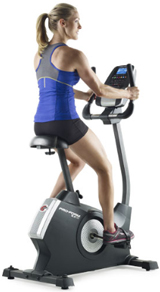 Specifically, you get a very nice, comfortable, heavily padded and fully adjustable seat (that adjusts vertically and horizontally), a 14lb flywheel and motivational features including an iPod/MP3 player port with sound system and an iFit® Compatible Console.
Upright exercise bikes are more similar to traditional outdoor bikes where you sit in a more upright position and work out the same muscles which helps to keep you in shape for outdoor bike riding season.
One big difference with between this bike and your outdoor bike is that the seat on this upright will probably be more comfortable then the seat on your outdoor bike. You also get a completely smooth ride since you are not actually out on the road.
---
Note: The Proform 5.0 ES Upright is currently unavailable (was selling at for $399, new, indirectly from Amazon). See Proform 5.0ES at Amazon
for the latest price and customer reviews or to get this bike online at the lowest price.
---
The iPod/MP3 player jack and sound system also give you additional options for listening to music (without ear buds) while you get or stay fit. Some people also setup their bikes near a TV or have a laptop or mobile device handy for additional boredom-breaking options (sorry, indoor cycling is just not as exciting as outdoor cycling so the more motivational and entertainment options that you have the better chances you have for longer and less boring workouts).
In addition to the iPod/MP3 player features you also get an iFit® Compatible Console. You will need to purchase the iFit wireless adapter separately to use this option but this keeps the cost down if you are not interested in this feature and gives you the option to get it when you get the bike or later on if you find you need some more motivation, workout apps or entertainment for your fitness routines.
When you get the optional iFit wireless adapter you will usually get a one Free Year membership for an iFit Live account (which is required to use this option). See see our iFit Live Summary for more on this technology.
The iFit technology gives you the option to download additional workout apps or to create a course ~ from anywhere in the world with Google Maps™ ~ that you can then ride on the Proform 5.0ES while the bike's resistance is adjusted automatically to the course that you've created.
About-Bicycles Review
When I rode the Proform 5.0ES Upright I found it to be a sturdy and comfortable fitness bike with an easily adjustable seat and nice, easy to read iFit compatible console. Although this is an economy model it has some nice features for a bike in its price range.
The Proform 5.0ES is similar in quality to the Schwinn 150 Upright. There are some things that I like better about the Proform 5.0ES and some things that I like better about the Schwinn 150.
I like the easy seat adjustment knobs on the Proform 5.0ES much better than the the adjustment knobs on the Schwinn upright bikes. The Schwinn adjustment knobs can be difficult if you change the seat position frequently.
The other nice feature with the Proform 5.0ES is the iFit compatible console which gives you more motivational features when you purchase the optional iFit adapter. Of course, you need to purchase the adapter but this gives you the option to upgrade the bike at a later date when you are ready for it.
As for the Schwinn 150, I like the telemetry heart-rate compatible console, the built-in HR control programs and transport wheels better (although these bike are not that heavy and can be moved fairly easily).
Also the console on the Schwinn models are pretty nice and have very distinct blocks with your key workout stats easily visible in digital format. The Proform 5.0ES also displays most of the same stats but it is a different format and a matter of personal preference as to which you prefer.
Where to Buy:
When you get a fitness bike online, be sure to buy from a reliable and reputable online store. The online stores that we have linked to above are known to have low prices and reliable customer service and shipping (free in most cases).
---
Proform 5.0 ES Features at a Glance:
Oversized, Heavily Padded and Fully Adjustable Seat

Dual-Grip EKG™ Heart Rate Monitor

18 Workout Apps

18 Built-in Resistance Levels

Compatible Music Port for iPod®
iFit® Technology Compatible (Requires iFit® wireless adapter ~ sold separately)

Transport Wheels

14 lb. Effective Inertia-
Enhanced Flywheel

4" Backlit Display

Ergonomic Pedals with Straps

Water Bottle Holder

User Capacity: 250 lbs
Power Requirements: AC Adapter (included)
Dimensions: L: 3'5" W: 1'11"
Warranty:
5 years - Frame
1 year - Parts and Labor