About Bicycles Online > Fitness Bikes > ProForm 290 SPX Indoor Cycle Review
ProForm 290 SPX Indoor Cycle Review
The ProForm 290 SPX is a sturdy, high quality and very affordable indoor cycle with and excellent warranty and everything you need for a serious indoor cycling workout.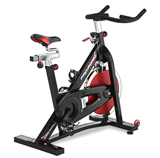 Proform Fitness Bikes are made by Icon Fitness, which is the largest fitness manufacturer in the world and is also the same company that makes Nordic Track Indoor Cycles and Sport Bikes.
I mention this because the Proform 290 SPX is basically the same Indoor Cycle, with the same warranty as the Nordic Track GX2 Sport Bike but often sells for around $100 less than the Nordic Track model.
Indoor cycles, such as the ProForm 290 SPX, are mostly mechanical and use friction based resistance mechanisms that can be easily adjusted to any level of workout. As with most indoor cycles, you simply adjust the resistance level with a simple turn of the resistance knob above the wheel.
---
Note: The Proform 290 SPX is currently unavailable (was selling indirectly from Amazon for $295). See Proform 290 SPX at Amazon
for the latest availability and reviews or to get this bike from Amazon.
---
Also be aware of bait-and-switch ads under general search engine searches. I found the Proform 290 SPX listed at lower prices on various websites only to find out that they were not really selling this fitness bike! Once you follow their links, they will often go to some other brand of indoor cycle. The price above is the lowest that I've found for this indoor cycle. If you find it for less, please let me know.
ProForm indoor cycles are manufactured by the same company as Nordic Track (ICON Fitness) and they can often offer more for less. Proform produces very good mid-range indoor cycles that are backed up with excellent warranties.
About-Bicycles Review:
The ProForm 290 SPX a solid, no frills indoor cycle for serious indoor training and workouts. Proform is a well known manufacturer of quality fitness products and this fitness bike is backed up with an excellent warranty.
I can easily recommend the ProForm 290 SPX as a well made, mid-range indoor cycle but keep in mind that there are no workout DVDs and no console to monitor your workout stats (speed, time, calories burned, heart rate, etc.).
This keeps the design very straight forward and keeps maintenance requirements down but if you are looking for an indoor cycle with a console, or workout DVDs, you will need to select another model.
Customer Reviews:

There are plenty of reviews of the ProForm 290 SPX to be found online. At the time of this review, the overall review at buzzillions.com (for example) was 4.5 out of 5 stars, from 18 reviews and 4 out of 5 from 2 reviews at Proform.com
Most Relevant Customer Review Comments included...
"...I am very happy with this product and would like to add my positive review to the tons of positive reviews I have already read.Don't get hung up on a big name, this bike rocks!"
"As far as spinning bikes go this one is great for the money! the only missing-it needs a speedometer or clock so you can see speed & time spent on bike-also, would enjoy it more if it had a gel seat."
ProForm 290 SPX Indoor Cycle Features:
Adjustable Seat with Padding
Pedals with Toe Cage

Adjustable, Non-Slip Handlebars with Grips

Water Bottle Holder

Chain Drive

Transport Wheels

250 lb. Weight Capacity
Warranty:
5-Year Frame
90 Days Parts & Labor