About Bicycles Online > Exercise Bikes > Proform 215csx Upright Review
Proform 215 CSX Review
Comfortable, Low Cost Upright with Google Maps™
When you are looking for a comfortable and affordable Upright Stationary Bike that also gives you the option to include some fun, boredom-breaking features to help keep you motivated then you will want to check out the Proform 215 CSX Upright Fitness Bike.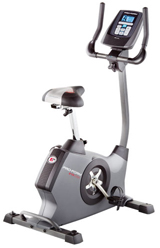 The Proform 215 CSX Upright has a heavily padded and comfortable seat (similar to the NordicTrack bike seats) that is adjustable horizontally, adjustable handlebars (fore and aft) and is iFit compatible (with the optional iFit wireless adapter).
When you get the optional iFit wireless adapter you can download additional workouts or to create a course ~ from anywhere in the world with Google Maps™ ~ that you can then ride on the Proform 215csx while the bike's resistence is adjusted automatically to the course that you've created.
Upright exercise bikes, including the Proform 215 CSX, are similar to traditional outdoor bikes (although can be more comfortable than most outdoor bikes). You get an excellent low impact, aerobic workout for better overall health, to stay in shape in the off season and/or for weight loss.
Fitness Bikes also take up much less space than other home fitness equipment and are much more affordable.
---
Note: The Proform 215 CSX Upright is no longer available from this site or no longer for sale online.
Please see our Exercise Bike Ratings page for a full listing of the exercise bikes that are available with prices and ratings.
(was selling for $300 (new) directly from Amazon).
---
About-Bicycles Review
I believe that the key feature of the Proform 215 CSX is really the low price of this bike. Although you do get some nice features (and options), as described below, this is still an economy bike so don't set your expectations too high.
What You Get:
You get a comfortable and sturdy upright fitness bike for this price range. The seat is comfortable and very similar to the NordicTrack exercise bike seats (Proform bikes are made by the same company (Icon) that makes NordicTrack bikes).
The Proform 215 CSX includes seat and handlebar adjustments, has transport wheels and is powered by an AC power adapter and not just by batteries. If you are going to be using your bike enough to get some a real benefit from it, then the AC power supply is an important feature.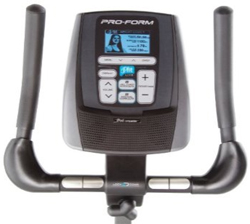 For Motivation: The ipod/mp3 player jack is included with this bike and you also get the iFit wireless adapter option.
Since the Proform 215 CSX is iFit® compatible, you have the option to purchase the iFit® wireless adapter (which sells for around $99 and includes a Free 1 year iFit.com membership) which you can get when you purchase the bike or later when you need some extra motivation.
Where to Buy:
When you get this bike online, be sure to purchase it from a reliable and reputable online store. If you find slightly lower prices from merchants that you've never heard of, be sure to check out their reputation.
The online stores that we have linked to above are known to have low prices, reliable free shipping and customer service.
---
Proform 215 CSX Features at a Glance:
Dual-Grip Heart Rate Monitor

Compatible Music Port for music players

16 Built-In Workouts
12 Digital Resistance Levels

Adjustable, Non-Slip Handlebars
Horizontally Adjustable, Heavily Padded Seat
Rear Stabilizers and Levelers
Transport Wheels
Power Output Indicator ~ direct power (watts) measurement sensor.

Grafixx™ Console Display

iFit® Technology Compatible (Requires iFit® wireless adapter ~ sold separately)
User Capacity: 250 lbs
Power Requirements: AC Adapter (included)
Warranty:
5 years - Frame
90 days - Parts and Labor