About-Bicycles > Fitness Bikes > NordicTrack GX5.5 Review
NordicTrack GX5.5 Sport Indoor Cycle Review
Training Bike with Large Console
The large backlit console on the NordicTrack GX5.5 Indoor Cycle puts your key training stats ~ speed, time, distance, calories and heartrate ~ in an easy to read, numeric and graphical format and in clear view throughout your entire workout.
Your heart-rate is measured more accurately with the wireless HR chest strap, which is included with this bike, and the aerobar styled handlebars (pitchfork shaped) with elbow pads give you more options for additional riding positions.
In addition to the more obvious features of this Bike mentioned above, you also get a 48lb Flywheel, Heavy (commercial grade) Steel Frame (with a lifetime warranty) and NordicTrack even includes an Indoor Cycling Workout DVD with this Indoor Cycle.
Indoor Cycles, like the GX5.5 Sport Bike, are more similar to traditional outdoor bikes, and are often used by cyclist for training in addition to weight loss and more serious cardiovascular workouts.
---
Note: The NordicTrack GX5.5 Indoor Cycle is currently Out of Stock (was selling for $799 directly from NordicTrack.com).
The Newer, and less expensive Indoor Cycle from Nordictrack, is the NordicTrack GX3.5 Sport which is currently selling for $399 with Free Shipping.
Go to NordicTrack GX3.5 Sport for the latest details on this bike, customer reviews or to purchase this bike online.
---
NordicTrack Indoor Cycles and Fitness Bikes
NordicTrack is the high-end brand produced by Icon Fitness (the largest fitness equipment manufacturer in the world) so when you are looking for a high quality Indoor Cycle at a good price, NordicTrack makes a good selection.
The NordicTrack GX5.5 Indoor Cycle is similar to the legacy NordicTrack GX5.0 Sport Bike (no longer available online from NordicTrack) except the newer GX5.5 has the much larger and more advanced console and uses a chain drive system rather than a belt drive.
Although Indoor Cycles (aka: Sport Bikes by NordicTrack), such as the GX5.5 Sport Bike, have very well padded seats, are more adjustable and are more sturdy than traditional Upright Exercise Bikes or Recumbent Exercise Bikes (see the sidebars for examples of these bikes), they are not built for as much comfort as for a good workout.
Indoor Cycles give you a more intense workout and are fully mechanical (other than the electronic console) so the resistance levels (controled by the friction of the brake pads against the wheel) can be adjusted to any level ~ from pretty much no resistance at all (for the more casual riders) to a level that is almost impossible to pedal (for the strongest atheletes and fanatics).
---
About-Bicycles Review:
The NordicTrack GX5.5 Sport Bike is a solid and fully adjustable Indoor Cycle (backed up with a lifetime warranty on the frame) that also comes with quite a few additional features not often found on bikes in this price range.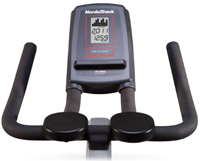 I like the large console (with numeric and graphical formats), the 48lb flywheel, the aerobar style handlebars with elbow pads and the 300lb weight capacity (which is also a good indicator of the bikes durability (even if you weigh much less)).
You also get the features that you would expect on any quality Indoor Cycle such as transport wheels, pedal toe cages and straps, water bottle holder (on the frame) and the quick-stop breaking knob in addition to some extras such as the Indoor Cycling Workout DVD and Free Wireless Chest Strap.
My one concern is with the position of the console on the handlebars. Although I like having the console in an easy to view and adjust location, I believe that the console could be in the way for some riders (depending on their size and how the bike is adjusted) when riding in a time trial position.
Customer Reviews:
This Indoor Cycle is still very new at the time of this review and there are currently no customer reviews online at NordicTrack.com at the time of this review.
See: NordicTrack Fitness Bike Reviews
for the latest customer reviews or to get the latest NordicTrack Indoor Cycles online.
NordicTrack GX5.5 Sport Bike Indoor Cycle Features at a glance:
Large Backlit LCD Console

Wireless Chest Pulse Included

Inertia Enhanced Flywheel - 48 lb.

300 lb. Weight Capacity

Chain Drive System

Fully Adjustable Padded Seat (horizontally and vertically)

Pedals with Toe Cages and Straps

Transport Wheels

Adjustable Leveling Feet

Commercial Grade Steel Frame

Infinately Adjustable Resistance and Quick-Stop Braking System

Indoor Cycling Workout DVD

Water Bottle Holder

Footprint 46.8" L X 54.5" W X 19.5" H

Warranty:
Lifetime Frame
2-Year Parts, 1-Year Labor