About Bicycles Online > Fitness Bikes > NordicTrack GX4.5 Recumbent Review
NordicTrack GX4.5 Recumbent Bike Review
The Most Affordable NordicTrack Recumbent

NordicTrack has just released their most affordable recumbent exercise bike, the NordicTrack GX4.5 Recumbent. The GX4.5 is this year's replacement for the popular GX4.0 Recumbent which has been sold out online for some time now and difficult to find in b&m stores.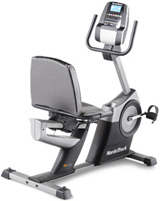 What makes the NordicTrack GX4.5 (and last year's GX4.0) so popular is that you can get a comfortable, sturdy, easy to use recumbent, with plenty of back and upper body support and with NordicTrack quality all at a very reasonable price.
NordicTrack has been making comfortable, high quality fitness bikes ~ backed up with excellent warranties ~ for many years now. Although new models are introduced each year, it seems like NordicTrack found the formula for the best designs a few years back and have mostly stuck with what works making small improvements each year.
As for the NordicTrack GX4.5, you get the Large, Heavily Padded and Easily Adjustable Seat with Lumbar support, 24 Built-in Workout Apps, 22 Resistance Levels, a convenient Water Bottle Holder, CardioGrip™ Heart Rate Monitor, a 300 lb Weight Capacity (a good indication of its durability), iPod/MP3 jack and sound system and compatibility with the constantly improving iFit Live technology.
---
Note: The NordicTrack GX4.5 Recumbent is no longer available from this site or no longer for sale online.
Please see our Exercise Bike Ratings page for a full listing of the exercise bikes that are available with prices and ratings.
(was selling directly from NordicTrack for $499).
---
Recumbent Exercise Bikes give you just as much of an aerobic, fitness workout as Upright models ~ although you use different leg muscles. Recumbents provide better back support and more hand positions ~ models with upper and lower handlebars ~ and are considered more comfortable, by many people, than upright fitness bikes.
iFit Live Technology and Motivation
This bike can stand on its own based on the features mentioned above, but don't overlook the motivational and tracking features of the iFit Live module and how important motivation can be.
* The iFit Live adapter and iFit account are sold separately.
Not only does the iFit Live module give you more variety in your workouts, the tracking options allow you to share your workout data online with friends, family or colleagues that may have similar workout or fitness goals (and this can be a powerful motivator).
With iFit Live and Google Maps you can select an existing route or you can create your own customized course (like a local bike route or trail that you like to ride) which can then be download to your exercise bike.
The virtual rides (routes and courses) that are downloaded to your iFit Live transmitter then control the resistance levels of your exercise bike.
About-Bicycles Review
The NordicTrack GX4.5 is a comfortable, easy to adjust and well made Recumbent Bike with more features and options than you often get for recumbent bikes in this price range.
NordicTrack mid-range recumbents are generally much nicer and higher quality than other brands in their price range. This may have to do with the fact that NordicTrack is owned by Icon Fitness (the largest fitness equipment maker in the world) and can often give you more features and options at a lower price due to their size advantage.
One of the features that I particularly like with the GX4.5 is the seat. Not only is it roomy and comfortable it also has lumbar support and a large, easy to use adjustment lever (no cheapo knobs) and the seat slides easily into position easily.
The iPod/MP3 jack and speakers are also a nice option although this is becoming fairly common on most mid-range and better fitness bikes.
The other big feature of this bike, the iFit Compatibility, is actually optional which lets you keep you initial costs down up front or upgrade the bike with this motivational technology when you buy the bike or later on when you need a little more inspiration, interaction or entertainment to help you to put some more time into your fitness routine.
I've briefly described the iFit technology above. When you get this bike online you will have the option to get the iFit technology with it or if you would like a little more information before you buy you can see our iFit Live Summary.
Note that this recumbent bike was originally released as the NordicTrack 4.2. The model number was changed to 4.5 shortly after release.
Customer Reviews
At the time of this review there were no customer reviews on the NordicTrack GX4.5 available online (this bike is still very new). However, there were no shortage of reviews of the NordicTrack GX4.0 (the predecessor to this bike) online.
The overall rating, of the NordicTrack GX4.0, was 4.5 out of 5 stars

at NordicTrack.com.
---
NordicTrack GX4.5 Features at a Glance:
Oversized, Fully Adjustable Padded Seat with Lumbar Support
CardioGrip™ Heart Rate Monitor
22 Resistance Levels

24 Workout Apps
iFit® Technology Compatible
Compatible Music Port for iPod®
Intermix Acoustics™ 2.0 Sound System
Water Bottle Holder
Weight Capacity: 300 lbs.

4" Backlit Display
Pedals with Adjustable Straps

Footprint: 51.75" L x 25.12" W x 53" H

Warranty:
Lifetime frame
1-year parts and labor.