About-Bicycles > Fitness Bikes > NordicTrack GX3.5 Review
NordicTrack GX3.5 Indoor Cycle Review
Economical Fitness Bike with Nice Features
The NordicTrack GX3.5 Indoor Cycle provides a good workout at a low cost and has some nice features in addition to the NordicTrack name and warranties.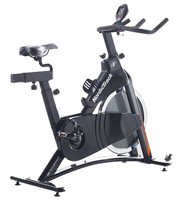 You get a 40 Pound Flywheel, for a smooth and stable ride, an easy to use backlit LCD Console for your stats and a Four End Handlebar Design for additional riding positions.
The NordicTrack GX3.5 also has all of the features that you would expect on any decent Indoor Cycle. You get the fully adjustable seat ~ easy horizontal and vertical adjustments ~ and fully adjustable handlebars ~ also vertical and horizontal ~ for the correct and most comfortable riding positions and the twist knob, felt pad resistance design for setting any resistance level.
Indoor Cycles, like the GX3.5 Sport Bike, are used in spin classes or can provide similar workouts at home with various workout videos and routines.
---
Note: The NordicTrack GX3.5 Indoor Cycle is currently selling for $399 directly from NordicTrack.com with Free Shipping.
Go to NordicTrack GX3.5 Sport for the latest details on this bike, customer reviews or to purchase this bike online.
---
NordicTrack Indoor Cycles and The GX3.5
NordicTrack Fitness BIkes are made by the largest fitness equipment manufacturer in the world ~ Icon Fitness ~ and is only available online and at Sears stores ~ which is a nice place to try out the bikes if you get a chance.
NordicTrack has made quite a few good quality Indoor Cycles over the years but they do not usually produce a large number of any particular model so any one model is not usually available for very long. So this year's GX??? may be very similar to last years GX???. Regardless of the limited availability they are usually good bikes.
The NordicTrack GX3.5 Indoor Cycle is currently NordicTrack's low cost model and has a chain drive system so it will feel more like an outdoor bike but will be a little louder than a belt driven Indoor Cycle.
Indoor Cycles give you a more intense workout then the electronic resistance Upright and Recumbent models.
The NordicTrack GX3.5 is fully mechanical (other than the electronic console) so the resistance levels are controlled by the friction of the brake pads against the wheel so it can be adjusted to any level ~ from pretty much no resistance at all (for the more casual riders) to a level that is almost impossible to pedal (for the strongest athletes and fanatics).
---
About-Bicycles Review:
The NordicTrack GX3.5 is just a good quality Indoor Cycle at a decent price. I like the console and the 4 end ~ pitch fork style ~ handlebars.
The console has all the functions that you would expect on an Indoor Cycle and keeps your stats right in front of you when you need to check how you are doing.
The handlebar shape allows multiple positions for less fatigue and/or different positions for various stages of your workout.
You also get transport wheels allowing you to move your Indoor Cycle out of the way when not in use, pedal toe cages and straps to work out additional muscle groups and the water bottle holder on the frame and out of your way.
You don't get a heart rate strap or monitor with this bike so you will need to buy that separately if that is important to you.
Overall, you get all the features that you need on an Indoor Cycle plus a few extra features at a very good price. I would recommend this bike in the low cost category for a good workout and for moderate use.
Customer Reviews:
This Indoor Cycle is still very new at the time of this review and there are currently very few customer reviews online at the time of this review. The one customer review that I saw posted ~ at NordicTrack.com ~ basically praised the bike for being a "smooth performing cycle" which I do not doubt but then again that is posted on the manufacturer's site...
See: NordicTrack Fitness Bike Reviews
for the latest customer reviews or to get the latest NordicTrack Indoor Cycles online.
NordicTrack GX3.5 Indoor Cycle Features at a glance:
40 pound Flywheel

Chain Drive System

Fully Adjustable Seat (horizontally and vertically)

Pedals with Toe Cages and Straps

Transport Wheels

Adjustable Leveling Feet

Commercial Grade Steel Frame

Infinitely Adjustable Resistance and Quick-Stop Braking System

East to Read Backlit LCD Console
250 lb. Weight Capacity

Water Bottle Holder

Footprint 46.8" L X 54.5" W X 19.5" H

Warranty:
5 Year Frame
90 day Parts and Labor