About Bicycles Online > Exercise Bikes > Life Fitness C1 Upright Review
Life Fitness C1 Upright Review
Life Fitness is the second largest fitness equipment manufacturer in the world and the leader in high quality commercial grade fitness equipment. So how did Life Fitness get its start? With Exercise Bikes, of course!
Although Life Fitness, LifeCycle Fitness Bikes are sold primarily in commercial markets, you can also purchase Life Fitness equipment for in-home use online. If you are looking for more than the usual low to mid-range sporting goods store stationary bikes then the Life Fitness C1 Upright is an excellent choice.
Aside from the commercial durability of the Life Fitness C1 Upright with Advanced Console, a few of the key features of this bike are the grip contact and wireless heart rate monitor (with Polar® wireless chest strap included), multiple Heart Rate Control (HRC) programs, Dual User Profiles, AC Power supply, comfortable seat and ergonomic design.
---
Note: The Life Fitness C1 Upright with ADVANCED Console is currently out of stock (was selling online at Amazon for $1,499 new),
Please see our Exercise Bike Ratings page for a full listing of the fitness bikes that are available with prices and ratings.
---
HRC and Exercise Heart Rate Training Zones
One of the key features of the Life Fitness C1 Upright Advanced Console bike, in addition to the overall quality and commercial durability, is the heart rate control programs included with this bike.
Although most fitness bikes have various ways to monitor your heart rate (contract grip and chest strap monitors), not many models have integrated HRC programs which will increase and decrease the bike resistance to keep you within your target heart rate zone.
Whether you are trying to lose a few pounds or training for a le Tour de France exercising in the proper heart rate zone can be a big advantage. If your heart rate is too low, while you are exercising, you are not getting the full benefits from your workout. In contrast, if your heart rate is too high then your workout may be counter productive.
There are plenty of formulas online for calculating the various target heart rate zones but ultimately you will need to determine the heart rate zones that are best for you and for your training and/or weight loss goals. **
About-Bicycles Review
There is no doubt that Life Fitness makes high quality stationary bikes and the Life Fitness C1 Upright is no exception.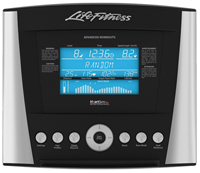 The best features of this bike are overall quality, good ergonomic design, the wireless heart rate monitor with chest strap and the built in Heart Rate control HRC programs (Advanced Console model). This bike is very durable, can handle long hours of use each day and has an excellent residential warranty.
My only criticisms are that the bike has a 300lb user weight capacity (which is great for in-home models but a little low for high end commercial models) and it lacks some adjustability settings (horizontal seat adjustment and handlebar adjustments (although this should not be a problem for most people)).
Customer Reviews
At the time of this review there was only 1 review at Amazon which was
(4 of 5 stars). I was unable to find additional unbiased and legitimate customer reviews.
** Please check with your doctor before you start a workout program based on heart rate.