About Bicycles Online > Fitness Bikes > Inspire CS2 Review
Inspire CS2 Recumbent Elliptical Review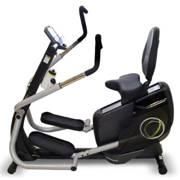 The Inspire CS2 Recumbent Elliptical gives you the aerobic exercise that you need and gets you in shape with a comfortable upper and lower body workout.
When you want the low impact, support, comfort and lower body workout of a Recumbent Bike and would like a good upper body workout too you may actually want to look at the new Dual Action Recumbent Ellipticals or Seated Ellipticals ~ Like the Inspire CS2 ~ that are now available online.
The Inspire Cardio Strider ~ CS2 ~ is actually not a Recumbent Exercise Bike but a Seated Elliptical or Recumbent Elliptical which is basically a cross between an Elliptical Trainer and a Recumbent Exercise Bike.
The Inspire CS2 Recumbent Elliptical actually gives you some of the best features of a Recumbent Exercise Bike ~ it's fairly compact, provides a similar leg motion, provides great support and is comfortable ~ and then goes on to add the benefits of an Elliptical Trainer ~ a low impact, full upper and lower body workout which can be done at the same time or separately.
---
Note: The Inspire CS2 Recumbent Elliptical is is no longer available from this site or no longer for sale online. Please see our Exercise Bike Ratings page for a full listing of the fitness bikes that are available with prices and ratings.
(was selling from Amazon for $1,495).
---
Although there are now more Dual Action Seated Elliptical machines available online and at some B&M fitness stores, there are some flimsy, low-end models out there that you will want to stay away from. The Inspire CS2 is a high quality Recumbent Elliptical machine that sells at a very reasonable price.
Additional Benefits and Features of the Inspire CS2 Recumbent Elliptical
Another nice benefit that the Inspire Recumbent Elliptical is that you have lower body leg motion as you do on an exercise bike or stepper and you can grip the arm levers in different positions allowing you to use and to work on different upper body and arm muscles.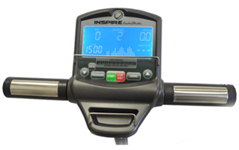 The Inspire CS2 Seated Elliptical has comfortable and easy to access foot rests for use while you work on your upper body, with the arm levers alone and hand grips, with built in heart rate monitors, below the console for use when you are using the pedals alone for more of a lower body workout.
About-Bicycles Review
I had the opportunity to review the Inspire CS2 extensively at the Specialty Fitness store Chicago Home Fitness recently and I was very impressed. First off, this store only sells high end equipment, so I feel very comfortable with the quality brands that they sell.
Next, once you sit on and start to work out on this machine, you can feel how smooth the motion is and it's easy to change from the arm levers alone, to the foot pedals alone or to use both at the same time. The console was also easy to read and to use this machine is quiet.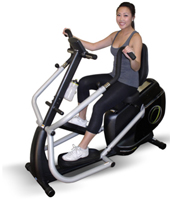 The fitness consultant at CHF was also very knowledgeable and helpful and told me that the Inspire CS2 is one of the best selling machines that they carry so you don't have to worry about this being some unique novelty item that will no longer be around in a few years.
I would definitely recommend this machine for anyone looking for a good upper and lower body aerobic workout.