About Bicycles Online > Fitness Bikes > Horizon Comfort U Review
Horizon Comfort U ~ Comfort for You and Fitness Too
At last, the high quality home fitness equipment maker, Horizon, has added an Upright Exercise Bike to their line up of Fitness Bikes. The Horizon Comfort-U Upright has some fairly unique features that make this bike stand out from the crowd.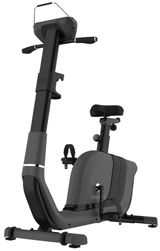 One of the first things that you notice is that this upright has a complete Step Through Design (no frame to step over in front of the pedals) which makes it easy to hop on and off of the bike. This just makes it easier when you have occasional interruptions in your fitness routine that require you to get off the bike, do something then get back on again.
The next thing that stands out from other Upright Bikes is the Flat-Bar Style Handlebars and ergonomic handlebar grips. Most other Upright Exercise Bikes have U-Shaped handlebars often with foam padding. The Flat-Bar handlebar style is more similar to mountain, hybrid and some comfort outdoor bikes so you get more of a feel like you are riding an outdoor bike (only its more comfortable).
In addition to the features described above, you also get a newly designed electronic console that is easy to read and use and has many new features including the Heart Rate Wheel, which shows your current heart-rate in addition to the Heart-Rate zone that you are in as you ride, a music player jack and speakers and telemetric heart-rate monitor receiver (so you can use an optional wireless heart-rate chest strap or the built in he handle grip heart-rate monitor).
---
Note: The Horizon Comfort U is On Sale for $619 directly from Horizon Fitness with FREE Shipping. See Horizon ComfortU Upright
for latest price, additional customer reviews or to get the Horizon Comfort U at the lowest price online.
---
One more feature that the console has is the slot and rack on top that can be used for music players, mobile devices or tablet computers without blocking the console display.
Horizon Fitness bikes are made by Johnson Health Tech in Cottage Grove, Wisconsin who are know for making high quality home fitness equipment (in addition to commercial equipment) that is priced to compete with mid-range and even some low-end brands.
A few indicators of Horizon Fitness bike's quality in addition to their overall reputation in the industry are the User Weight Capacity (300 lbs. for the Comfort U), the Warranty (Lifetime on the frame, 1 year on parts and labor) and weight of the flywheel (15.4 on this bike).
There is usually a better selection of Horizon fitness bikes online than in retail stores. However, if you would like to check out Horizon Bikes in person, you can often find them at HHGregg stores (if you live in the east or central US) or at: Academy, Dunham's, Sport Chalet and Scheels.
Although Horizon has made a very popular Indoor Cycle, the Horizon M4 , for a while now, the M4 is an Indoor Cycle which, although you sit upright on the bike, is really in a different category. The Comfort-U is Horizon's first magnetic resistance, upright model with full and totally updated console controls.
The new updated console includes a music player jack and good speakers (of course) and also comes with the new Heart Rate Wheel technology. The Heart Rate Wheel feature shows you your current heart rate in addition to an easy to read graphical display of the heart rate zone that you are in as you ride.
---
About-Bicycles Review
On a recent trip to the Horizon headquarters in Cottage Grove, Wisconsin I was able to see and ride the Comfort U Upright and to review the features personally and with the Horizon product specialists.
With the step-though design, I found this bike very easy to get on and off of and, with the flat-bar handlebars, it felt more like riding a traditional outdoor mountain or hybrid bike. The gel seat and ergonomic handlebar grips were both really soft and comfortable and the ride was smooth and stable.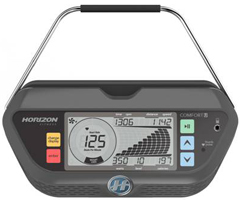 The water-bottle holder was easy to reach (and still out of the way) and the seat and pedal straps were easy to adjust.
The console was also easy to use even before I was familiar with all the latest features of the bike and console. Horizon seems to keep the most important stats and features easy to find, read and understand.
The console includes the Heart-Rate Wheel display which is fed by the thump-pulse HR monitor or by an optional wireless chest strap monitor and the slot and rack on top of the console is great for holding a mobile device, like a tablet computer, while not interfering with the console display.
I would recommend the Horizon Comfort-U when you are looking for a high quality Upright Exercise Bike with the latest and most essential features.
---
Horizon Comfort R Features at a Glance:
Extra Wide Padded Gel Seat

Self-balancing pedals with adjustable straps

ErgoGrip Handlebars ~ Flatbar outdoor bike style
Cup Holder and Towel Holder

5 inch LCD Console Display

Heart Rate Wheel Technology

10 Programmed Workouts including: Manual, Intervals, Game, Weight Loss, Rolling, Cadence, Random, Constant Watts, THR Zone and Custom

Thumb Pulse heart-rate monitor and Telemetric Receiver (wireless chest strap sold separately)

Sonic Surround™ speakers with MP3 compatibility

16 Resistance Levels
User Capacity 300 lb.

Flywheel Weight 15.4 lb.

Warranty:

Lifetime - Frame
1-year parts & labor