About Bicycles Online > Fitness Bikes > Horizon Comfort R Review
Horizon Comfort R Recumbent Review
I recently visited the Horizon headquarters in Cottage Grove, Wisconsin and was able to see the brand new Comfort-R Recumbent Exercise Bike prior to its release on the internet or in retail stores ~ Actually as of this review this bike is not yet available in stores.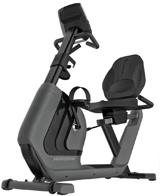 I had been looking around to find out about the latest fitness bikes on the Horizon (yes, the pun is intended :-) ) and I was happy to find out that Horizon Fitness has 2 new models being released this year ~ one recumbent, the Comfort-R, and one upright, the Comfort-U.
You can tell by the model name, the "Comfort" R, some of what the people at Horizon had in mind. The Comfort-R is definitely very comfortable but there is actually much more to this bike than just comfort alone.
With the higher front handlebars and total step through design the Comfort-R is also very easy to get on and off of. The front (or upper) handlebars are in a good location for you to hold on to in order to easily mount or dismount the bike while the lower handlebars (next to the seat) are the most comfortable and natural to use as you workout.
In addition to the comfort and ergonomics of this bike, Horizon has come out with a newer and more advanced console, with all the latest electronic features, and the quality of Horizon fitness bikes is well known in the industry and by customers who own Horizon fitness equipment.
---
Note: The Horizon Comfort R is On Sale for $719 directly from Horizon Fitness with FREE Shipping.See Horizon ComfortR Recumbent
for latest price, additional customer reviews or to get the Horizon Comfort R at the lowest price online.
---
You can tell that Horizon products are high quality fitness products as soon as you try them out in a store or fitness club although if you have not yet been able to check out Horizon products ~ like the Comfort R ~ in person yet, just check out the Warranty (lifetime on the frame), the User Weight Capacity (350lbs, often a good indicator of the products durability and stability) and the Flywheel Weight (15.4lbs).
Horizon bikes may be easier to find online then in B&M stores although if you live in the east or central US you can find them in HHGregg stores. Other retail stores that carry Horizon products include: Academy, Dunham's, Sport Chalet, Scheels.
Although the predecessor to this model, the Horizon RC-30 Recumbent, has had an excellent reputation for comfort and quality, the console was a little out of date and did not have a music player jack. The Comfort-R has a totally updated console with a music player jack and good speakers (of course) and also comes with the new Heart Rate Wheel technology.
The Heart Rate Wheel feature shows you your current heart rate in addition to an easy to read graphical display of the heart rate zone that you are in as you ride.
---
About-Bicycles Review
I found the bike to be very easy to get on and off of and very comfortable, of course. The pedal straps, handlebars and seat were easy to adjust and the pedaling was smooth and stable.
The console was also easy to use even before I was familiar with all the latest features of this bike. Horizon seems to keep the most important stats and features easy to find, read and understand.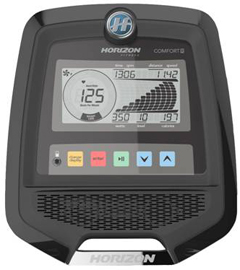 There is also a good size ledge on the console that you can use for a music player, mobile device (phone or tablet) and/or a book or magazine.
Recumbent Exercise Bikes are generally more comfortable and provide more upper body support than upright models and the Horizon Comfort-R is not only comfortable it is also a high quality fitness bike priced lower than most others in its category.
I would recommend the Horizon Comfort-R when you are looking for a high quality exercise bike, with good upper body support for home use and at a reasonable price.
---
Horizon Comfort R Features at a Glance:
Black Foam Extra Large Padded Seat

Self-balancing pedals with adjustable straps

ErgoGrip Handlebars, Cup Holder

5 inch LCD Console Display

Heart Rate Wheel Technology

10 Programmed Workouts including: Manual, Intervals, Game, Weight Loss, Rolling, Cadence, Random, Constant Watts, THR Zone and Custom

Contact Heart-Rate Grips

Sonic Surround™ speakers with MP3 compatibility

16 Resistance Levels
User Capacity 350 lb.

Flywheel Weight 15.4 lb.

Warranty:

Lifetime - Frame
1-year parts & labor