About Bicycles Online > Fitness Bikes > Healthrider H35xr Recumbent Review
Healthrider H35xr Recumbent Review
The Healthrider H35xr Recumbent Exercise Bike is manufactured by Icon Fitness (the largest fitness equipment manufacturer in the world and maker of Nordic Track and Proform fitness equipment) and can therefore offer quite a few nice features in a moderately priced recumbent fitness bike.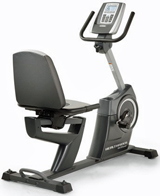 What you get on the Healthrider H35xr, that you do not usually get on other recumbents in this price range is: iFit Live compatablity (more on that below), an iPod/MP3 player jack and speakers, 20 built in programs and 18 resistance levels, 300 lb weight capacity, and the handlebar grip heart rate monitor.
The warranty is fairly compatible to the midrange Schwinn models (The Schwinn 220 and Schwinn 240) but not as good as the Horizon RC-30 (in approximately the same price range).
---
Note: The Healthrider H35xr is selling for $499 at Healthrider. Go to HealthRider H35XR Recumbent
for the latest status, reviews and comparisons.
---
Healthrider H35xr Recumbent and iFit Live Technology
When they say that the Healthrider H35xr is iFit Live compatable what that means is that there is a slot for the iFit Live adapter but you must purchase the adapter seperately.
If you are not familiar with what the iFit and iFit Live motivational technology is all about, or if you would like to purchase one of the iFit options with your iFit compatible bike, check out our iFit Live Summary and Review. (the "Killer App" for Fitness Equipment").
Note: Tracking your workout data on the internet can be very motivational especially if you share the data with your family and friends who may also be working on their own goals.
About-Bicycles Review
This is a very affordable fitness bike with a very good warranty and many features found only in more expensive recumbents. The key feature for this bike is the iFit Live compatability.
With iFit Live, you can choose the wireless uploads and downloads, the original iFit workout cards or just use this stationary bike stand-alone with the 20 built in programs. This gives you a lot of options for motivational training and workout variety.
Aside from the iFit motivational programs, this is a very comfortable bike with a comfortablle, cushioned and fully adjustable seat, iPod jacks and speakers, a heart rate monitor and 300 lb weight limit.
Healthrider does not have the same name recognition as Nordic Track and Proform but you can probably get more for your money with this brand. With all of the features available on this bike, I would have to recommend this recumbent exercise over the Schwinn and Horizon models in this price range.
---
Recumbent Exercise Bikes are more popular than upright models for exercise, weight loss and therapy since many people consider them more comfortable. Recumbent Bikes also give you the option to watch TV comfortably, listen to music and your hands are free (for reading magazines or books, etc.).
Healthrider H35xr Features at a glance:
iFit Live™ Technology Compatible

Compatible Music Port for iPod®

Intermix Acoustics™ 2.0 Sound System

20 Personal Trainer Workouts

16 Digital Resistance Levels

Easy to Read and use Grafixx™ Display

Adjustable, Ergonomic Handlebars

Adjustable, Oversized Seat

SMR™ Silent Magnetic Resistance

Dual-Grip BioLogic™ Heart Rate Monitor

Power Adaptor Included

300 lb. Weight Capacity

Warranty:

5-Year Frame Warranty
90-Day Parts & Labor