About Bicycles Online > Fitness Bikes > FreeMotion 330R Review
FreeMotion 330R Recumbent Exercise Bike Review
Commercial Quality, More Workout Apps
The FreeMotion 330R Recumbent gives you the same high-end quality that you see in their many popular commercial fitness products and the same, or better, features that you get with the other In-Home FreeMotion Fitness Bikes.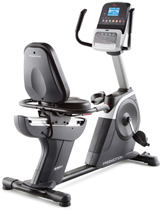 FreeMotion is the high-end, mostly commercial brand of fitness products made by Icon Fitness. Fortunately, FreeMotion has now come out with a line of in-home fitness products including some nice stationary bikes and indoor cycles.
What you get with the FreeMotion 330R is solid and sturdy Recumbent, a comfortable seat with lumbar support, 1-Step™ Resistance Controls, 30 built-in Apps and a Lifetime Warranty on the bike's frame.
Since FreeMotion has a such a strong background in commercial fitness equipment many of their products are too expensive for in-home use. Fortunately, the 330R is a very reasonably priced even for an in-home Recumbent.

---
Note: The 2012 FreeMotion 330R is no longer available from this site or no longer for sale online.
Please see our Exercise Bike Ratings page for a full listing of the exercise bikes that are available with prices and ratings.
( was selling directly from FreeMotion Fitness for $599 (new))
---
Motivational Features of the FreeMotion 330R Recumbent
The motivational features of any fitness bike include any options that help to reduce the boredom of indoor workouts and/or features that help to motivate you to reach your personal fitness goals.
The FreeMotion 330R Recumbent includes 30 Built-In Workout Apps, an MP3/iPod jack and speakers so you can listen to music without ear phones, and full iFit compatibility (iFit wireless adapter is sold separately).
For those of you who are into all the latest technology, and who want the most relief from the potential boredom of indoor workouts, the optional iFit Technology will be the way to go.
You can download workouts from professional trainers, select existing courses from all over the world ~ powered by Google Maps™ ~ or even create your own courses based on your own outdoor rides.
For those who are looking for some boredom breaking features and don't want to deal with the latest technology, you have the 30 Built-In Workout Apps to use for free at anytime and the MP3/iPod jack and speakers.
About-Bicycles Review
The FreeMotion 330R Recumbent is very similar to the other in-home (300 level) models that FreeMotion offers in that they are all high-end Recumbent Exercise Bikes made by the commercial fitness equipment division of Icon Fitness, the world's largest fitness equipment manufacturer, and are sold at very reasonable in-home fitness equipment prices.
The 330R is comfortable, provides plenty of back support and is easy to use and to adjust. When you ride any Freemotion bike the commercial level quality is obvious right away.
I particularly like the easy to use seat adjustment lever (as opposed to a cumbersome knob) and the 1-step resistance level controls. The 350lb user weight capacity is also a good indicator of this bikes durability even if you weigh much less.
Some of the advantages that you get with the FreeMotion 330R over the other FreeMotion in-home models is that you get 30 built-in apps (to provide plenty of variety in your workout) that you can use for free at anytime and you can get this bike online directly from FreeMotion Fitness with Free Shipping.
When shopping for FreeMotion Fitness Bikes online be sure to find a merchant with Free Shipping options (not all online stores offer free shipping on these bikes).
I can easily recommend the FreeMotion 330R as a comfortable, durable and high quality Recumbent at the excellent online prices listed above.
Customer Reviews
FreeMotion Recumbent Fitness Bikes are rated very highly by their customers. For example the FreeMotion 310R (sold at Amazon) is rated

(5 of 5 stars) at Amazon and the FreeMotion 350R (sold from Sports Authority) is rated

(5 of 5 stars) at SA.
Unfortunately, the FreeMotion 330R is still fairly new and does not have a large number of customer reviews online yet. I have found only one review of the 330R at Amazon which was

(2 of 5 stars) and that I found to be very vague and did not include any meaningful detail other than the user was uncomfortable after a short time.
I have ridden FreeMotion bikes and I can tell you that the seat is as comfortable if not more comfortable than any other bike in it's price range so I believe that this particular customer would probably have been uncomfortable after a short time on just about any recumbent.
---
FreeMotion 330RFeatures at a glance: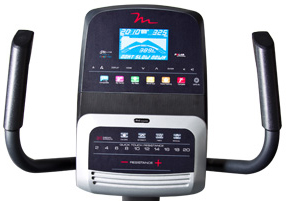 1-Step™ Resistance Controls with 20 Resistance Levels

Oversized Lumbar Supported Seat - Easy Glide Seat Adjust

Quality Construction: Made from Commercial-Gauge Solid-Steel

Dual-Grip Heart Rate Sensors Built-in to the handlebars. Also compatible with the Polar Wireless Chest Strap (not included.)

iFit Live Technology Compatible

30 Workout Apps Designed by a Certified Personal Trainer

Transport Wheels

Weight Capacity: 350 lbs.

Product Weight: 150 lbs.

18 lb. Effective Inertia Enhanced Flywheel

CoolAire™ Workout Fan

5 Inch Backlit Display

Compatible Music jack for iPod or MP3 player

Intermix Acoustics 2.0 Sound System and built-in speakers


Warranty:
Lifetime Warranty on the frame
1 year - parts and labor