About Bicycles Online > Fitness Bikes > FreeMotion 310R Recumbent Review
FreeMotion 310R Recumbent Review
The FreeMotion 310R Recumbent combines the rugged, heavy duty, sturdy design of a commercial Recumbent with the comfortable and easy to use features of an in-home fitness bike.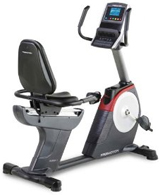 Some of the key features of this bike include a 350lb weight capacity ~ even if you weigh much less this is a good indicator of the bikes durability, an 18lb flywheel, 1-Step™ Resistance Controls, Dual-Grip Heart Rate Monitor Compatible with Polar® Wireless Chest Strap, iFit comparability, and a Lifetime Warranty on the bike's frame.
Probably the most important feature though is that you get a commercial grade fitness bike at an in-home fitness bike price.
FreeMotion is the high end, mostly commercial, brand of fitness products made by Icon Fitness (the world's largest fitness

equipment manufacturer). You may have noticed their familiar logo (shown on the right) in your fitness club or gym or even on their fitness apparel.

---
Note: The 2012 FreeMotion 310R is no longer available online. (was selling indirectly from Amazon for $626.49).
See the Freemotion 330R Review for the Freemotion Recumbent that is available online.
---
Motivational Features of the FreeMotion 310R Recumbent
The motivational features of any stationary bike include any options that help to reduce the boredom of indoor workouts and/or features that help to motivate you to stick with it or even do more than you might do on your own without them.
The motivational features of the FreeMotion 310R include the iPod/MP3 player jack and built in speakers (so you can select your favorite workout music), 24 Built-In workout apps and iFit Live Technology Compatibility for additional workout apps and plenty of online apps and entertainment.
There are some very nice features that come with iFit Live technology but you will need to pay a fee for the iFit.com account in order to use everything that it is capable of.
Note: Tracking your workout data on the internet can be very motivational especially if you share the data with your family and friends who may also be working on similar goals.

Even if you choose to pass on the iFit Live option, you can always use the 24 Built-In Workout programs that come with this Recumbent for FREE at any time.
About-Bicycles Review
The FreeMotion 310R Recumbent is almost identical to the other (300 level) in-home recumbents from FreeMotion (i.e. the 330R and the 350R). The main differences between these bikes is the number of built-in apps, cosmetic differences (colors) and some warranty differences.
When you sit on, adjust and ride a Freemotion In-Home Recumbent it is very obvious that you are using a high quality fitness bike.
The heavily padded seat is comfortable, provides good support, includes lumbar support and adjusts easily (with a large, easy to use lever rather than a cumbersome adjustment knob).
The 310R, with its Commercial-Gauge Solid-Steel frame and 18lb flywheel, is also very sturdy and stable. When I was comparing a FreeMotion Recumbent to another brand in a local retail store I decided to lift the front end to check out the weight. It was obvious that the FreeMotion bike was much heavier than the other brand. The Lifetime Warranty on the frame is also a good indication of this bikes durability.
Since FreeMotion fitness equipment is used in so many commercial environments many of their fitness products, including their commercial Recumbents, are too expensive for most people looking for an in-home Recumbent.
Fortunately, FreeMotion now offers their In-Home Recumbents at a very reasonable price. When shopping for FreeMotion Recumbents online be sure to find a merchant with Free Shipping options (not all online stores offer free shipping on these bikes).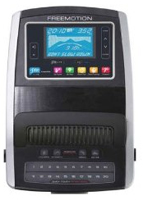 I can easily recommend the FreeMotion 310R as a comfortable, durable and high quality Recumbent at the online prices listed above.
Customer Reviews
This is a popular Recumbent and there are plenty of customer reviews available online. At the time of this review this bike is rated

(5 of 5 stars) from one customer at Amazon,
(4 of 5 stars) at Costco from nine reviews and

(5 of 5 stars) from one customer at dazadi.com
See the Freemotion 330R Review for the Freemotion Recumbent that is available online.