About Bicycles Online > Fitness Bikes > Diamondback 910SR Review
Diamondback 910SR Recumbent Review
WIth the Diamondback 910SR Recumbent you get a mesh seat back on a fully adjustable seat plus adjustable handlebars for a very comfortable ride. You also get a Polar compatible console to more accurately monitor your heart rate, with a wireless Polar chest strap heart rate monitor (not included), giving you the additional option to keep you hands free for anything else that you may want to do to pass the time as you get in shape.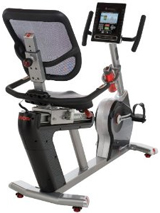 The 910SR is Diamondback's High-End Recumbent Bike which gives you more workout programs, more resistance levels, the Polar compatible receiver, the bike is heavier (for more stability) and has a higher user weight capacity than their entry level 510SR Recumbent.
You also get some nice motivation/entertainment features with the Diamondback 910SR Recumbent such as the built-in media center in the console that gives you easy hookups for an iPhone, iPad and iPod (although the iPod /MP3 player hookup still requires a patch cord to play the device through the speakers).
If you like Diamondback outdoor bikes than you will love Diamondback Fitness bikes. Diamondback Fitness bikes are a big step up in quality over most Diamondback outdoor bikes.
---
Note: The Diamondback 910SR Recumbent is no longer available from this site or no longer for sale online.
Please see our Exercise Bike Ratings page for a full listing of the exercise bikes that are available with prices and ratings.
(was selling indirectly from Amazon for $999).
---
The Diamondback 910SR is loaded with features for a comfortable, productive and motivational aerobic workout, is stable and durable, can handle higher user weights than the entry level Diamondback Recumbent (the 510SR) and has a very good warranty.
Adjustability and Comfort
The Mesh Seat Back is one of the key features of this recumbent giving you a cooler ride by allowing air to circulate through the seat back as you ride. The seat is also adjustable up and down as well as forward and backwards.
The console and handlebars on the Diamondback 910SR tilt and adjust for easy viewing and an even more comfortable fit. The heart rate monitor sensors are in the lower handlebars on the 910SR for a more comfortable ride while using the HR monitor.
You will probably be more comfortable on the Diamondback 910SR than you would on most other fitness equipment, you will still be able to get a good low impact aerobic workout and your hands can be free for other activities through out your fitness routine.
Console Features, Variety and Motivation
The console is intuitive and easy to operate with a light touch and the large, bright blue LCD console display is easy to read. The QuickSet program keys let you start your favorite routines with a single touch.
The 910SR heart rate monitors are built into the lower handlebars and are said to be very accurate. For even more accuracy and/or a hands free riding position the 910SR comes with a receiver in the console that can be used with a Polar compatible heart rate chest strap.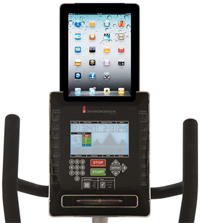 For variety there are 35 built-in workout programs, 32 resistance levels plus Target Heart Rate programs that control the bikes resistance levels based on the target heart rate that you choose.**
For additional motivation, the Diamondback 910SR Recumbent comes with an iPod/MP3 player jack and built in speakers.
To help pass the time and keep your mind off of a routine workout you can also hookup an iPad or iPhone to the media center in the console plus the 910SR has a handy fold out magazine rack. Even if you do not use the built-in features of this bike, you can use the optional Polar chest strap heart rate monitor and free your hands for other activities such as playing a video game, talking on the phone, or anything else that you want to do to pass the time as you get fit.
About-Bicycles Review
The Diamondback 910SR Recumbent is sturdy, durable and has quite a few nice features as described above. This bike is heavy, stable and can handle user weights up to 325 lbs. The seat and handlebar adjustability is great, the step through design is nice and even the little things like the water bottle holder are very convenient.
The iPod/MP3 player jack and speakers are a nice feature (although not uncommon on fitnessbikes these days). Keep in mind that you will need a separate cord to connect your iPod and/or MP3 player to the jack on the console.
The option to hook up an iPad to the console is a nice feature although I have not yet heard much about this from customers that have purchased this bike.
For comparison purposes, I would suggest checking out the Livestrong LS6.0R Recumbent which is actually priced lower than the Diamondback 910SR.
Customer Reviews
At the time of this review there 5 reviews at Amazon with an average rating of
(4 of 5 stars). There was only one negative review (2 stars) which brought down the overall average and I think this review was totally based on a bad console and problems with support (which is legit if that were to happen to you, of course).
Here is a few excerpts from the Amazon reviews that I found to be the most relevant:
From womanonamission, May 2, 2011, Homewood, IL.
"The seat adjustment is very smooth. It uses a sliding mechanism rather than a pin and lock one. I much prefer the sliding adjustment mechanism... "
"...after getting to the correct position the ride was smooth and quiet. Let me repeat that again, very smooth and very quiet... "
From Richard L Fraser, February 28, 2011, Three Lakes, Wi.
"...The seat adjustment is solid, and very comfortable for me in use. It is very easy to adjust for my wife, and then return to my settings, though there are no presets. The pedals are comfortable enough to use in socks even at higher intensity. I rode about 10 miles last night while playing an X-Box 360 game on line and am very happy with this purchase. The reason I purchased a recumbent was so I could actually exercise while playing on line and this worked perfectly, the computer does not obstruct the view of my plasma screen that is about 20 inches off the floor. I bought a polar chest belt with this bike and it works fine with no set up needed. (Polar T-31)..."
For the latest full customer reviews or to purchase the Diamondback 910SR at Amazon, See the Diamondback 910SR Recumbent Link Button above.
---
Diamondback 910SR Features at a Glance:
Easy-to-read console, Blue LCD display,
Real-time feedback, QuickSet program keys

iPod/MP3 jack and built-in speakers

Media bay with USB port and iPhone, iPad, iPod input and charging jack

Fold-out magazine rack

Water Bottle Holder

Target Heart Rate programs
Lower handlebar handgrip heart rate sensors
Polar compatible wireless HR receiver

35 workout programs and 32 levels of resistance

Upper and Lower handlebars (adjustable)

Personal cooling fan

Frictionless eddy current braking system
AC Adapter (included)

Dimensions: 64"L x 23"W x 50"H

Product Weight: 152 lbs.

User Weight Capacity: 325 lbs.

Warranty:
Frame: Limited lifetime
Brake: Limited lifetime
Parts & Electronics: 3 years
Labor: 1 year
Wear Items: 90 days
** Please check with your doctor before you start a workout program based on heart rate.