About Bicycles Online > Fitness Bikes > Body Rider Fan Bike Review
Body Rider Fan Bike Review
If you want the upper and lower body workout of a Dual Action Fan Bike but are looking for an alternative to the much higher priced Fan Bikes of the major manufacturer of this kind of exercise bike then the Body Rider Fan Bike may meet your needs.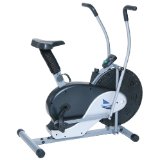 Although the Body Rider Fan Bike is a low cost alternative to the higher priced Dual Action Fan Bikes, this bike should only be considered for light use and light to moderate workouts.
The Dual Action Fan design of the Body Rider Fitness Bike synchronizes arm and leg motion and exponentially increases the wind resistance the harder you pedal. The air resistance, that allows for a smooth pedaling motion, also creates streams of cooling air, making for a comfortable home workout.
On top of the full body workout, cooling benefit fan bike design creates zero friction and requires considerably less maintenance than other, more complex systems.
Stationary bikes, including the Body Rider Fan Bike, provide an excellent low impact, cool aerobic exercise and are more compact, durable and cheaper than other home fitness equipment. Dual Action Exercise Cycles give you a full body workout.
---
Note: The Body Rider Fan Bike is selling indirectly from Amazon for $104.53 (new) with the free shipping options. Go to Body Rider Dual Action Fan Bike
for the latest price and reviews or to get this bike at the lowest price.*
---
About-Bicycles Review
Unfortunately, there is not a large selection of Dual Action Fan bikes available (online or at retail stores). The Body Rider Dual Action Fan Bike provides the same benefits as the more expensive Dual Action Fan bikes but I would only recommend this bike for light use and light workouts.
Although The Body Rider Fan Bike costs $400 to $600 less than the Original Schwinn Airdyne models, if you want a quality fan bike with rock solid warranties I would still have to recommend the Schwinn Fan Bikes.
Fortunately, The Schwinn has recently come out with the much more affordable Schwinn Airdyne AD2 Dual Action Fan Bike which I would recommend over this model.
I have seen mixed customer reviews on this bike but many are positive.
---
Aerobic exercise improves cardiovascular health and circulation and stationary bikes provide a safe, low impact aerobic exercise that has been used for fitness, health and physical therapy for years.
Body Rider Dual Action Fan Bike Features:
Upper and lower body workouts

Tension easily adjusts with the turn of a knob

Display Readouts for Time, Speed, Distance, and Calories Burned
Weight Capacity: 250 pounds

Fan cooling as you workout
Assembly is easy and assembly instructions are well written