Bicycles Online > Comfort and Hybrid Bikes
Comfort and Hybrid Bicycles Online
Are you looking for a good all purpose, practical and comfortable bicycle that can handle distance as well as rugged trails?
If so, the comfort or hybrid bicycle categories are what you want. The most common Hybrid Bicycles are a cross between mountain and road bicycles. They can handle pretty difficult terrain but are still good for distance riding and are usually pretty comfortable too. Some manufacturers refer to these as All-Terrain, Comfort Bikes, Bike Path Bikes and a few other categories.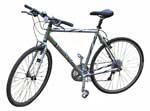 The most common Hybrid Bicycles are the Hybrid/Comfort bikes and the Hybrid Cross or Hybrid Performance bikes. Both are a cross between mountain and road bikes but some are more specifically designed for comfort while others are closer to either a mountain or a road bike and designed more for performance.
The Hybrid/Comfort bicycles usually include handle grip shifters, a shock absorbing seat post and fork, adjustable handlebars (height and angle), wider, padded seats, wider tires and you usually site in a more upright position.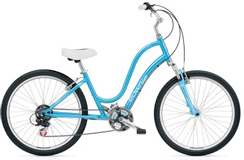 The term Comfort Bike is really a fairly generic term and can refer to cruisers, bike-path bikes, urban bikes, etc. (Mountain bikes and Recumbents can also be considered "comfort bikes" although they are really separate categories).
Then there are the Hybrid Road/Mountain Cross bikes which are also a cross between road and mountain bikes and are still comfortable to ride but their real goal is performance in a variety of situations rather than for comfort alone.
---
Recommended Hybrid / Comfort Bikes
See Schwinn Voyageur Review for the Best Comfort / Hybrid Bike currently available and on sale online.

See Novara Corsa Hybrid/Comfort Review for a comfortable and well made comfort / hybrid bike.

See Cannondale Bad Boy Review for a very comfortable and high quality comfort bike.

Recommended Total Comfort Bike

See the Electra Townie Review for an the best total comfort bike. This bicycle is built for comfort not for speed. Actually all Electra Bikes are built for comfort and many models can be purchased online at REI.
Recommended Hybrid (Road/Mtn Cross) Bikes

See the Fuji Absolute Review for an excellent Road/Mountain Hybrid with an design emphasis for roads as well as bike paths.
---
If you are looking for a larger selection, we have found some great retail sites where you can buy comfort and hybrid bicycles online. See our selected bike dealers at our Online Bike Stores page for best selections of hybrid and comfort bicycles for sale online.
---
Some notes on hybrid bicycle sales online
Many of the bicycle sites that you find on the internet will have good information, detailed descriptions and sometimes prices for the bicycles that they manufacture or sell but will not actually sell the bicycles online. Instead they will refer you to a local dealer or one of their own bike shops.
The online bike resources referenced on our site do have many bikes for sale online. For example: Schwinn, Cannondale, Huffy, K2, Mongoose, Scattante, Columbia, Kent, Electra, Nirve and Nashbar Brand are some (but not all) of the name brands that you can actually buy online. Some brands (like Cannondale, for example) can be ordered on line but must be shipped to a local shop.
Our Online Bike Stores page has links to the Online sites that sell these brands along with a listing of the brands that each website sells.
Other brand names, such as Trek, Giant, and Gary Fisher are high quality, popular brand names, but if you are searching the internet to find these brands of bicycles for sale online, you will most likely just find references to their approved dealers or used bicycles. If you are looking for these or other higher end brands you'll most likely have to check out a local bike shop or you could try ebay or craigs list.
Since the term "hybrid" can be a very general term and apply to a number of different combinations, there are a few other kinds of hybrid bikes that I have found to be very nice. Personally my favorite category is the high performance, or fitness hybrid bikes... This is a little different than the more common hybrid/comfort category (above) but it is also not a pure road bike (with the skinny tires and wrap down handle bars...) It is somewhere between a mountain and road bike (but maybe a little closer to a road bike).
These hybrids still have the 700X35c tires but they usually don't have the shocks or adjustable handlebars, are lighter and geared closer to (or sometimes the same as) a road bike. It's really like a more comfortable road bike (you sit a little higher), with wider tires... (some samples are the trek 7300FX, 7500FX and Giant Cypress SX).
Although hybrid mountain/road bicycles are probably the most common reference to hybrids, there are also hybrid models that fall completely into the road bike category. For more information on these types of bikes, see Hybrid Road Bikes, Sport Bikes.

Cycle Computers (bike speedometers, odometers) A good cyclecomputer is one of the most useful and interesting accessories that you can have on your bike. Speedometer, Odometer, Trip Meter, Date and Time, Riding time vs Elapsed time, averages... Many wireless models are available too!

Bicycle Clothing Mostly what you really need as far as bicycle clothing goes, of course, is what makes you comfortable (some people may require more style to be comfortable than others :-) ).

Bicycle Bags Good bicycle bags (cycle bags, packs and racks, panniers (bicycle saddle bags)) are essential for trails, distance, touring and utility rides. I have always found that a basic behind or under the seat pack works very well for typical rides (trials, quick trips, etc.)