About-Bicycles > Fitness Bikes > Brand Reviews > NordicTrack Fitness Bikes
NordicTrack Exercise Bike Review

NordicTrack is the high end brand of fitness bikes manufactured by Icon Fitness (the largest fitness equipment manufacturer in the world) and is a popular brand sold by Sears and directly from NordicTrack online. NordicTrack produces upper mid-range recumbent and upright exercise bikes in addition to a line of indoor cycles (aka Sport Bikes at NordicTrack).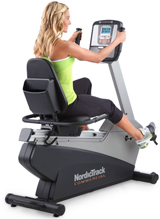 NordicTrack has been sold at Sears stores for many years now which gives them the advantage of good brand name popularity and makes it easy to try out and compare them to other stationary bike brands. Anyone who has tried a NordicTrack Exercise Bike at Sears can tell you how comfortable and well built they are.
Although the majority of NordicTrack Stationary Bikes and Indoor Cycles are designed (and priced) for in home use, NT does sell the high end Commercial VR which is a light commercial recumbent.
---
NordicTrack Exercise Bike Reviews
---
Comfort, Quality and iFit Technology
NordicTrack Fitness Bikes start with a good ergonomic design that is comfortable and easy to use, quality components that are manufactured well and then include a very good warranty to back them up.
Once the overall quality components are taken care of, NordicTrack (with the resources of Icon Fitness behind them) goes on to include the most innovative motivational features available (i.e. iFit and iFit-live).
The original iFit Technology (still available on some models) consists of memory cards (purchased separately) that include a series of workouts that can be loaded on to your fitness products and control the resistance levels for additional workout variety and motivation.
The iFit-Live Technology, released in 2010, goes to the next level and allows your fitness bike to communicate with your computer and with the internet (via a WI-Fi connection and an ifit.com account). This allows you to upload your workout stats (wirelessly) to your computer and to the internet and/or to download additional workout routines and data from the internet to your console.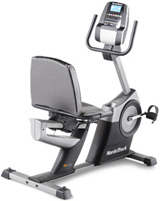 In order to keep costs down, iFit-Live is optional on the current NordicTrack Bikes, but the feature is available with the purchase of the iFit-Live adapter.
The iFit-Live option does add quite a bit of functionality to the NordicTrack Fitness Bikes but even with this being an optional feature, we still believe that the NordicTrack Commercial VR stands on its own as a Best Buy Fitness Bike in its category.
NordicTrack Sport Bikes
For more serious workouts or Indoor Cycle training, NordicTrack also has a line of Indoor Cycles (which they call Sport Bikes). NordicTrack Sport Bikes have quite a variety of features depending on your preferences.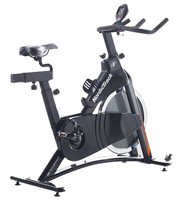 All NordicTrack Sport Bikes have friction based resistance systems and have highly adjustable seats and handlebars (traditional indoor cycle features). After that, there are quite a few differences among the NordicTrack Sport Bike models.
If you are considering an Indoor Cycle, for training or serious workouts, our preference in the NordicTrack line is the NordicTrack GX3.5 Sport Bike.
---
About-Bicycles Brand Review - NordicTrack
NordicTrack excels in comfort, quality, value and innovation. Being part of the largest fitness equipment manufacturer in the world (Icon Fitness), NordicTrack can typically offer more features and options at a lower cost.
As mentioned above, NordicTrack is the high end brand of fitness bikes manufactured by Icon Fitness who also make Proform, Health Rider, Weslo and others.
Just as the major car corporations manufacture similar car models under different brand names (GM makes Chevy, Buick, Cadalliac, etc. Honda makes Honda, Accura, etc.), Icon Fitness manufactures some of the same (or very similar) model exercise bikes under other brand names.
One notable example is the NordicTrack GX2 Sport Bike and the Proform 290SPX. Although these 2 Indoor Cycles are no longer available they are a good example of basically the same model from the same manufacturer but under 2 different brand names (NordicTrack and Proform). In this case the Proform model is exactly the same (other than cosmetic differences) as the NordicTrack model but costs about $100 less.
This is worth mentioning and worth watching out for but many cases the similar models may not be exactly the same or the lower priced brand often has a lesser warranty.
Overall NordicTrack makes comfortable, high quality, innovative and dependable fitness bikes at very reasonable prices.

** Please check with your doctor before you start a workout program based on heart rate.