About-Bicycles > Fitness Bikes > Brand Reviews > Diamondback Stationary Bikes Review
Diamondback Exercise Bike Review

The company that produces Diamondback Bicycles has been around since the late 1970s and is the same company that produces Diamondback Exercise Bikes and Fitness Equipment. Diamondback is a well know brand name in both of these areas (outdoor bicycles and stationary bikes (and fitness equipment)).
Diamondback Fitness ~ the fitness equipment company/division ~ sells mid-range and upper mid-range Upright and Recumbent stationary bikes and Indoor Cycles.
The mid-range bikes are all in the 510 series and the upper mid-range models are all in the 910 series. Both have a 2 letter suffix indicating the type of fitness bike or indoor cycles with "SR" designating their Recumbent models, "UB" for their Upright models and "IC" for their Indoor Cycles.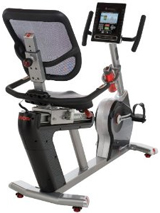 You get more for your money with the upper mid-range Upright and Recumbent models from Diamondback (the 910 series), including the Diamondback 910SR and the Diamondback 910UB then you do with the 510 Series bikes.
The Upright and Recumbent Fitness Bikes from Diamondback are comfortable and come with quite a few nice features including a large and easy to use console, iPod/MP3 player jack and speakers, fold-out magazine racks and are good quality bikes.
The Indoor Cycles from Diamondback have an innovative design that includes a computer controlled resistance system but these models have been known to have some quality control issues (see our reviews below for more information on this).
---
Diamondback Stationary Bike Reviews
Recumbent Models
Diamondback 510SR Recumbent
Diamondback 910SR Recumbent
Upright Models
Indoor Cycles
Diamondback 510IC Indoor Cycle
Diamondback 910IC Indoor Cycle
---
Reasons to Consider Diamondback Fitness Bikes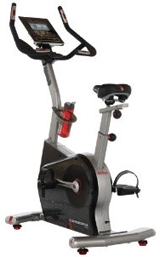 All Diamondback Fitness Bikes (excluding the indoor cycles) have comfortable and durable designs, quiet magnetic resistance systems, contact grip heart rate monitors (in addition to telemetry enabled heart rate monitors on the higher end models), Heart Rate Control (HRC) programs **, iPod/MP3 player jacks and speakers and large, easy to use consoles.
Diamondback Fitness Bikes are priced in the mid-range for both their Upright and Recumbent models making diamondback a nice choice for an in-home fitness bikes.
---
About-Bicycles Brand Review - Diamondback Fitness
Diamondback Fitness produces well designed and comfortable Upright and Recumbent models that come with quite a few nice features. These bikes come with user weight capacities that are usually higher than other brands in their price range.
Diamondback Upright and Recumbent bikes weight more than other stationary bikes in their price range which is a good indication of the stability and durability of the bikes.
Diamondback Fitness Bikes come with highly adjustable seats and handlebars and the iPod/MP3 jack and speakers can provide additional motivation by allowing you to listen to your music with or without headphones while you workout.
Our biggest concern with Diamondback bikes is that we have seen too many reviews where there have been quality control issues (broken parts on delivery or components that have failed after minimal use).
Diamondback Upright and Recumbent models are better quality than their Indoor Cycle models (which we do not recommend), are designed well and have a many nice features.
** Please check with your doctor before you start a workout program based on heart rate.